I wasn't intending to develop a new recipe over the weekend, but I was playing around with these maplelicious hot cross buns and they turned out so well, I knew I had to share my notes and findings in a recipe.
On Friday evening I was in need of a little baking therapy (it's a real thing, you know). Recent news and events from the week had left me floundering a bit; I needed to find my ground – and I aways find it in the kitchen.
I ground cardamom, cracked eggs, measured maple sugar and by the time I had the dough mixed up and in the fridge, I was already feeling better.
I rose early on Saturday, just to have a little quiet time to myself before the events of the day unfolded. We were expecting friends for brunch, so I made myself a coffee, prepped a fruit plate and set the table while the dough warmed up on the counter.
When I shaped the hot cross buns, the dough was soft and supple and smelled of citrus, spice and yeast. Soon I had 12 spice-speckled buns rising in the pan and an oven preheating. The children slipped downstairs and curled up in balls on the sofa. Noah opened a book, while Mateo and Clara started a sleepy game of chess. He's teaching her to play, strategies and all, and it is the sweetest thing.
The aroma of these maple hot cross buns baking has to be one of the most wonderful scents to ever waft out of my kitchen. It's better than cinnamon rolls, pumpkin bread or even apple pie. Paired with freshly brewed coffee, it's downright intoxicating.
While the buns were still warm, I brushed them with a glaze of pure maple syrup, pure vanilla and a splash of maple sap from our trees. This technique I picked up from Canadian baker, Anna Olson, who brushes hers with sugar water to keep them soft. Since  it is maple season and we're literally making maple syrup from our own backyard, I brush mine with maple.
The maple syrup glaze not only keeps the buns soft, but gives them a delightfully sticky top and a pretty sheen, too. For these beauties, I also added the traditional cross on top, made with pure maple butter and a little powdered sugar. Here in Eastern Canada, we can find maple butter at any supermarket, but if it is not to be found in your area, just make a cross on your buns out of powdered sugar.
Here's the full recipe. It may look long and complicated, but it's really simple. These maple hot cross buns would make the upcoming holiday weekend morning extra special, whether the Easter bunny comes to visit or not. Be sure to serve them with softened sweet butter or the remainder of the maple butter, and don't forget the coffee.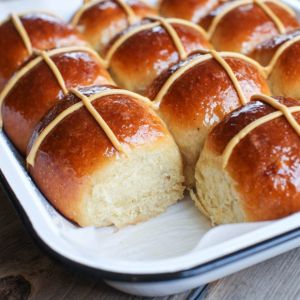 Overnight Maple Hot Cross Buns
Soft, supple and maple-sweetened breakfast buns that are lightly spiced and simple to make. Recipe adapted from Anna Olson.
Print
Pin
Rate
Ingredients
For the Dough
3/4

cup

2% milk

4 1/2

teaspoons

instant dry yeast

3

large eggs

at room temperature

1/3

cup

pure maple sugar

or raw cane sugar

1/2

cup

canola oil

3 3/4

cups

organic all-purpose flour

1

zest of 1 lemon

3/4

teaspoon

fine sea salt

1

teaspoon

ground cinnamon

1/4

teaspoon

ground allspice

1/4

teaspoon

ground nutmeg

1/4

teaspoon

ground cardamom

1/4

cup

diced citrus peel
For the Glaze
1/4

cup

pure maple syrup

2

Tablespoons

water

1/2

teaspoon

pure vanilla extract
For the Icing
3

Tablespoons

maple butter

2

Tablespoons

powdered sugar
Instructions
For the dough
Heat the milk in a saucepan over low heat until it reaches around 115F. Combine this with the other ingredients - except the citrus peel - in a stand mixer fitted with the hook attachment. Mix on low speed until the ingredients come together, then increase the speed by one level and knead the dough until it is smooth and elastic, about 5 minutes. It will be very sticky.

Toward the end of the kneading, add the citrus peel and knead for another 30 seconds. Remove the dough hook, cover the bowl with plastic wrap, and place in the fridge overnight.

In the morning, remove the dough from the fridge and let it come to room temperature in a warm place, about an hour. Grease a 13x9-inch baking pan and line it with parchment paper. Turn the dough out onto a lightly floured work surface and divide it into 12 evenly-sized pieces. Shape each piece into a ball and place the rolled buns on the prepared pan. Cover the pan with plastic wrap and let the buns rise for 45 minutes.

Preheat the oven to 350F. Uncover the buns and bake for 25-30 minutes, until they are a rich brown on top. While still hot from the oven, prepare the glaze.
For the Glaze
Bring the maple syrup, water, and vanilla up to a simmer in a small saucepan over medium-high heat. Brush this syrup over the still-hot buns, until it has all been absorbed. Let the buns cool completely on the pan on a cooling rack.
For the Icing
Stir the maple butter and powdered sugar together - it will be quite stiff. Scrape the icing into a small piping bag fitted with a small plain tip and pipe crosses on top of each bun. Enjoy at once, with additional maple butter or sweet butter. The buns will keep, well wrapped in plastic, for 1 day.
Notes
To make the recipe without the overnight rest, simply let the dough rise immediately after the knead, for 90 minutes on the counter, until doubled in size. Proceed to the shaping of the buns and onto the baking as directed.
One more thing. Thank you all so very much for your kind comments, emails and messages on my last post. Your support and encouragement means the world to me.
Happy Baking. Happy Easter!