My holiday brunch strategy goes like this: a decadent baked treat, a flavourful egg dish, a winter fruit salad and heaps of coffee. That's it.
Every year there are slight variations to the plan, like crispy maple-glazed bacon or a pot of hot spiced mulled cider, but the trio of carb + protein + fruit is a solid one that I recommend you master first. If you plan it right, there are at least two dishes for everyone on the guest list, be they your vegan friends, the gluten-free gang and the paleo-ish folks.
I've already shared previously about my love of hosting brunch, and so today's post is a closer look at how I make it work with minimal stress. You'll find a simple breakdown of my holiday brunch strategy, with favourite recipes linked and totally acceptable shortcuts listed for when you need them. After all, the act of gathering is far more important than what is actually on the table.
As one should always do when entertaining, test out a few recipes beforehand, then adopt your favourites. Having a tried and true repertoire – even if it is 3 dishes – is helpful for eliminating kitchen stress around the holidays.
And one more reminder before we get into the meat of the post, if your friends offer to bring something – let them! Don't be shy to ask for what you need, whether it be part of the menu – like a fruit salad or sticky buns – or a delicious add-on such as a wheel of Camembert and a jar of cherry jam.
Winter Fruit Salad
Gone are the local, sun-ripened berries of summer, but we still have plenty of fruit to choose from that is full of flavour. In December we always stock a couple dozen grapefruits and oranges, as well as pomegranate, pears, clementines, cranberries and apples of all varieties.
Many winter fruits can be prepped in advance of your brunch, such as halved grapefruit, segmented oranges and pomegranate seeds. Just be sure to keep them well-wrapped in plastic and store them in the fridge.
Recipes:
Totally acceptable shortcut #1: Set out a generous bowl of mandarines, satsumas or clementines.
Totally acceptable shortcut #2: Buy the cut fruit from the deli section of the grocery store.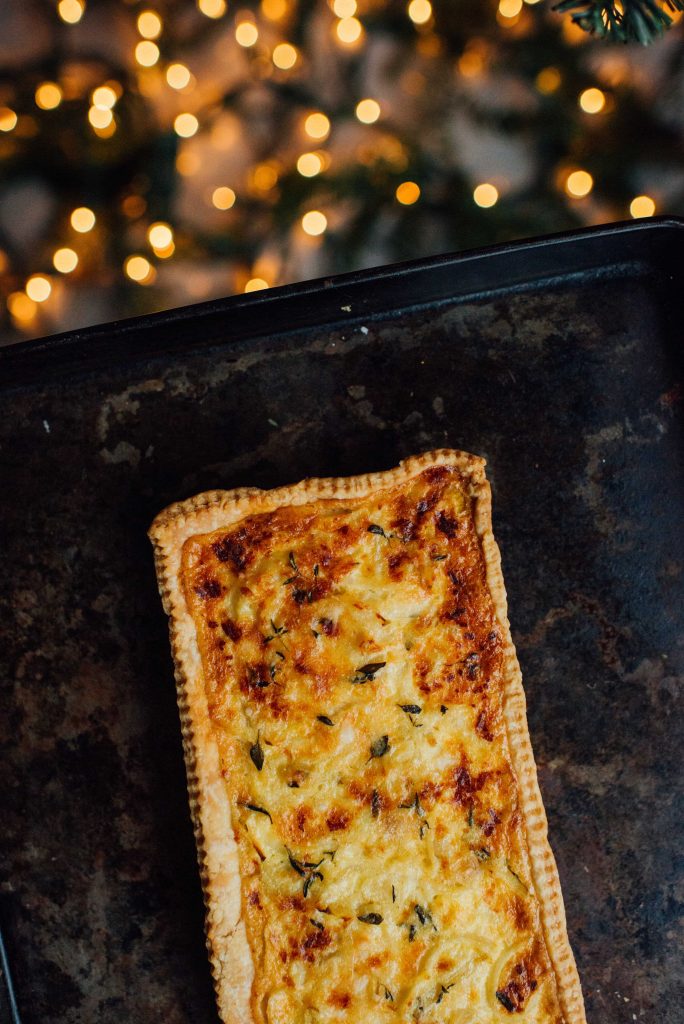 A Delicious Egg Dish
A piping-hot bowl of scrambled eggs, topped with a sprinkling of chopped chives and freshly cracked pepper is more than enough to keep everyone happy. However! Should you wish to make something extra special, I have a few fun ideas.
A classic quiche will hold up very well in the freezer and reheat beautifully in the oven. My friend Kerrie makes her quiche with sweet onions and thyme (pictured above), similar to this Spring Onion Tart with ricotta. My version is closer to a Quiche Lorraine, with asparagus or spinach.
It was around this time last year when I discovered the rolled omelet or 'omelet wheels' via Joy's cookbook, Over Easy. I proceeded to make it for every subsequent holiday brunch – including the revered Christmas morning.
Recipes:
Totally acceptable shortcut: Buy a frozen quiche from your favourite bakery or deli and pop it in the oven on brunch day.
Holiday Baking
Obviously this is where we can have the most fun. Instagram is simply brimming with images of festive monkey bread, pull-apart loafs and the gooey cinnamon buns. Bakers were born for this time of year, where everything is swirled, layered and dusted with powdered sugar.
My Overnight Spiced Stollen Swirl Buns are a longstanding tradition now around our brunch table. I prep them the night before and bake them up fresh on Christmas morning. Madeleines are a close second, often flavoured with lemon or orange and studded with poppy seeds or currants. Both recipe make the house spell absolutely incredible.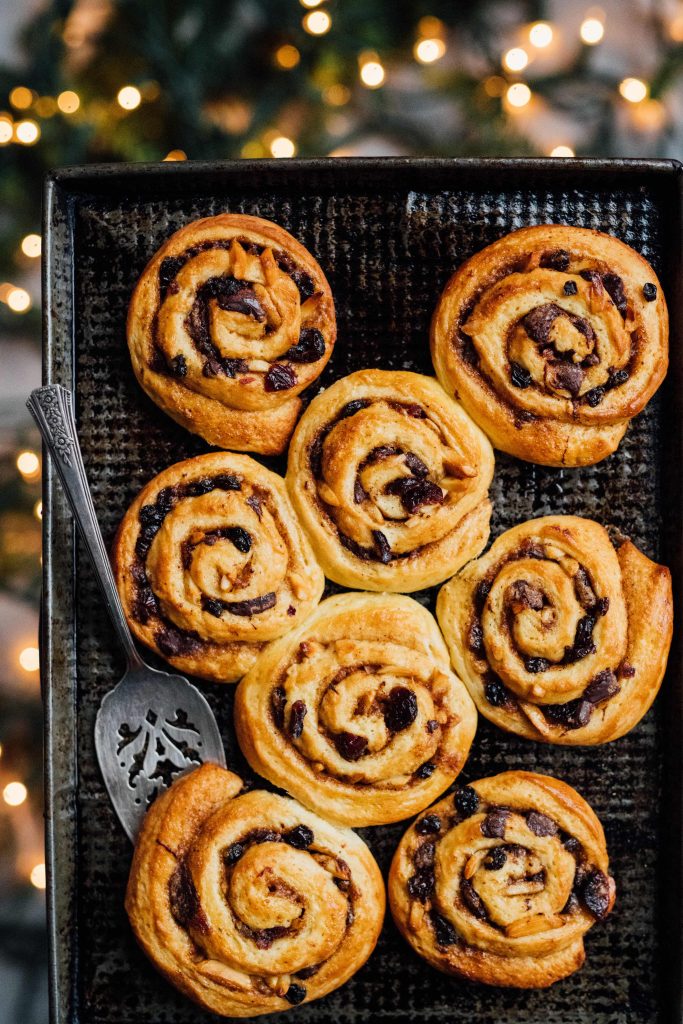 Recipes:
Totally acceptable shortcut #1: Pick up the best panettone money can buy and toast it lightly. Serve it hot and buttered. Totally acceptable shortcut #2: Delegate your friends to bring the baking.
Brunch Beverages
As much as I would love to shake up festive brunch cocktails for my guests, I never have the time. Instead I set out pitchers of juice and spiced (also spiked!) homemade eggnog and keep the coffee coming. I've also had success with simmering a pot of hot spiced apple cider or mulled wine on the stove and encouraging guests to help themselves.
Recipes:
Totally acceptable shortcut: Buy the best eggnog you can find and serve it ice cold, with a little nutmeg grated on top.
Images provided by my fellow brunching friend, Alison Slattery of Two Food Photographers. Thanks, Ali! Food styling and props by myself and Kerrie Ahern.