Every August when the Ontario peaches arrive in our markets, we tend to go a little stone-fruit crazy.
There's always a large bowl of peaches ripening on our dining room table next to a stack of cloth napkins for a sticky afternoon snack. We slice peaches into our morning oatmeal and ice them for afternoon lemonade. I pair them with fresh tomatoes and soft cheese for a twist on a Caprese salad and stew them with brown sugar and spices into a sticky barbecue sauce.
And this summer, we're skewering peaches with chicken and grilling them to perfection. It's a fast and fun dinner that pairs perfectly with my Watermelon Greek Salad. There's still time for plenty of patio meals before fall arrives, so read on for the recipe and start planing your next cookout.
Fresh garden herbs, loads of lemon and charcoal grilling all contribute to these succulent chicken kebabs. I've been making a variation on this dish for ages, but this summer I finally measured the ingredients and formulated a proper recipe.
In today's version, I've tucked thick slices of peaches in between the chicken cubes, but I also love using thin slices of lemon, rounds of zucchini or sweet bell peppers. In short, use what you have, and if peaches are what you have, it is best if they are on the firm side.

All images by Alison Slattery
Here's my secret: I like to use a combination of fresh and dried herbs for a punchy marinade. Then I divide the marinade: half for the overnight marinade and half for basting while the chicken is grilling. Chicken breasts need maximum flavour infusion and this method works the best.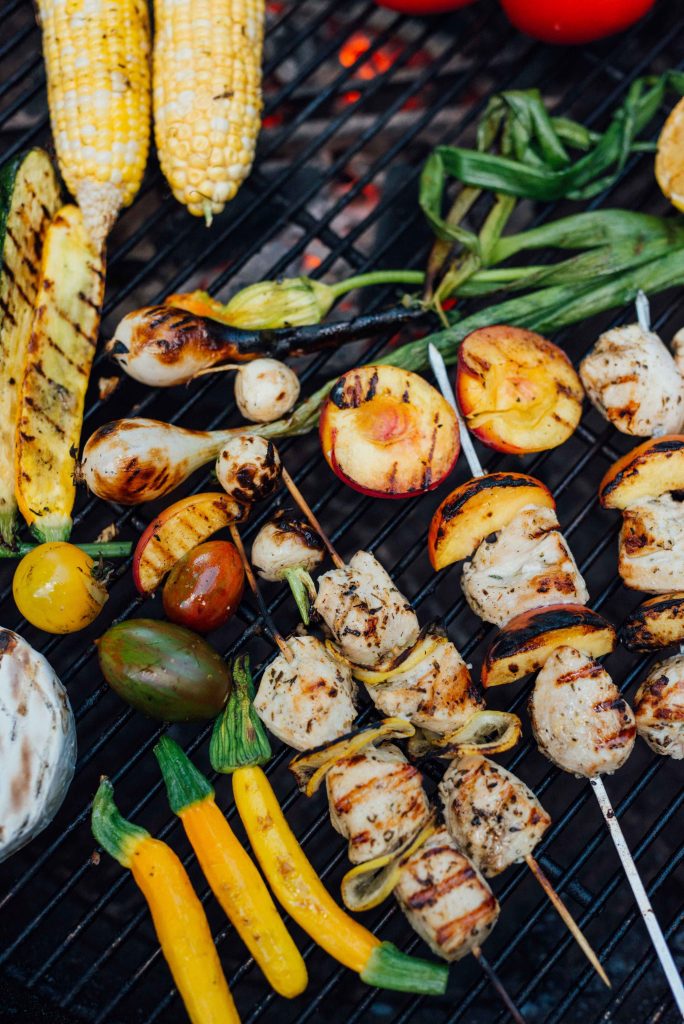 Whenever I've got the coals lit in the kettle grill, I tend to raid the garden and comb the fridge to round up everything that can possibly be grilled. A few more peaches, young onions, tomatoes, figs, new zucchini…
Even a wheel of Brie gets a few grill marks – it's the perfect way to take off the chill from the fridge; serve it up with crackers and a few grilled figs for an easy appetizer during afternoon spritz.
For maximum juicy kebabs, give them a short resting time before serving. This will give you time to toss the salad together and round up drinks.
Dress the kebabs on a bed of fresh herbs and squeeze a little grilled lemon over the top. Serve with a side of punchy tzatziki or even just a dollop of thick Greek yogourt. Perfection.
It's this sort of effortless cooking that I love so much about summer. Two ingredients, chicken and peaches, together with a simple marinade, transformed on a grill into a beautiful dish that's worthy of your weekend table.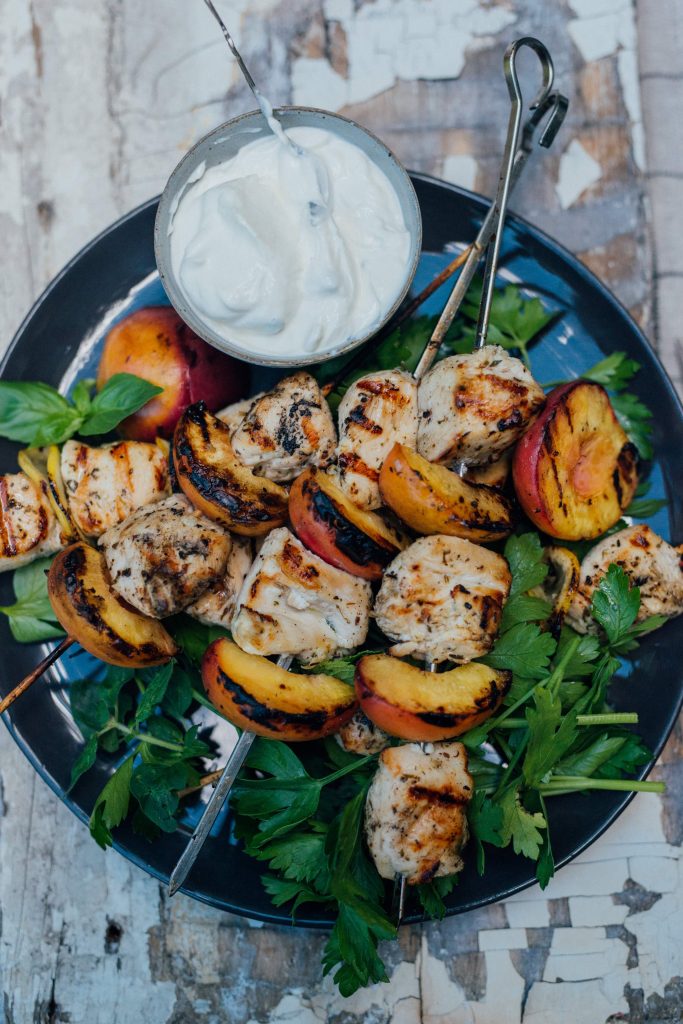 Greek-Style Grilled Peach and Chicken Kebabs
A simple, summer dinner that can feed a crowd and can be prepped in advance.
Print
Pin
Rate
Ingredients
1/2

cup

freshly squeezed lemon juice

2

cloves

garlic

minced

1/2

teaspoon

dried Mediterranean herbs

or Herbs de Provence

2

Tablespoons

chopped fresh oregano

1

teaspoon

fresh thyme leaves

1/2

teaspoon

fine sea salt

1/4

teaspoon

freshly ground black pepper

1/2

cup

olive oil

4

chicken breasts

boneless, skinless

3

semi-firm peaches

1

whole

lemon

halved
Instructions
In a small bowl or jar, stir together the lemon juice, minced garlic, dried herbs, fresh herbs, salt, pepper and olive oil. This is your punchy marinade.

Cut chicken breasts into 1-1/2 inch cubes. Drop into a large resealable plastic bag and pour in HALF of the marinade. Reserve the remaining marinade. Seal the bag and turn it a few times until the chicken is coated. Refrigerate for at least 4 hours and up to overnight.

Preheat a grill to 400F. Have a spray bottle handy for flare ups and a sturdy pair of tongs.

Cut peaches in half, and then quarters. Thread marinated chicken onto metal skewers, alternating with the peaches. Do not over-crowd. I like to use 2-3 pieces of chicken per skewer; you'll need about 12 skewers.

Grill kebabs over direct heat for 4-5 minutes until they have grill marks, then flip and grill the other side. Combat flare-ups with a spray of water. Alongside the chicken, grill the lemon, cut side down.

Pull out that reserved marinade. Move the kebabs to indirect heat to continue cooking, about 5-7 more minutes. Baste them frequently with the marinade, brushing it on both the chicken and the peaches, and turning the kebabs once or twice. Cooking time will vary from grill to grill.

Remove chicken and lemon; pile onto a platter. Rest for 10 minutes, tented with foil to keep warm. Heap the kebabs onto a bed of fresh herbs and squeeze the grilled lemon over the top. Serve with a generous side of tzatziki sauce.
Nutrition
Ah summer…why are you so fleeting?
Images provided by Alison Slattery of Two Food Photographers, who also loves her Weber kettle grill. Thanks, Ali!