My Mother's Day was lovely and relaxing, but the week leading up to it was a trying one, and my main support system, Danny, was traveling for work. We've all had those days as parents where we are pushed to the limits; I had a few in a row.
I managed to stay on top of the big things, but I failed miserably at a few of the little things. Emails went unanswered, school uniforms were re-worn without washing, and the hens, well, they had to scrounge a little more than usual.
Then there was the time my five year old Mateo made us dinner. What started out as another shortcoming of mine – failing to menu plan – turned into a proud moment for Mateo and a enormous blessing for me.
This boy is always asking to help in the kitchen, and on this particular afternoon, I was working closely with Noah on a school project and was happy to have Mateo lend a hand. He started by peeling our eggs (I usually have a few cooked and stored in the refrigerator for quick lunches), and then moved on to shred the lettuce. Our goal was a chef's salad for dinner.
From the dining room table, where I was occupied learning about the gasses and asteroids of Neptune, I instructed Mateo to peel and grate the carrots, which he tackled valiantly and only nibbled a few. I moved closer and observed as he chopped the celery every so slowly, followed by the cucumber, with increasing speed and confidence. He also set the table and fetched the Creamy Buttermilk Salad Dressing from the fridge.
Then he heaped lettuce on our plates (Clara likes greens too) and we sat down to build our salads and enjoy a meal together after a busy day. He was so proud, but not as proud as I was of him. I couldn't have done it without his help.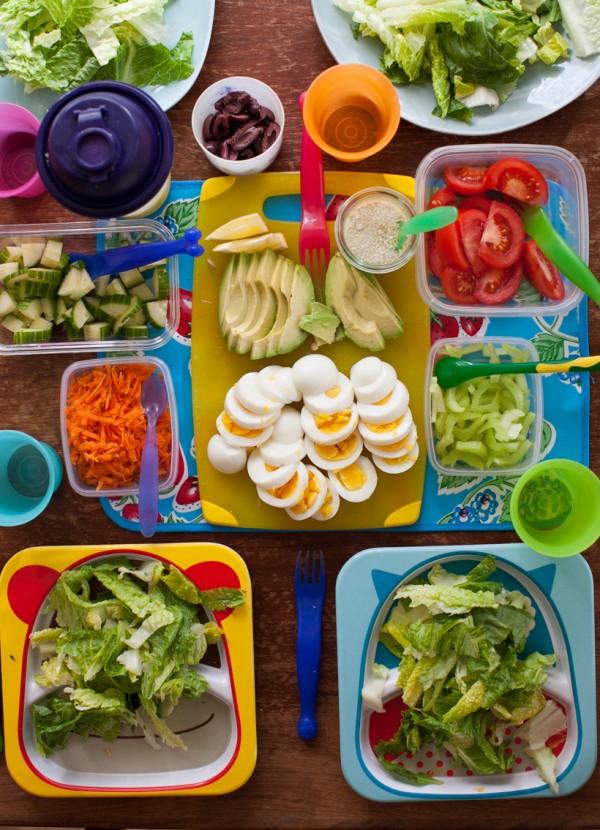 Build-your-own Salad Bar for kids
Kids embrace what they create – even if it is a big ol' pile of salad. When you let them pick and add their own toppings, you transfer some of the control over to them and kids love to make their own decisions.
By including them in the meal preparation, as I did with Mateo, you increase your odds of watching them dig into a big salad bowl for dinner. They take great pride in their work and genuinely love to serve others.
This meal is a great starter for children who want to help in the kitchen. Tasks like shredding lettuce and peeling eggs are basic, while grating and chopping are slightly more advanced. You can ensure a dressing is prepared in advance, but other than that, let your children run the show!
Adding our own salad toppings works well for my family as the children enjoy different vegetables than Danny and I. They go for celery and carrots over avocado and tomato, and one of them passes on vinaigrette. It's fun for them to customize their own plates, and I know they will only take what they will eat.
Remember, you can add in any salad ingredients you enjoy – radishes, crumbled feta, grilled chicken, mushrooms, peppers – and switch in your favorite homemade salad dressing also. We enjoy our farm fresh eggs for protein, but grilled salmon or chicken would be fantastic also.
Ingredients
2

Romaine lettuce hearts

4

hard boiled eggs

1

tomato

1/2

avocado

2

medium carrots

1/2

cucumber

any other favourite salad toppings

1

recipe

Buttermilk Dressing
Instructions
Tear lettuce into bite-sized pieces and wash in cold water. Dry with a lettuce spinner.

Peel the eggs and rinse them under cold water to remove any bits of shell. Pat them dry with a tea towel.

Wash the tomato and cucumber. Peel the carrots.

With a large sturdy cutting board and a sharp knife, chop the salad toppings and place in individual bowls.

Serve lettuce and salad toppings with a vinaigrette on the table.
Nutrition
Calories:
143
kcal
|
Carbohydrates:
8
g
|
Protein:
7
g
|
Fat:
9
g
|
Saturated Fat:
2
g
|
Cholesterol:
186
mg
|
Sodium:
89
mg
|
Potassium:
440
mg
|
Fiber:
3
g
|
Sugar:
3
g
|
Vitamin A:
6895
IU
|
Vitamin C:
10.3
mg
|
Calcium:
51
mg
|
Iron:
1.1
mg
Do you enjoy a big salad for dinner? What are a few of your favorite toppings?