Watermelon is a delicious, ever-present staple in our diet all summer long, hacked into wedges and served up chilled. It's a refreshing way to beat both the heat and my children's inevitable afternoon attack of the munchies.
I usually sprinkle my melon with a touch of sea salt and a squeeze of lime, and or blend it with mint into agua fresca. But this summer, watermelon has taken the spotlight in a vibrant salad that is as delicious as it is pretty.
Every summer I obsess over a particular salad, making it over and over as long as the fresh produce lasts. Once I find a good thing, I want it on repeat. Thank goodness this happens with salads, and not yogurt sheet cakes, or else I'd be maxing out on sugar instead of vegetables.
Ages ago I was hooked on a killer grilled green bean salad, with Thai basil and cherry tomatoes. That was followed by a pretty spinach salad with grilled asparagus, strawberries and walnuts.
The next year it was a grilled sweet potato salad with warm chevre and a sweet mustard dressing. And of course last summer we were crazy for a zucchini salad with hazelnuts, feta and creamy yogurt mint dressing.
Right now, we're fixated on this tangy and sweet Watermelon Greek Salad; it's proving to be suitable for nearly any time of day, as long as it is made with the freshest fruits and vegetables possible.
Inspiration for this salad started with a surplus of cucumbers in our garden – Clara picks those for me – as well as a thriving herb garden. Oregano, mint and Italian parsley are all torn and tossed in, which only makes the salad all the more fragrant.
Mint and melon is one of my favourite combinations, and when I'm not blending them together in a chilled soup, I'm marrying them in a salad.
All images by Alison Slattery
Here's the line-up: watermelon, vine-ripened tomatoes, crisp cucumbers, and the usual Greek salad suspects such as olives, feta and sweet bell peppers. If I have some around, I'll slice up a peach or nectarine and throw that in for fun. I haven't tried cherries, but I bet they would make a fantastic addition.
I've purposely left red onion out as I find it just too overpowering for the delicate watermelon, but you can go right ahead and add it in if you like.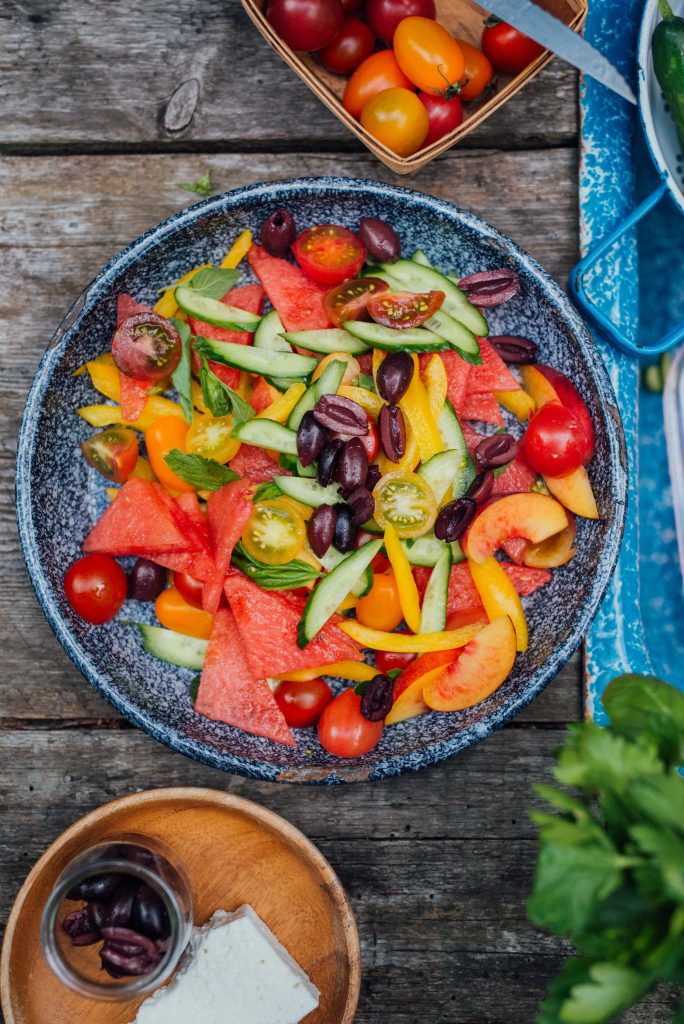 This salad comes together easily; I like to bring the ingredients outside and dress it on the patio. The tomatoes and cucumbers are still warm from the garden and the herbs haven't had a chance to wilt in the heat.
The trick for keeping this Watermelon Greek Salad crisp is to store the vinaigrette and the salty feta separately from the cut fruits and vegetables. As soon as they are all tossed together with the vinaigrette, and the cheese sprinkled on top, they begin to release their juices.
If the salad is mixed too far in advance, you could have gazpacho by the time you are ready to serve. I also hold off on the herbs until just before serving, sprinkling them on top of the salad as a garnish.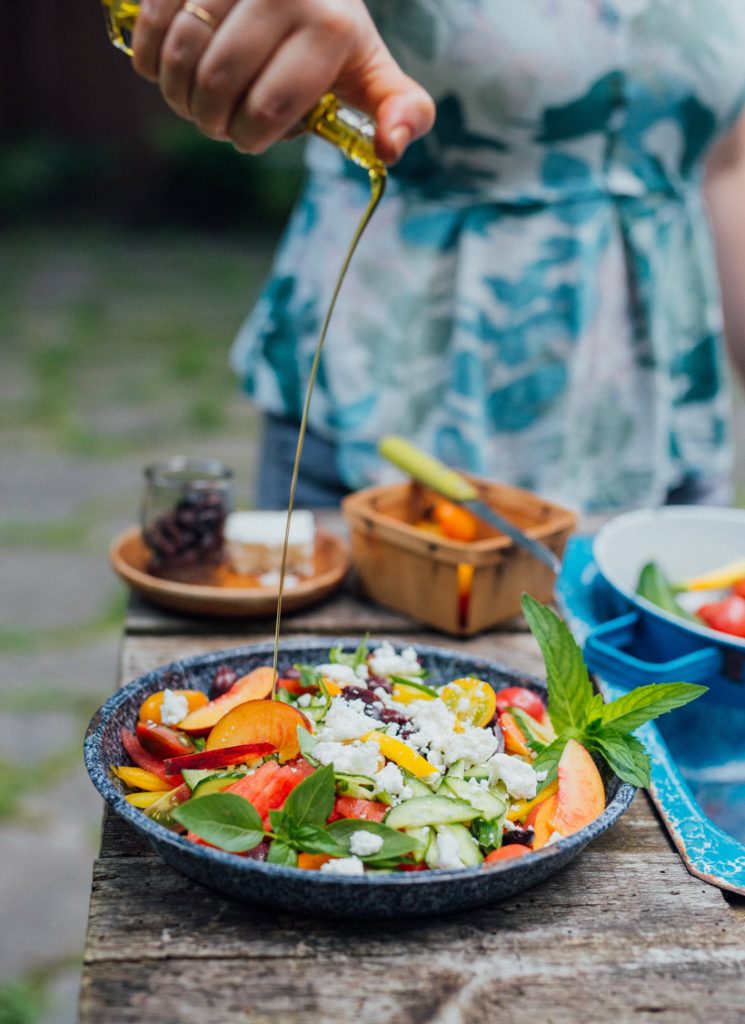 I've been prepping big batches of this salad for lunches on the go, stacking containers three high in my fridge, ready to pull out for the next sweltering hot day. It's refreshing and filling in the best sort of way; not heavy, just substantial.
I love mine best when crammed into fresh, hot homemade pita bread, but if I'm not baking, then I'll add a can of drained chickpeas to round out the salad into a main meal. An easy summer dinner idea? You bet.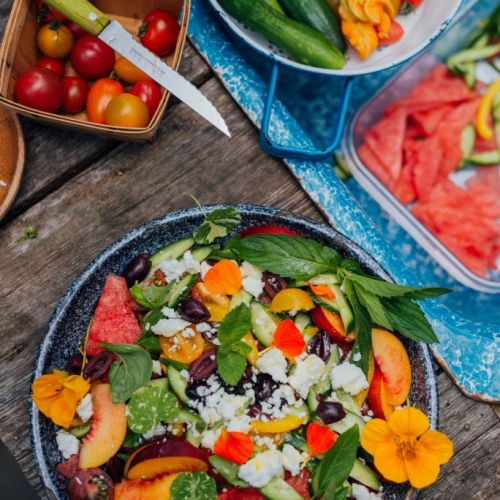 Watermelon Greek Salad
To round out this salad into a meal, add a can of drained chickpeas. Delicious served with a side of
homemade pita bread
.
Print
Pin
Rate
Ingredients
For the vinaigrette:
1/4

cup

olive oil

1

Tablespoon

freshly squeezed lemon juice

2

teaspoons

red wine vinegar

1/2

teaspoon

fine sea salt
For the salad:
4

mini cucumbers

1

yellow bell pepper

cored

1

peach

halved and pitted

1

pint

cherry tomatoes

4

cups

cubed seedless watermelon

1/4

cup

pitted Kalamata olives

cut in half

1

Tablespoon

chopped fresh oregano

1

teaspoon

chopped fresh mint

1

Tablespoon

chopped fresh Italian parsley

1/2

cup

feta cheese

to taste
Instructions
In a small bowl or jar, stir together the olive oil, lemon juice, vinegar and salt.

Slice the cucumbers, yellow bell pepper and peach into 1/4 inch slices. Halve the cherry tomatoes. Gently toss together with the watermelon. Add the Kalamata olives. At this point the salad ingredients and the vinaigrette can be stored separately, refrigerated for up to three days.

To Serve: Toss the watermelon Greek salad ingredients together with the vinaigrette and the chopped herbs. Heap into a serving bowl and crumble the feta cheese over the top. Garnish with edible flowers or more herbs if you like. Serve at once.
Notes
I use a mandoline for slicing the cucumber, yellow pepper, peach and watermelon. It speeds up all the chopping and yields nice, even slices.
Nutrition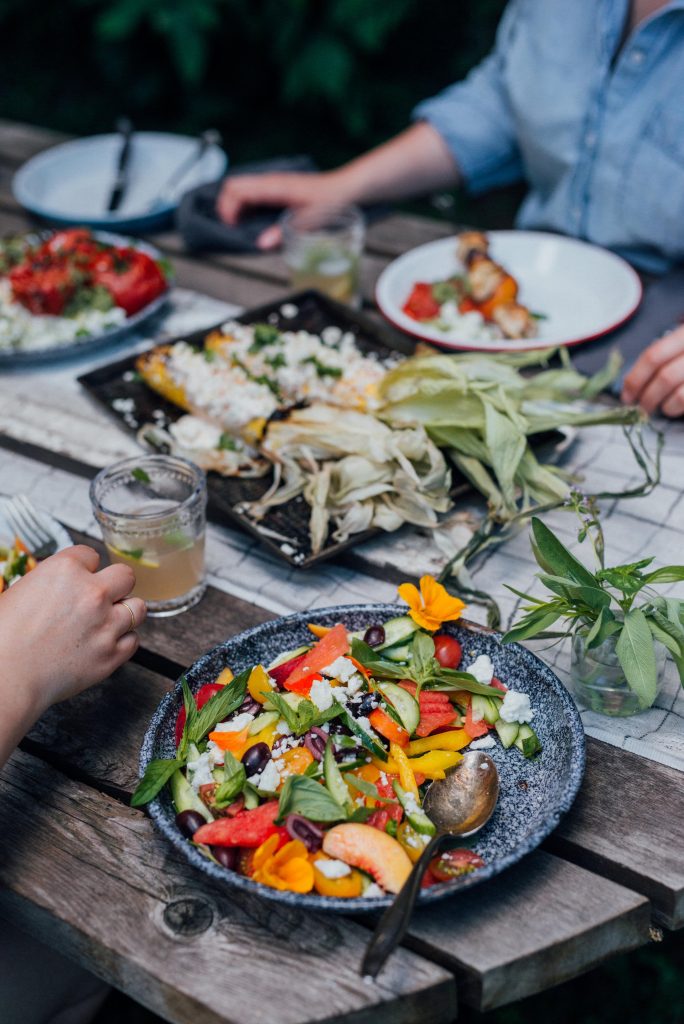 Images provided by my friend, Alison Slattery of Two Food Photographers. Thanks, Ali!