Last week I had the perfect Mother's Day picnic all planned to share with you.
The menu was set, the shopping lists complete, and a good amount of prep work was crossed off. I even had a picturesque spot picked out: the low, flat rock wall edging my neighbour's garden.
And then the weatherman predicated rain all day Saturday. We had guests invited for Sunday dinner (a regular practice, nowadays) so that day was out as Plan B. As things turned out, it continued to rain the rest of the weekend. C'est la vie. Instead of picnicking, I made a this coconut tres leches cake to share with family and we made the best of a bad weather situation.
Perhaps it is dry, sunny and warm where you are and your picnic plans are going strong. Here's hoping that is the case and the recipes below from the Simple Bites archives provide inspiration for the menu. I can't think of a better way to spend a day with family than out in nature on a spring day.
Plan a Mother's Day picnic with 5 do-ahead recipes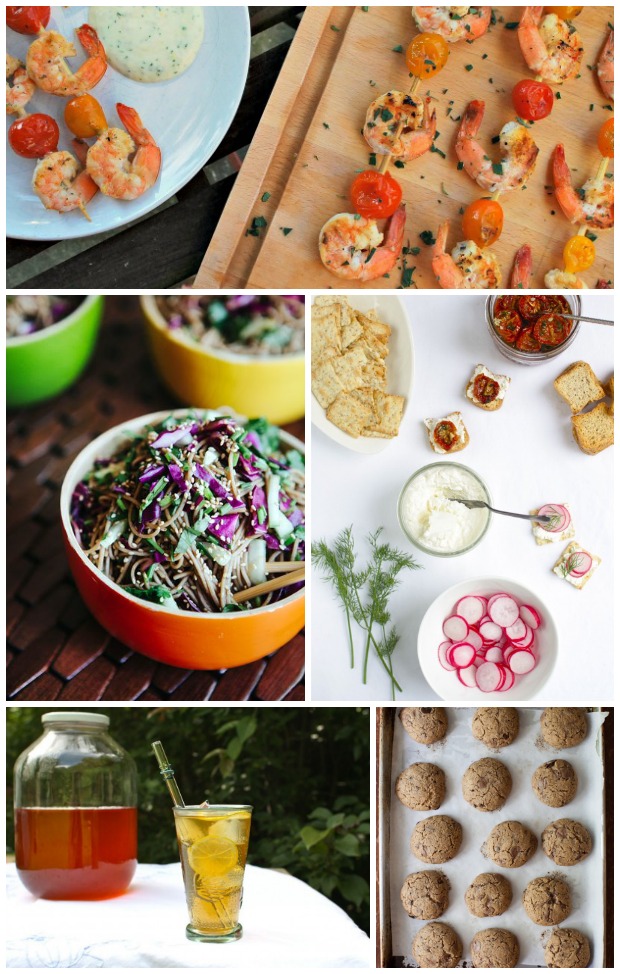 My biggest beef with picnic fare is has always been this: too much bread. The menu below focuses on bright flavours, a little protein, and a lot of fresh vegetables. Rain or shine, enjoyed indoors or out, this is a feast guaranteed to please young and old alike.
You can turn any tea into a refreshing sip with my easy cold-brewed method. Just be sure to start it the day before your picnic. Cold-brewed coffee is just as refreshing, served over plenty of ice.
2. Ricotta & Radishes on Crackers
Skip the hummus and pita chips and bring an appetizer of fresh ricotta with sliced radishes on your next potluck picnic. Don't forget a little sea salt for sprinkling on top. May be prepared up to two days in advance.
Soba noodles, vegetables, and a simple dressing, this salad is full of flavour and takes only 20 minutes to prepare. Don't forget the chopsticks.
Keep things light (and gluten/dairy free) with a grilled kebabs served at room temperature or chilled. Bring a dipping sauce or simply serve with a wedge of lime.
5. Honey Whole Wheat Chocolate Chunk Cookies
End on a sweet note with an easy cookie recipe, whirled up in a food processor and frozen in cookie dough balls until ready to be baked off and packed in the picnic basket.
I'm linking up with Menu Plan Monday with Laura.
Will you picnic in May? What's on the menu?