Back by popular demand, our series, Eat Well, Spend Less, will be returning once a month.
We all know the benefits of a well-stocked pantry. It's essential for menu planning organization, helps maintain a healthy diet full of real foods, and saves you money by allowing you to stock up when food items are on sale.
But if food is not stored properly and is allowed to spoil, where is the value in buying in bulk? None whatsoever. That is why it is important to know how to store pantry food for maximum shelf life.
Waste in the average North American kitchen is at an all-time high. The numbers are shocking. Too much food is being thrown away. Is it coming from your kitchen? If so, you may be eating well, but you are certainly not spending less.

In the theme of our continuing Eat Well, Spend Less series, I thought we'd take a look at keeping all those groceries fresh and properly stored, and thus, keep more cash in our pockets.
Contamination = Cash Lost
Food spoilage occurs when:
items are poor quality or damaged when purchased
items are just plain old as the hills!
items are stored incorrectly, allowing for damage to occur
What is damaging our food? Heat. Cold. Air. Light. Moisture. Smells. Critters. Any one of these factors can ruin our hard-earned food, and all can be prevented.

Ever since I witnessed my cat hunt down a mouse at 3 am, I've taken no chances with my pantry staples. Ingredients are rarely left in their initial packaging and great care is taken to store items properly. I'm not interested in losing a bag of organic steel-cut oats to ants or other foreign invaders!
How to Store Pantry Food for Maximum Shelf Life
Above is a snapshot of my pantry and the simple methods I use to combat food spoilage. As you can see, I don't consider plastic bags or cardboard boxes effective for long term food storage. Dry ingredients need to live in a hard container like glass, hard plastic or metal and I use a combination of all three.
I'm a big fan of 'containerization', which is basically, Using Containers to Organize Your Kitchen Simply & Aesthetically, as I've already covered. Containers help organize because they group items and help combat the sprawl that tends to happen behind closed doors – and drawers.
Plus, by confining items to one place, they make clean-up less of a chore because that container can quickly be removed and washed under. They also combat many of those dangerous elements to our food such as moisture, air, and critters.
Here are a few of my favorites.
Glass Jars
Most of my dry pantry items are stored in glass jars. So are a lot of fridge and freezer items, for that matter. They are absolutely my storage container of choice and here's why:
They're affordable.
They're reusable and recyclable.
They display contents so I can find what I need in a glance.
They are airtight.
They have a rustic, country look to them that suits my kitchen.
Food I store in glass jars: grains, legumes, seeds, nuts, dried herbs, dried mushrooms, dried fruit, cereals, flour, pasta and more.
Tupperware
It's hard to beat Tupperware when it comes to durable, airtight pantry storage. They are not as cheap as basic glass jars, but how many jars offer a lifetime guarantee?
I hosted two Tupperware parties several years ago, which more or less financed the Modular Mates I use. I love them for stuffing pretty much anything in, but mostly for those items that tend to get scattered over the pantry such as crackers, granola bars, dried fruit, and the like.
Large Tupperware containers allow me to maintain an orderly pantry so that any potential furry intruder will be bored – and hungry! The larger hard plastic containers help make cleaning much easier and keep the pantry sprawl to a minimum.
Food I store in Tupperware: flours, sugars, granola bars, chocolate, crackers, bread crumbs, ground nuts, and more.
Tins
Large or small, square or round: tins are ideal for containing small, easily scattered items like dried yeast packages or tea bags. Tins also provide a dry, dark, and airtight space, and one that I like to store some of my Asian ingredients in for maximum shelf life.
The drawback to tins is that you can't see what is inside, and items can go unnoticed for some time if you're not careful.
Foods I store in tins: Coffee, dried chilies & spices, seaweed, rice noodles, rice papers, tea, yeast, gelatin, and more.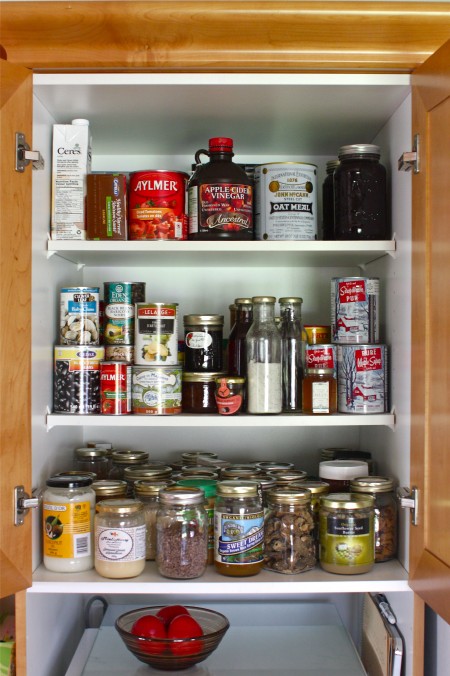 Pantry Items to Store in the Freezer
Many foods should be kept in the freezer to extend storage life, especially during the humid months.
Flours
Nuts
Spices – especially ground spices
some grains such as wheat germ and flax
Seeds – sunflower, sesame, etc
Ground spices retain their condition and quality best when stored in an airtight container in the freezer. Similarly, nuts and flours stay fresher for longer when kept cold. I store these items in glass jars in my chest freezer.
Final Thought: Food for Others
When so many exist daily with so little, we're fortunate to have a stocked pantry. Hunger Awareness Week starts May 31, 2011 here in Canada, when food banks across the country will mark the day to raise awareness of the solvable issue of hunger in Canada. Find out how you can make a change and make a difference for Canadians in need.
In the US? One in six Americans are fighting hunger. Head to Feeding America to find a food bank in your area and plan to make a donation the next time you stock up on groceries.
Is there anything wasting away in your pantry right now?