We're jumping right into our theme for this month: organization and productivity in the kitchen. We'll visit it here and there throughout April and even welcome a Very Special guest blogger, but that's all I'm going to say about that surprise for now!
I hope you'll be inspired.
You don't need to be on staff at Martha Stewart Living to have a properly organized kitchen. There are simple actions everyone can take to stay on top of clutter and keep even the most unruly of spaces in apple-pie order.
Using containers to categorize items is one easy way to establish a degree of orderliness to all areas of your kitchen and pantry.
Containers help organize because they group items and help combat the sprawl that tends to happen behind closed doors – and drawers. By confining items to one place, they make clean-up less of a chore because that container can quickly be removed and washed under. Also, with proper labeling, containerizing can prevent ingredients and items from getting misplaced.
The counter-top canister, like the one pictured above, is an obvious illustration of the practical use of containers for organizing. It has been keeping kitchen counters neat for generations by grouping frequently used utensils together and keeping them handy for everyday tasks.
Choosing an organizing container
Here are three qualities to look for when deciding on the perfect container for the job.
Durability. A flimsy basket just isn't going to cut it for containing your pot lids. A container should be sturdy enough to hold up to repeated use.
Size. Don't choose something that is too small for the amount of items you intend for it to house.
Charm. Choose containers that you actually like. They may have sentimental value or add aesthetics to your kitchen. It doesn't matter if they match or not, but you should love them!
When choosing containers, start by working with what you have before you go out and purchase what you need. For example, a large Christmas cookie tin that sits unused for most of the year can house cookie cutters or baking ingredients from January to November.

Think outside the box–literally–when scouting for a container. It's doesn't have to say Rubbermaid or Tupperware (although those are wonderful choices) to serve it's purpose. Glass, metal, plastic, wooden or cardboard containers can be square, round, rectangular or freeform and all can find their niche in your kitchen.
14 Container Ideas for Your Kitchen
1. Tins ~ Large or small, square or round, tins are ideal for containing small, easily scattered items like magnets, rubber bands or dried yeast packages or even bulkier things such as cookie cutters.
2. Jars ~ Foods bought in bulk can be transferred to jars for airtight storage and is ideal for showcasing it's contents.
3. Upright Folders ~ A kitchen generates nearly as much paper clutter as an office. Keep an upright file folder around for housing recipe clippings, shopping lists and other important papers.
4. Baking Tins ~ The antique loaf pan in the photo above holds some of my smaller cake decorating supplies. It does a fine job of preventing them from getting strewn about the cupboard, and they are still easily accessible.
5. Wine Boxes ~ I have a few wooden wine boxes that house various items in my kitchen cupboards. This one groups Asian ingredient together and another holds folded dishtowels and rags. Drawer space is always prime real estate in my kitchen, but using wine boxes as open drawer storage frees the drawers up for other items such as utensils or cutlery.
6. Jugs & Canisters ~  Stash away wooden spoons, plastic cutlery or those pesky fondue forks that you never use.
7. Can Rack ~ A worthwhile investment if you bulk up on canned goods, a heavy wire soup can rack holds most sizes of cans and is a lot safe than stacking cans three high as I have done in the past!
8. Pot Lid Rack ~ From the Ikea Rationell Variera kitchen organizing series, this nifty wire rack houses my pot lids neatly as opposed to strewn around my cupboard.
9. Baskets ~ Wire, wicker or any other variety, baskets can have many uses in a kitchen from housing bags of spices to folded cloth napkins. I coil my laptop power cable in a small basket on the kitchen counter and stash other small electronics in it as well.
Baskets are ideal choices for kitchens with open storage or for grouping dried foods on pantry shelves.
10. Plastic Bag Dispenser ~ This $1.99 investment from Ikea mounts inside a cabinet or pantry door and keeps those billowing plastic bags in check. A classic example of how a container helps organize.
11. Cutlery Tray ~ Not just for cutlery anymore, pick up an extra tray for your 'junk drawer' and sort those tacks, pens, twist-ties, clothes pins and AA batteries.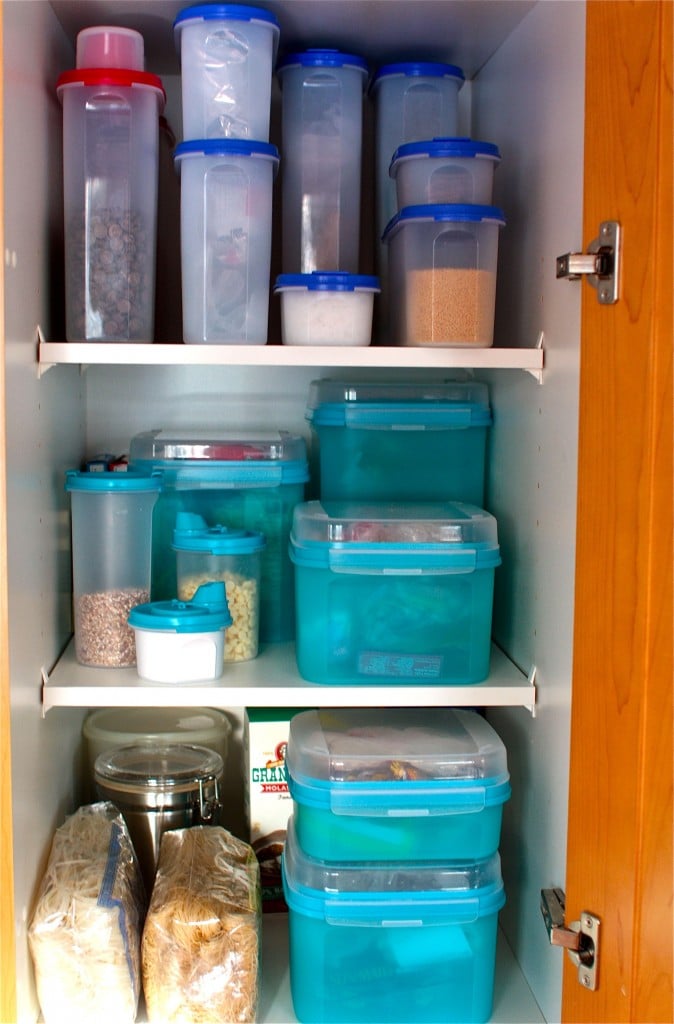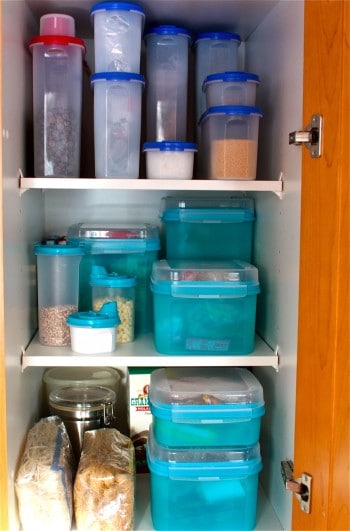 12. Tupperware ~ Any shape, size or color, there's no question Tupperware rules when it comes to pantry storage solutions. Their airtight Modular Mates (top shelf) hold my baking supplies, while the blue containers below keep small, bagged items such as nuts and grains in check.
13. Pails ~  Tin, plastic, or otherwise, pails can holding cleaning supplies, plant or pet food and even stand in as the household tool box if need be.
Of course we can't leave out…
14. Rubbermaid Bins ~ 101 uses? Perhaps. My 6 Qt clear tubs hold camping supplies, picnic utensils and keep the children's arts and crafts accessories organized.
Ready to get started? I challenge you to address the most disorganized area of your kitchen and see if some sorting and 'containerizing' doesn't bring a degree of order. Have fun!
Could your kitchen benefit from some organization? What area do you find challenging to keep orderly?