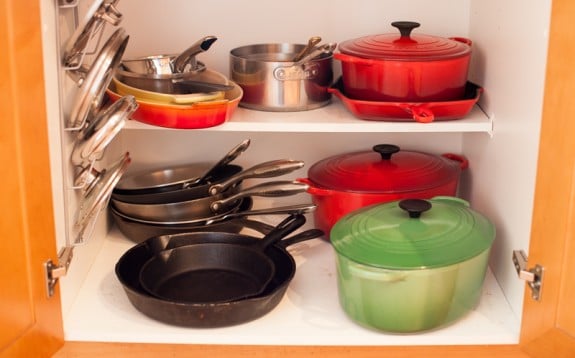 It feels like we're having a record winter for snow and I haven't been interested in going anywhere unless I absolutely have to. Today, unfortunately, I'm slotted for the dentist's chair and a double extraction, but you can be sure that the rest of the weekend will be quiet.
By the way, thank you for all the tips on Facebook for my post-op recovery. No straws. I got it.
Being snowed in means that I've had some time to organize my kitchen for the new year. Nothing too drastic, more of a tune-up than an overhaul, but much needed all the same.
9 small steps for a kitchen tune-up
My intention here isn't to burden you with a checklist to dutifully follow, but instead to give you a snapshot of how I plan to stay organized for the coming months. You can pick and choose what to prioritize in your own kitchen, taking on one small step a week until things are ship shape — or tackle it all on a Saturday morning.
1. Bring back the menu plan. Tack it on the fridge and you'll see how you already feel more on top of things.
2. Make more refrigerator space by relocating root vegetables and winter squash to a makeshift cold room or root cellar.
3. Extend the shelf life of your pantry items by storing staples in jars, tins or Tupperware. This post pretty much walks you through the how and why.
4. Contain cupboard sprawl with containers and racks. It's an easy way to tidy all areas of your kitchen and pantry. From the Ikea Rationell Variera kitchen organizing series, the nifty wire rack pictured above houses my pot lids neatly.
5. Plan to eat down the pantry. Then stock it with these nine important foodstuffs for healthy eating in the new year.
6. Scan for chipped or damaged dishes and glasses and dispose of appropriately. We discovered a chipped glass serving bowl and a wine glass after one of our holiday parties. No matter, it happens; the important thing is that we were able to toss the items before anyone got hurt.
7. Box up the Christmas dishes and other holiday themed items that are taking up space and stash them for another year. You can leave the cookie cutters for year-round fun, though.
8. Break out the hottest new ingredient of 2013 and give those trouble zones a much-deserved clean. I've got a sparkling microwave (but don't look in my stove — yet.)
9. Stash a roll of masking tape and a Sharpie in a drawer and slap a label and the date on anything going in the fridge. This old restaurant system will help you cut down on waste and keep track of what needs to be used first. Thanks to Autumn for the reminder.
Once the kitchen is in order, remember the valuable lesson of 'Clean As You Go', the practice of combining cooking and cleaning to help free up valuable work space, eliminate visual mess, and make for manageable post-cooking clean-up.
Have a wonderful weekend, all. I won't be cooking Sunday dinner, as I'll be resting up from my dental surgery, but I'll be back in the kitchen on Monday morning.
How are you organizing the kitchen for a new year?