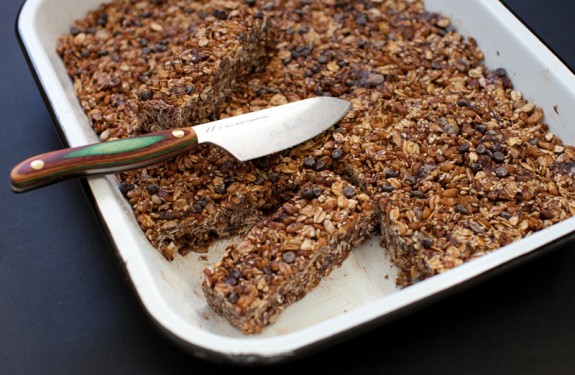 I'm looking at suitcase on the floor, overflowing with light and airy garments with flower prints on them, white sandals, and a stack of Danny's T-shirts. Just above, a window looks out on to our snowbound backyard, frosted white like a slicked sheet cake. Something does not quite compute.
BUT. Our flights are booked and an enormous villa is rented on a quiet beach near a remote fishing town on Mexico's West Coast. Yes, we're headed South! My three siblings and I are finally pulling off a tropical getaway that we've only been talking about for, oh, five or six years. Together with our families, we're flying into Mexico from all over North America for a ten-days vacation together, Wimbush-style.
Here's what we're leaving behind…
I'm so excited to bring my children back to the beach and just let them run. It will all be worth the massive effort required to coordinate such a trip for a family of five. Ugh. Toiletries in Ziplock? Not so much, but packing travel snacks is my specialty.
How to eat well and spend less on snacks in transit
Planning a bagged lunch and well-stocked snack ensemble for a day of air travel is slightly more complicated than packing for a trip to the local museum or park. Among the things one has to consider are:
space limitations – I'm leaving my cooler and ice packs at home, thank-you-very-much.
the food's ability to be transported – It is crumbly? Will it spill or be crushed? Get soggy? None of that sounds like fun.
will the food hold at room temperature for several hours? Warm yogurt? Non merci.
nutritional value – there's no point in packing empty calories; you can find those in any vending machine.
Travel can be draining, so we want to eat well, i.e., wholesome, nourishing foods. Packing food yourself ensures that you do just that. Instead of limiting yourself to the selection of fast food joints in the airport terminal, your choices begin before you taxi to the airport – in your own pantry and refrigerator.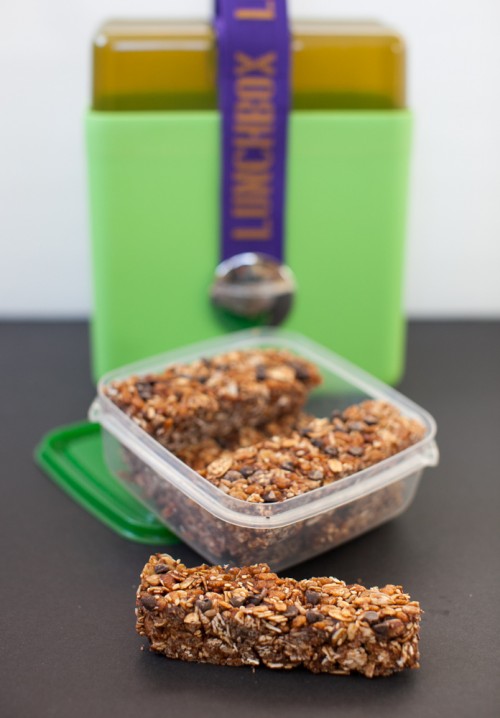 The 'spend less' part comes into play when food is homemade. Stocking up on organic crackers, granola bars, cookies and other treats at the local Whole Foods is going to cost you a bundle; not as much as at the airport, granted, but costly nevertheless.
I've already talked about how homemade substitutes for pantry staples can be cost effective and the same goes for travel snacks. A few dozen hearty homemade cookies or a Tupperware of addicting fruit & nut crisps can be made at a fraction of the cost of buying them, plus, you can customize them to suit the family's tastes. A bonus when some of the travelers are, ahem, selective eaters.
Food should be friendly for little hands, easy to eat, not messy, smelly (no eggs, ugh.) crumbly, or sticky. It should not require utensils, cutting, assembling or much preparation. We're traveling with small children, let's keep it simple. Trail mix, raw vegetables, muffins, firm fruit, and wraps with chicken and cheese are all good options for us, as are today's cereal bars.
These chocolate-oat cereal bars are adapted from The Homemade Pantry
, a cookbook I recently featured which knows it's way around the granola bar. They come together really quickly, require no baking, and are absolutely addicting.
I have to say, my kids were most impressed with my pan of cereal bars. The addition of mini chocolate chips makes them similar to the store bought version, but with way less sugar and preservatives.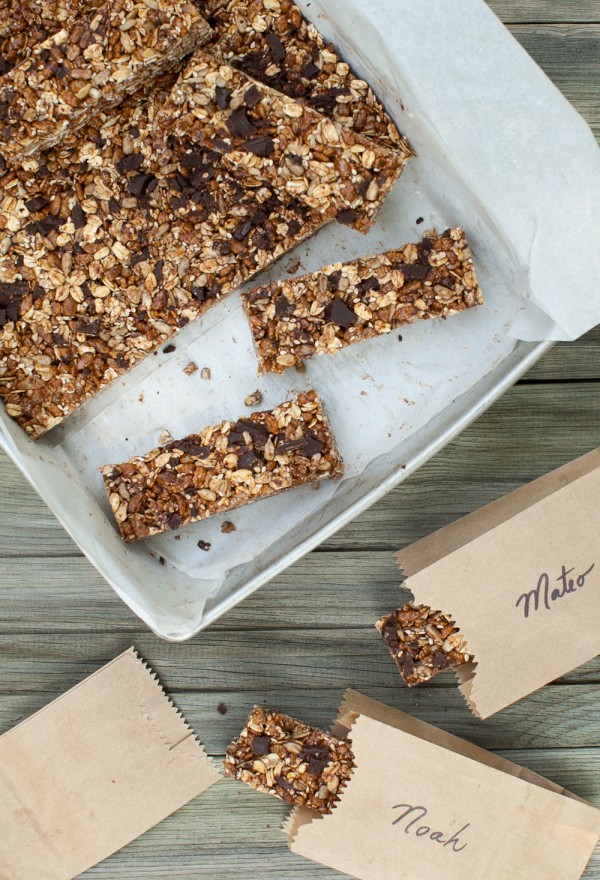 In my version, I've also left out the nuts entirely and upped the puffed rice cereal and the sunflower seeds, so Noah has been able to take them for a school treat. I found the recipe to be quite adaptable, so have fun customizing them to your taste.
These cereal bars make a terrific travel snack – for the car or a flight; I'm feeling pretty good about having a stash of them in the freezer, ready to grab on our way out the door.
Chocolate-Oat Cereal Bars
Original recipe by Alana from The Homemade Pantry cookbook, these are grab-and go granola bars that the whole family will love. They are stirred together in just a few minutes and require no baking. Make-ahead and freeze for instant snacks on hand.
Print
Pin
Rate
Ingredients
1/4

cup

canola oil

1/2

cup

brown rice syrup

2

Tablespoons

demerara sugar

or organic cane sugar

1

teaspoon

cinnamon

1

teaspoon

vanilla

1/2

teaspoon

sea salt

2

cups

rolled oats

3

cups

puffed cereal

such as brown rice or quinoa (I used Attune's Erewhon Cocoa Crispy Brown Rice Cereal)

1

cup

sunflower seeds

1/2

cup

sesame seeds

1

cup

mini chocolate chips
Instructions
Lightly oil a 9X13 baking pan.

In a medium saucepan, combine the oil, brown rice syrup, sugar, cinnamon, vanilla, and salt. Place over medium heat, stirring occasionally, until it comes to a boil and the sugar is dissolved.

In a large mixing bowl, combine the oats, puffed cereal, seeds, and chocolate chips.

Pour the syrup over the cereal mixture and stir with a sturdy wooden spoon to combine well.

Press the mixture into the oiled pan and refrigerate for about an hour.

Cut down the center lengthwise, and then into bars and serve or store in an airtight container, refrigerated, for up to 10 days.
Nutrition
Calories:
249
kcal
|
Carbohydrates:
29
g
|
Protein:
4
g
|
Fat:
13
g
|
Saturated Fat:
2
g
|
Cholesterol:
1
mg
|
Sodium:
90
mg
|
Potassium:
116
mg
|
Fiber:
2
g
|
Sugar:
15
g
|
Vitamin A:
30
IU
|
Vitamin C:
0.2
mg
|
Calcium:
79
mg
|
Iron:
1.8
mg
Do you pack a favorite snack when you travel or brave the airport/truck stop fare?