School's out! Upon finishing Monday afternoon, my boys' excitement was so palpable, I was immediately compelled to lay out a survival plan of action.
For the next eleven weeks, we will all sleep in as often as possible (yeah right). There's no screen time before noon, so don't even ask, thanks. Lunches are made on your own most days and there's a mandatory quiet time following lunch so mama can get some work done. Oh, and we're outside as much as possible, especially for meals.
Amidst this quasi-structure of the day-t0-day, there's plenty of fun planned as well. Also a great deal of learning, and a handful of daily chores, too. Of course I made a list. And then decided to share it here. It's a bit of a summer bucket list, but contains plenty of practical sanity savers. It's just basic survival as we hunker down until September.
29 Summer Survival Tips for Families
1. Summer school? Yes. In the kitchen! I know this is a predictable suggestion coming from me, but the next few months are a perfect time to start kids on the journey to kitchen independence.
2. Remember this list of 42 simple summer lunch ideas kids can make? You're welcome.
3. Let the boys and girls go off and play for real this summer. Remember that risky play is good for your kids.
4. Stick to smart snacking for summer. We're big on fruits and vegetables for all the obvious reasons: no sugar crashes!
5. Take part in the Great Canadian Campout and help get one million people camping across the county. After my last post, aren't you inspired yet?
6. Make homemade marshmallows and invite all the kids on the street for a backyard campfire and marshmallow roast. If you don't have a fire pit, light a few coals in the barbecue instead.
7. Set yourself up with a ice pop maker
you love and make every (natural) flavour under the sun. Start with these Blackberry Lime Cheesecake pops and a dozen or so of these Cherry Limeade pops, then move onto my Pinterest board.
8. Plan a weekly movie night 'in' and start from this collection of the 50 best kids movies to watch as a family.
9. Don't forget my simplest homemade microwave popcorn to go with those movies.
10. Set up an outdoor dry sink or hand washing station complete with a big basin, soap, and towels. Not only does this keep muddy feet out of your house, but it's handy for washing garden vegetables and fresh eggs, too.
11. Cut your watermelon in sticks. Just trust me on this. And serve it outdoors – always.
12. Make your own Magic Shell topping for ice cream and enjoy being magically popular with your children.
13. Go berry picking at least once.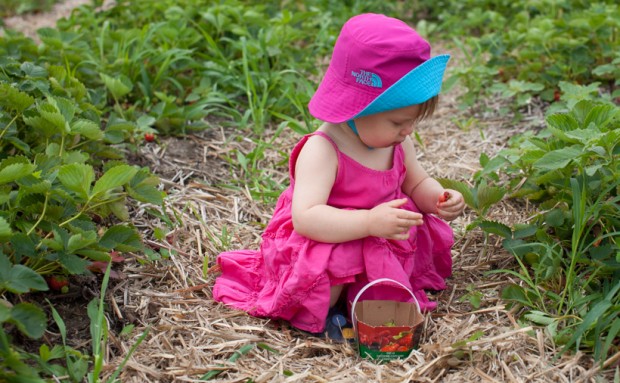 14. Take advantage of those local berries and make a few batches of jam with the kids. Remember this applesauce video? Children can be involved in preserving summer, too.
15. Have kids draw up adorable labels for the jam, then stash it away in a cool, dark place for 6 months and give it to their teachers at Christmas time.
16. Serve up a bowl of summer berries and stone fruit with a side of easy maple yogourt dip.
17. Save the ends of your celery and heads of lettuce  – then let the kids dip them in paint and make pretty rose stationery.
18. Picnic. Picnic. Picnic.
19. Let your kids create their own backyard oasis this summer. Especially a mud kitchen.
20. Have kids race to eat a doughnut off a string. It's a lot harder than it looks.
21. Create a summer reading list. You could start with these two from The Art of Simple: 7 to 9 year-olds and 10 to 12 year-olds.
22. It's not summer until this Coconut Cinnamon Tres Leches sheet cake has been made and consumed with large amounts of berries.
23. Not into tres leches? This simple Yogourt Sheet Cake is just as delicious and popular with little ones.
24. Need to relax? Melissa's downloadable colouring sheets are true works of art and fun for kids and adults alike. Plus, it's for a good cause.
25. Water fight. Few things bring children as much joy as soaking mama and papa with water any way they can. And since we're getting exercises and Vitamin D, what is there to lose? (Tip from a friend: Bunch of Balloons from Toys R Us really do fill 100 water balloons in 60 seconds.)
26. Teach them to care for others by making a meal together and bring it to someone in need: Sympathy foods to make and give in summer.
27. Dude Perfect videos. Perfectly harmless entertainment for middle school kids for when you need 15 minutes to yourself.
28. Let kids create their own favourite flavour of infused water and keep them hydrated all summer long.
29. Get out for local festivals like jazz, fireworks and hot air balloons.
Bonus: And if all else fails: 29 Dollar-Store Finds That Will Keep Your Kids Busy All Summer via BuzzFeed.
Please share! What's your best summer survival tip for families?