Bringing foods to others, be they a new mother or a sick friend, is a topic we've talked about extensively in this space. You readers have a heart for giving, that is plain to see, but you like a few new ideas for foods for others beyond lasagna and banana bread.
I'm busy, too, but making a meal or three for a friend is something that can be integrated into daily cooking thanks to batch cooking and menu planning. Coming up with a nourishing meal in summer can be tricky, however, as it's too hot to roast vegetables or braise meats. So what to do? What meets the criteria of traveling well, re-heating without drying out, and can be frozen if needed?
I came up with a few ideas for you, many of which I executed this week. But first, if you've never read my manifesto on the topic, head into the archives and read Cooking for Others: A Guide to Giving Sympathy Meals. If you have time, reading the 100+ comments will warm your heart and remind you that there are still plenty of good people in this world. Go ahead, I'll wait.
Sympathy foods to make and give in summer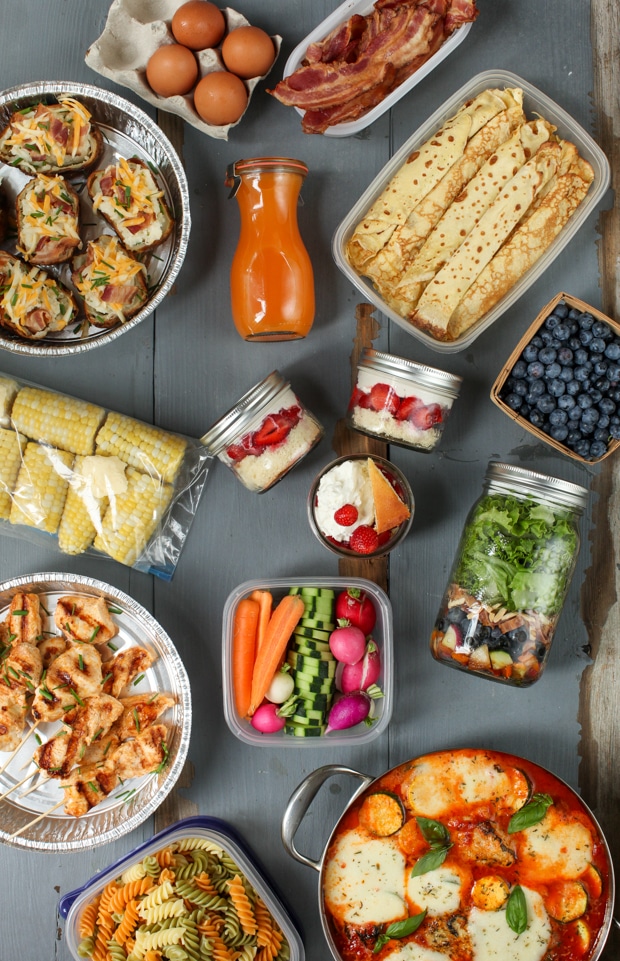 A dear friend of mine recently had a baby and I made it a priority to assemble a cooler of food for her little family. Her house is on the market to sell, so she is trying to keep the place clean with a newborn and a toddler. Let's just say that cooking dinner has fallen a few pegs on the priority list.
This week I'm grocery shopping and stocking up after our vacation, so it wasn't much more work to cook for two families. I washed extra lettuce for salads, prepped a few extra baked potatoes, and grilled a few more chicken skewers for lunch one day.
Before long, I had assembled  everything in the photo above: two full dinners, breakfast, lunch and dessert. Let's take a closer look at these summery foods for others.
Salads
Salads in jars are IDEAL for bringing to others because they are an instant grab-and-go lunch and they keep in the refrigerator for up to 5 days. I made my absolute favourite Blueberry, Bacon & Almond Salad because the berries are in season, almonds are good for nursing mothers, and bacon? Well, everyone needs bacon.
I also tucked in a tub of fresh-cut garden vegetables for snacking. In my opinion, this is a must, especially for new mothers.
More suggestions for salads:
Mains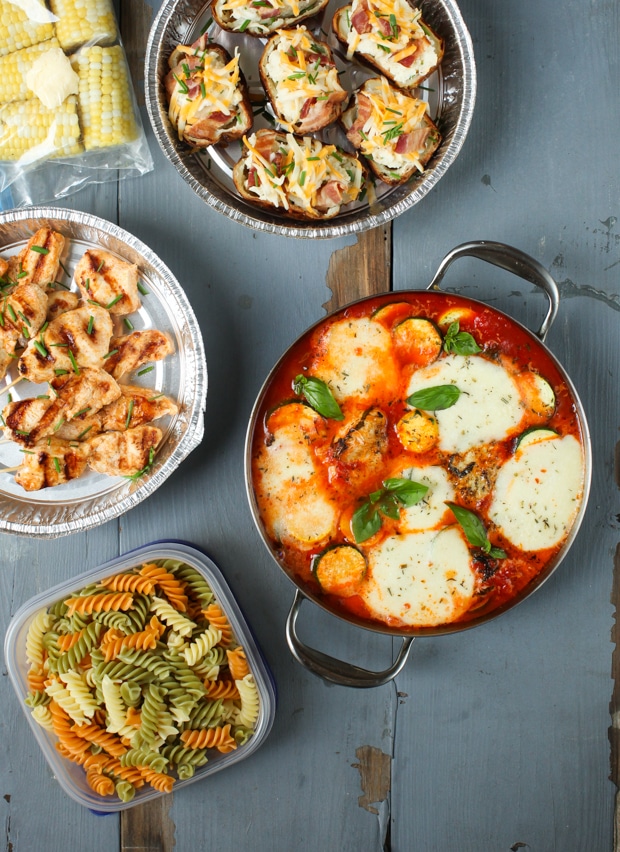 I made a double recipe of the super simple Skillet Chicken and Zucchini Parmesan – one for us, one for my friend. It's an excellent one-pan meal that doesn't heat up the whole house. In addition, it uses up the prolific garden zucchini and herbs.
Readers on the Simple Bites Facebook page suggested twice baked potatoes. We've been having such an unusually cool summer that I didn't mind turning on the oven. I did mine with just sour cream, cheddar, bacon and chives, but here are a host of ideas.
Sweet corn is in season, but have you ever tried shucking corn one-handed? I made sure to include bag of steamed corn with butter in my friend's cooler; all she has to do is warm it in the microwave or under hot water.
More ideas for mains:
Breakfast
Fresh fruit is the obvious choice for summer breakfasts, but a little bacon is nice too! I had crepes in the freezer from a previous weekend breakfast (yes, they freeze well) and to that I added farm fresh-eggs and pre-cooked bacon. If your friend is into juicing, why not include a jar of freshly juiced fruit and vegetables?
 More ideas for breakfast:
Remember, any contribution, large or small, helps those in need. It is truly the though that counts, so bookmark this post for the next time you know of someone…
~ in bereavement
~ going through a divorce
~ caring for a new baby
~ moving house
~ fighting in court
~ ill or caring for the ill
~ on bed rest
~ out of work
~ overworked
~ writing exams
~ getting married
~ caring for a special needs family member
~ fighting a long term illness
~ in financial crisis
There's a lot to be said for the benefits of good, home cooked food when someone is emotionally and physically low on reserves. I know this from experience and you could probably attest to the same.
Do you have any more ideas for summer foods to bring to friends in need of a meal?