My first visit to Prince Edward Island was last summer, when we spent two night at a B&B on tall red bluffs overlooking the ocean. The boys hunted for sea glass on the shoreline, we climbed a lighthouse during a wild storm, and Danny fell hard for a locally distilled gin.
On that trip we played Anne of Green Gables on the minivan's DVD player and didn't resist falling in love with the Gentle Island. We knew we had to come back to explore more of P.E.I. and this summer it happened, with a little help from their tourism board.
Travel is a big part of our developing family food culture; our children learn about and sample the local fare, whether it is freshly dug clams or pan-fried fish. This topic is a little different from my usual blog content, but as many of you enjoyed reading about Mexico and Nova Scotia, I thought you'd like to join us on the beautiful Prince Edward Island.
On our first night on the Island, we found the beach about 5 minutes after checking into Shaw's Hotel. Coming over the dunes and seeing the brown sugar sand stretching for miles in either direction was unforgettable. How did I not know beaches like this even existed in Canada? We stayed for sunset – how could we leave? As the waves lapped my ankles, I exhaled deeply; absorbing the calm that the expanse of still ocean brought.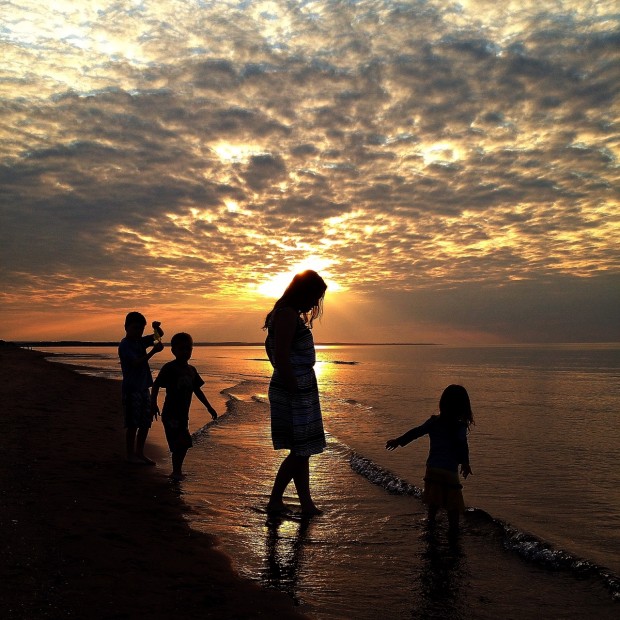 We stayed in the heart of Green Gables Shore for the first half of our visit. I could feel Anne-Girl all around, although it was more in the curves of the sand dunes and the rolling emerald hills dotted with quaint farmhouses than the commercialism I was expecting. There we were, at high season in the most touristy area and it still felt very 'off the beaten track'. We didn't encounter a single line-up, save for the occasional fish & chips stand at lunchtime, and there was an laid-back feeling to everything that was most refreshing.
Our base camp for the first few days was a cosy cottage on the outskirts of Shaw's Hotel, Canada's oldest family-operated inn. Our place had a view of the water, plenty of space and was immaculately clean. We could walk to Brackley Beach, and most of the local attractions were within a 15 minute drive.
Our first official outing was to Green Gables Heritage Place, a restored farmhouse that once belonged to the aunt of author L.M. Montgomery and inspired the setting for the Anne books. No, it's not the original movie set or an amusement park, but a deliciously quaint destination, full of late 1800's nostalgia and maintained to the utmost.
I could have stayed four hours, examining every item in Marilla's dairy room, kitchen, and pantry (on a related note, I now need a dairy room of my own). Just when the kids needed to burn off some steam, we discovered the path to the Haunted Woods, and they were off, climbing trees and skipping through the shadows. Danny and I didn't make it to Lover's Lane, but only because I had to pay a second visit to Anne's room, with its spring green curtains and flowered wall paper.
Clara cat-napped in the van while we drove to PEI Preserves Company for lunch (above, right). Danny and I dipped our spoons into hearty chowder and shared a salad; the children took advantage of the kids' menu and the best PBJ, homemade preserves and all.
We would return to the picturesque New Glasgow the next day for their famous lobster suppers (above left), at a third generation family restaurant that has been serving lobster in New Glasgow since 1958. How did I feel about more seafood? Just fine.
We slipped into the quaint Avonlea Village just in time to watch a three-legged race. Then Noah joined Anne's team for an egg-and-spoon race – and won! There was still plenty of time to stop for Cow's Creamery ice cream in the shade of the Avonlea schoolhouse before watching the pig race. Fascinating tidbit: this was the same schoolhouse that Montgomery taught in during her days as a schoolmarm.
We could have stayed all day, but we had dinner reservations, and when our meal looks like this, I'm the first in line.
We had enough time to freshen up at our cottage before heading to a highly anticipated dinner at Shaw's Hotel. Their chef, Peter Angus, was kind enough to accommodate my boys' selective palates and prepared them pan-seared halibut with homegrown green beans and house fries. I think there was complete silence at the table as they cleaned their plates.
Danny and I decided 'when in Rome…' and ordered lobster, mussels and a fresh clam pasta. In the end there was nothing left but a pile of shells. When seafood is that fresh and skillfully prepared, it's absolutely the best food in the world.
We spent as much time as we could on Brackley Beach where we sculpted sandcastles, walked for miles and played in the gentle waves. When we got hungry, we'd head for Richard's fresh seafood eatery just up the road. The line-ups were long, but he just might have the best lobster roll on the Island.
Out of eight days of vacation, we only had one day of rain. Then we loaded up the van for a road trip and hit the North Cape Coastal Drive, a picturesque route if there ever was one. Yes, the P.E.I coast is breathtakingly beautiful, but the interior of the island has its own charms. Rolling hills dotted with well-mintained traditional farmhouses, fields of golden wheat, rows of flowering potatoes, and green pasture.
I'm discovering that landscape photography is a whole new skill that I have yet to master. I couldn't quite capture the sheer beauty of the vast fields dotted with pretty white churches and ancient graveyards, all sloping down to the sea.
Samuel's Coffeehouse in Summerside made an ideal lunch and coffee stop, with plenty of healthy options on the menu, and smoothies that made my kids smile from ear-to-ear.
Danny had mapped out four antique shops enroute using this handy PEI antiques trail, and so while the kids watched the LEGO Movie in the van, I dashed through the rain to hunt for treasure. Vintage Fiestaware, ancient bakeware, enamelware and beautiful old jars were just a few of my finds. I also discovered a few first edition L.M. Montgomery novels and couldn't resist their charms.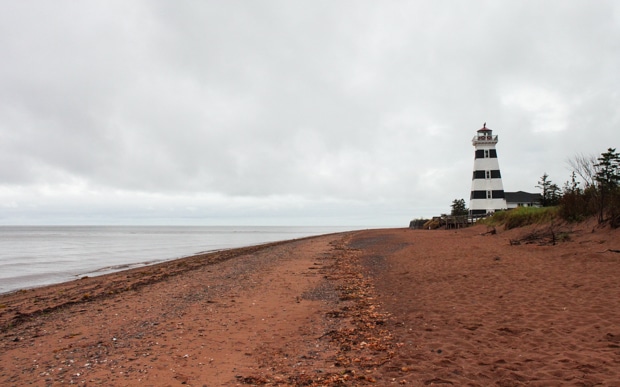 The rain let up for us to explore around West Point Lighthouse. Remind me to book a room here on our next trip. Sleeping in a functioning lighthouse with the sounds of the sea outside my window? Sounds romantic to me.
Clara had to have a look for the legendary West Point sea serpent from the top of the 67ft lighthouse. We didn't spot it, but the view was remarkable, even on a stormy day.
Mont Carmel had the prettiest church-scape of the trip. The historic Notre-Dame-du-Mont-Carmel Church is one of the Island's oldest churches and towers over a magnificent backdrop of the Northumberland Strait. Truly majestic.
Part 2 of our family travel on Prince Edward Island is now live HERE. We dig for a clam dinner, discover Charlottetown and continue to fall in love with the beautiful vistas of the Gentle Island.
Disclosure: P.E.I. Tourism partially sponsored our trip on the Island. All opinions expressed are entirely my own.
Have you ever wished to travel to P.E.I?