Inspiration and ideas for an easy and relaxing family vacation on Prince Edward Island. Created in partnership with Tourism PEI.
This is the year for exploring locally, be it a country road trip, camping excursion or city staycation. Thanks to an Atlantic Canada travel bubble, we're able to move around from Maritime province to province without needing to self-quarantine.
Last weekend, in honour of my birthday, we enjoyed a relaxing family vacation to beautiful Prince Edward Island. For four days, it was just us, the red roads and endless beach.
So many of you followed along on Instagram and asked questions, so I thought I'd share a quick recap here with helpful links.
Our simple family vacation on Prince Edward Island was the perfect balance of relaxing and thrilling — with plenty of delicious food, too.
Clara and I hunted for sea glass at sunset while the boys chased crabs in the shallows of low tide. Danny made the rounds at the local microbreweries and balanced out the pints with a morning runs on the beach.
We experienced a magical evening picnic in a garden and paddle boarded the waves of the Eastern Coast.
The last time we properly vacationed on PEI, our kiddos were ages 2, 6 and 8 (recapped: Part 1 and Part 2). It was an incredible trip…but there's no way we were as chill (toddler, remember?).
My goal for this trip was to R.E.L.A.X, which I tend to do best while immersed in the beauty of nature. So whether we were strolling down a floating boardwalk or slurping oysters in the garden at Bay Fortune, there was an overall sense of calm.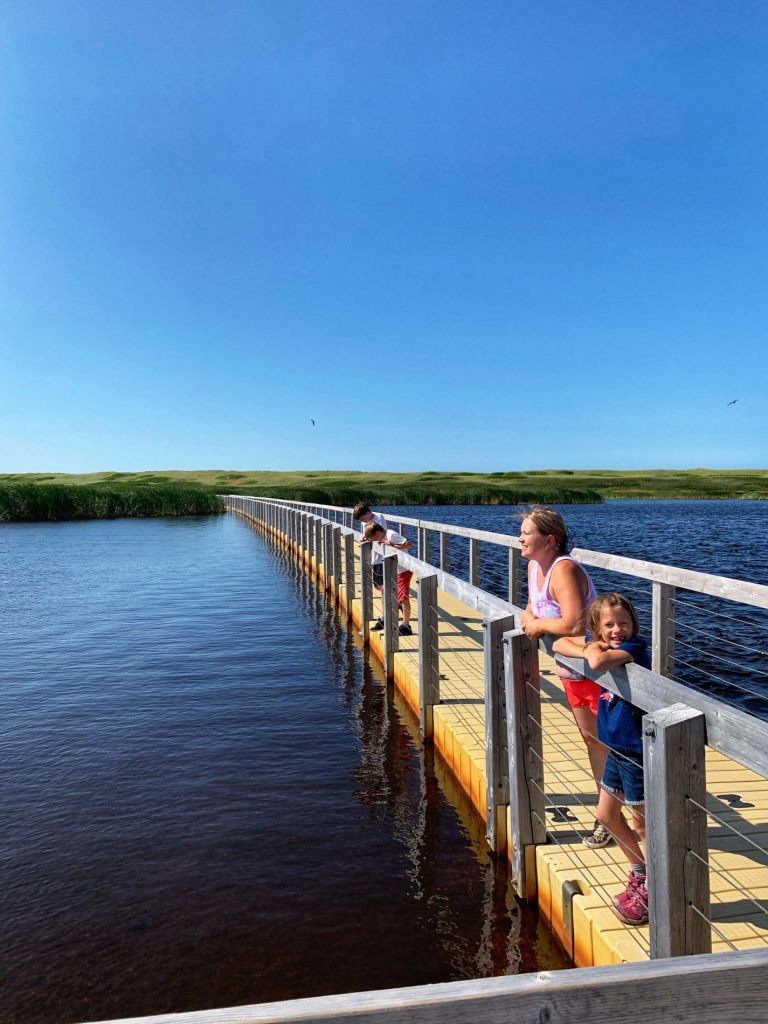 Before you go:
Planning a trip to the Island couldn't be easier! Start by discovering PEI online and go from there.
For those of you outside of Canada, this is the year to armchair travel to our beautiful country. That said, accommodations do book up quickly, so do your research now for next summer.
Narrow down a region for slower, more relaxed travel. PEI has five: we chose Points East Coastal Drive.
Book accommodations and the ferry, if needed.
Make a restaurant reservation or two.
Book an excursion or activity such as paddle boarding or golf.
Bonus: Take out a stack of library books for the whole family – the five of us love to read on our travels.
Accommodations
When traveling with family, the perfect Airbnb or cottage rental is essential. We need to be able to do a load of laundry and cook up a quick meal.
On PEI, having easy access to the beach is ideal, as we are here to log maximum ocean time. We loved our stay at a place called 'Beach Therapy' – mainly because of its close proximity to a private, sandy beach (pictured above). We hung out there a lot and only saw one other person in four days!
PEI has perfected the vacation cottage rental, and offers everything from a remote seaside stay to a more communal setting.
Points East Coastal Drive: Local Highlights
As mentioned above, we mainly stayed on the Eastern part of PEI in a region called Points East Coastal Drive, know for incredible beaches. Here are a few of our favourite spots and activities from the area.
Souris Beach Gateway Park – Our kiddos played for hours in the shallows here. The boys hunted crabs while Clara and I searched for sea glass.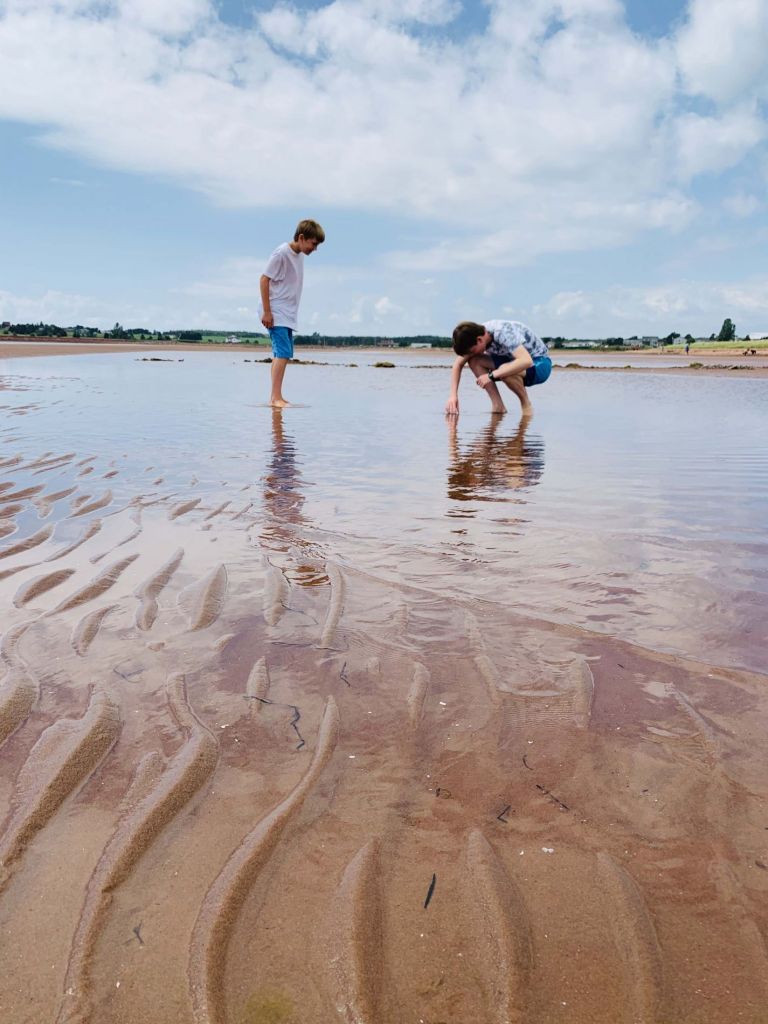 Basin Head Provincial Park – More beautiful beaches and stunning red cliffs. We explored this area on paddle boards.
East Coast Paddle Adventures – Our guides for ocean paddle boarding. This excursion was so much fun for the whole family. Every time I glanced around, my kids had the hugest grins on their faces!
East Point Lighthouse – Tour this lighthouse at the most Eastern tip of PEI. Go for the incredible views and stay for the gift shop and ice cream parlour.
St Peter's Landing – The perfect pit stop for families. Parents can caffeinate at Black and White Café while kids stretch their legs and grab ice cream.If you need a picnic to-go, try the sandwiches at the café and don't miss Fritz chocolates.
Greenwich PEI National Park – Our absolute favourite adventure was the Greenwich Dunes trail. The 4.8 km round trip trail is easy enough for all ages and boasts some spectacular views. Pack your swimsuits and finish the walk by jumping in the ocean.
Dining Around Points East Coastal Drive
Dinner
Point Prim Chowder House – You won't find an eaterie with a more dramatic backdrop. Get the oysters and a lobster roll too.
21 Breakwater Restaurant – Exceptional food in a relaxed, family-friendly environment. Ocean views!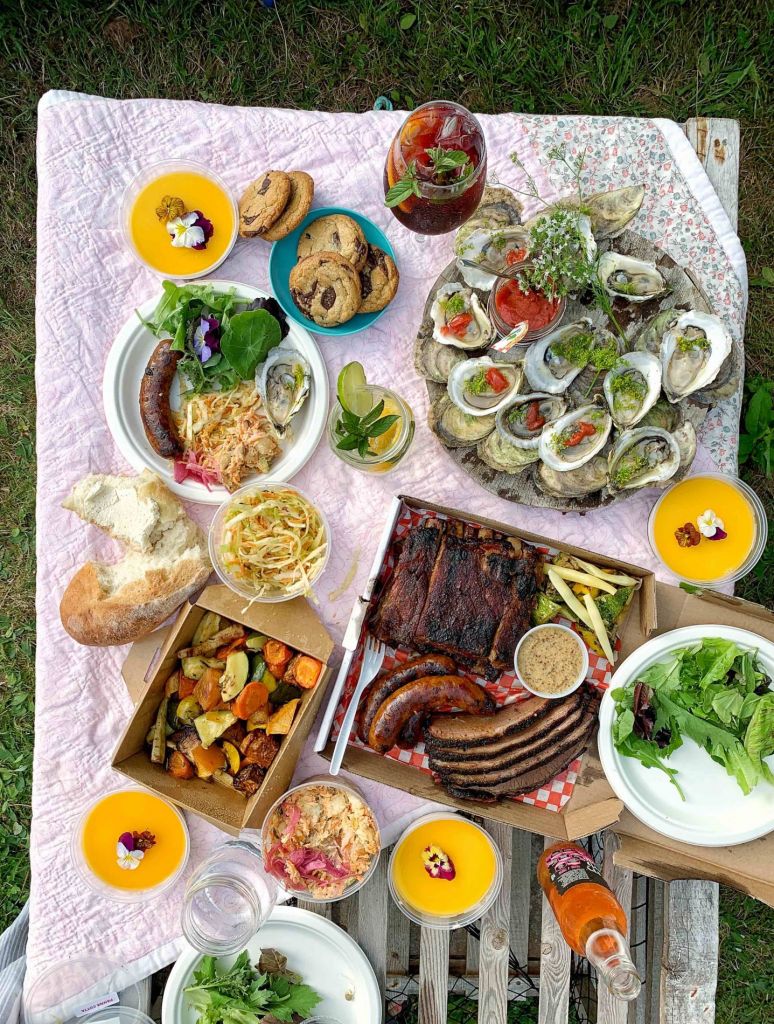 The Inn at Bay Fortune – Could this be the best picnic in Canada? Quite possibly. Reservations are essential for this one-of-a-kind experience.
Lunches/Snacks
Black & White – Cafe and Bakery – Great coffee can be hard to find in rural Canada. The lattes at this oceanside cafe were enough to fuel this tired mama for a hike along the Greenwich dunes. Guaranteed!
Copper Bottom Brewing Company – Eastern PEI's first craft brewery and taproom. Grab a seat on their shaded patio or bring a sample pack of beer and a picnic basket back to your accommodations.
Evergreen Cafe – I love finding a big salad while on vacation – it balances out all the ice cream and lobster rolls. Get the buddha bowls at Evergreen. My kids loved the smoothies and breakfast wraps.
Cherry on Top Creamery – Kids will flip over the freakshakes but I recommend just a modest scoop of homemade ice cream made with Island berries.
Oysters – Make a point to order fresh oysters at every opportunity. Prince Edward Island oysters are world-class and some of the freshest you'll ever taste.
A Simple Family Vacation on Prince Edward Island
It may sound like we packed in a lot, but over four days, we had plenty of downtime. We took our morning coffees to the beach, jumped in the ocean every afternoon, and relaxed with our books at sunset.
Whether it be next year or beyond, I hope you make your way to Prince Edward Island, where the seafood is plentiful and the sea-glass comes heart-shaped.
Disclosure: This post is sponsored by Tourism PEI. Travel, food, activities and accommodations were provided for my family and I.