After spending two decades in Montréal, I am saying goodbye to this beautiful, diverse and delicious city. Upon your request, I'm listing my favourite food places in a 4-part series; consider them yours to discover. See you in Halifax. xox
Montréal just might lead Canadian cities with the best casual eats in the country. Diversity, atmosphere, style, flavour, affordability – it's all here in the unique neighbourhood restaurants that span one end of the island to the other.
If you've got twenty bucks and the bravado to take on the construction around the city, virtually any food craving – from pizza to poutine – can be properly satiated.
Photo by Alison Slattery
As a mum to three bambinos, I'm well acquainted with casual places around the city as I am usually accompanied by a child or three. Back in the day, I almost always had a stroller with a wriggling toddler; however now my tweens and teens spill out of a booth and order half the menu.
Here are a handful of our favourite haunts, old and new.
Montréal Casual Eats
Photo by Alison Slattery
Twenty or so years ago, Olive et Gourmando was my favourite spot for a bite and a coffee. My aunt lived next door and it was easy to pop in for a chocolate brioche or one of their fabulous sandwiches. Nowadays, the place is so popular, it's unpleasantly crowded and the wait for a table can be long. Fortunately, newcomer Un Po Di Piu has arrived on the scene – a breakfast and aperitivo spot brought to us by the same owners as O+G. It's charming, it's spacious, and the food is exceptional (and I can say that about precious few Old Port restaurants).
La Banquise is another old-time establishment that Danny and I have frequented since his McGill days. We introduced it to our kids and minds were blown. The best poutine in town? Without a doubt. La Banquise never closes, so you can head there as soon as you've finished reading this post.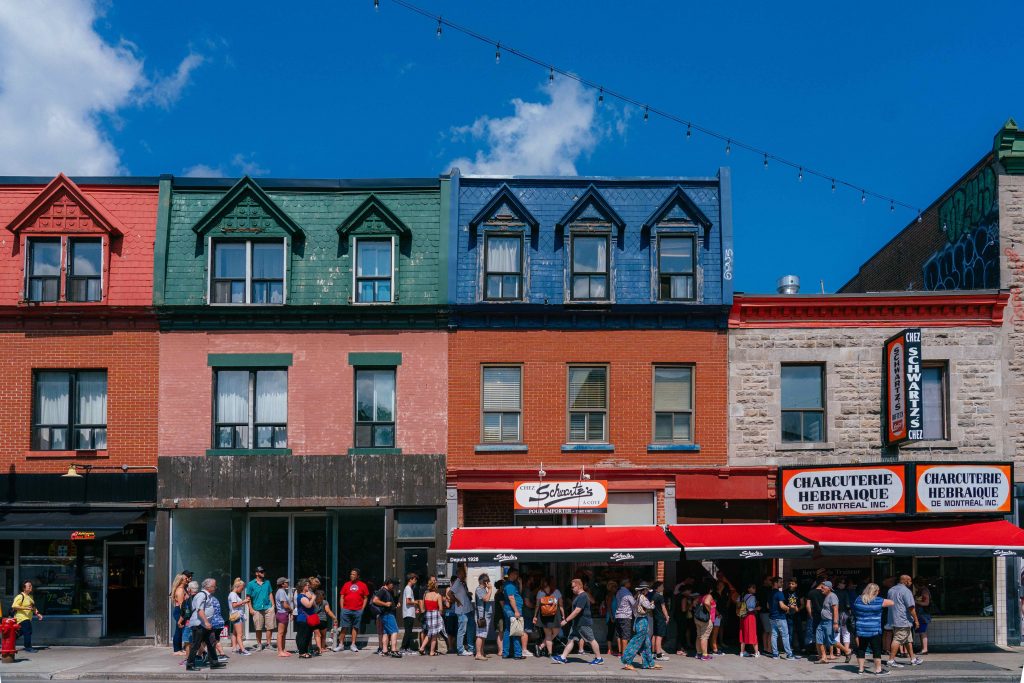 Photo by Tim Chin
I still recommend Schwartz's Deli to folks coming to visit Montreal for the first time, because everyone has to go once. However, if you're not willing to stand in line (I don't blame you) head to Snowdon Deli and get the smoked meat sandwich there instead.
If it's tacos you're craving, pop into the relaxed and cozy Grumman '78 (edit: sorry, now closed!) and feast on their creative combinations. And don't pass up the opportunity to order up a mess of tacos from their food truck, should you spot it around town.
Photo by Alison Slattery
If all-day breakfast is your thing, head to Mckiernan Luncheonette with its family-style tables and food hall vibes. Order the most Montreal item on the menu – the Mckiernan Special, a giant cheese gougère piled high with house-made smoked salmon, pickles and chive cream cheese. Fabulous. There's plenty of room to bring the kids here and the place is casual enough that no one is going to care.
For a lunch date with your girlfriends, grab a table at the adorable Le Butterblume, a restaurant/café/épicerie that is every bit as pretty as you would assume from the name. Their menu is full of fresh and vibrant dishes that change with the seasons. A truly special spot in the city.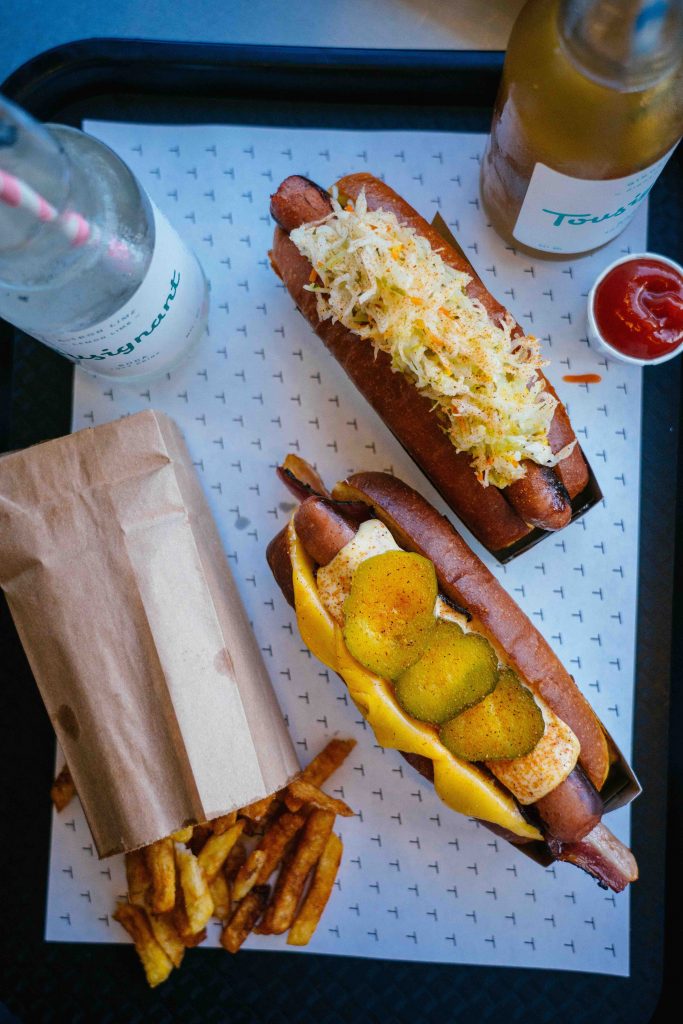 Photo by Tim Chin
Once or twice a year, I allow myself to go all out at Chez Tousignant, the modern version of a true "Quebec-style" casse-croûte. Everything is made in house, from the hot dogs to that special burger sauce, and everything is over the top. In the dead of winter, it's the best place to grab a late-night bite on the way home from the movies.
If I could choose a restaurant to magically pop up on my street, it would probably be similar to Arthur's Nosh Bar. It's exactly how my kids like to brunch – smoked salmon on everything – and the lunch menu can't be beat. Get the McArthur sandwich, a Caesar or a Spritz, and enjoy the casual vibe of this cozy neighbourhood spot.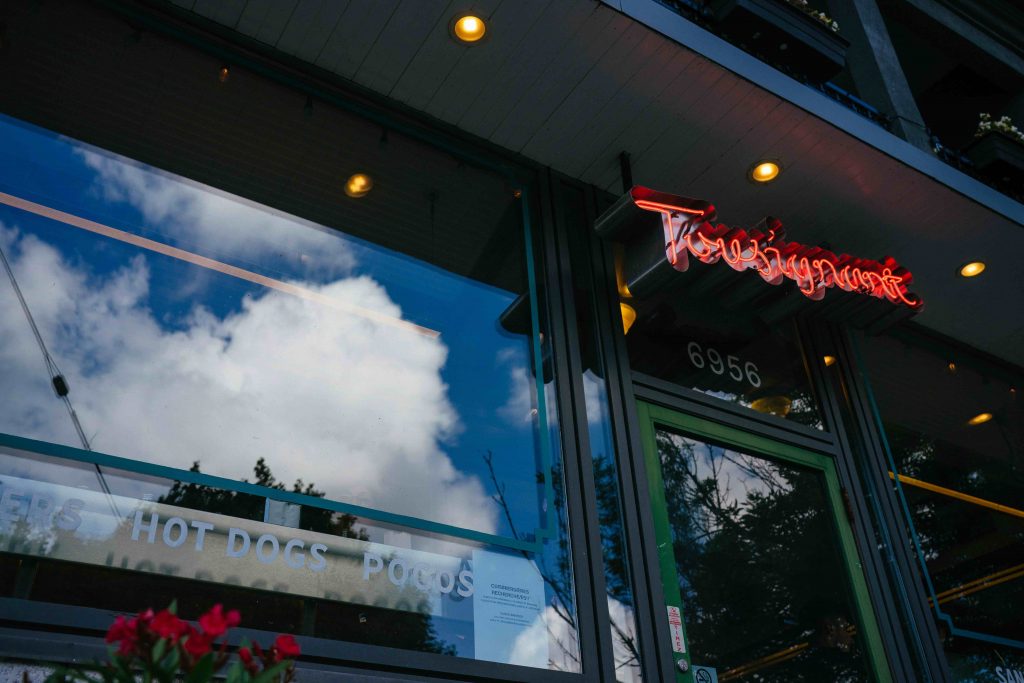 Photo by Tim Chin
Another favourite stop for late-night eats is Satay Brothers (they have a few locations now). They serve up Singaporean street food that sings with flavour. Their Notre Dame St West location is a great spot to go with a group of friends or the whole family. Definitely get the steam buns with pork belly.
Chinatown's Kim Fung is where we head for a full Cantonese-Sichuan feast.  We order up all of our favourite dishes – noodles for the kids, duck for the adults – and enjoy the attentive service in a comfortable space.
Photo by Alison Slattery
When I dream about escaping from the cold on a November evening, I think about Larry's. It's a cozy resto-bar that dishes up small plates with big flavours. Choose this spot for a date-night, not a family dinner, as it's quite an intimate space.
No matter the weather, a pie at Pizzeria Gema is always a good idea. As is a bowl of frozen custard to finish. Since we're talking about pizza, I'll mention that my teen's favourite pizza is at Pizzéria No. 900.
Get your ramen fix at Kazu, your steaming bowls of pho at Pho Bang New York and book a table for Sunday Dim Sum at Maison Foo Lam.
Photo by Alison Slattery
After you've feasted on Montreal's poutine, smoked meat and bagels, balance it all out with a giant gourmet salad from Mandy's. Eat in and enjoy the adorable decor, or get your salad to go and find a bench in the Old Port to stop for lunch.
And that's it for my personal list of casual eats in Montréal. Please remember that this is intended to be a small curated list of spots that I frequent – not a comprehensive list of Montreal's best. 🙂
A big thanks to Montreal food photographers Tim Chin and Alison Slattery for providing the images for this post.