Well hello November!
I've never been one to herald the arrival of this dismal time of year, but this month we'll transition into our Halifax home and I am filled with anticipation for that new chapter. I'll be sharing more on our move soon (here's a sneak peek at our lakeside cottage), but for now we need to talk about this salad I've been making on repeat.
Since the cooler weather has arrived, I've certainly been cooking more sheet pan dinners and slow cooker suppers, but I'm also embracing fall greens with gusto. It might be my favourite season for building a hearty salad, and as you will see, I like to pile just about everything on the plate.
November is when the kale in my garden is at its best, sweetened by those frosty mornings. My winter squash habit peaks at the market and I haul a few varieties back to my kitchen on every visit.
Delicata is my favourite for salads, mostly because it is a fuss-free squash, but also because I love how it looks on a plate of greens. It also takes on a wonderful chewy texture when roasted and caramelized; this is just one reason why it stands up to the robust kale so well.
This month is also when I remember how delicious a ripe pear can be. I keep a bowl of them on my kitchen counter and they go on everything from my morning oats to my super salads. In this recipe, I use a Red Anjou, which is firm enough to slice without a mess, yet still plenty sweet and juicy.
In November I get back in the habit of toasting nuts, partially as an excuse to warm up the kitchen with the oven, but mostly to have around for snacking . Walnuts pair so well with the sweet pears and roasted squash, but you could use pecans or hazelnuts, too.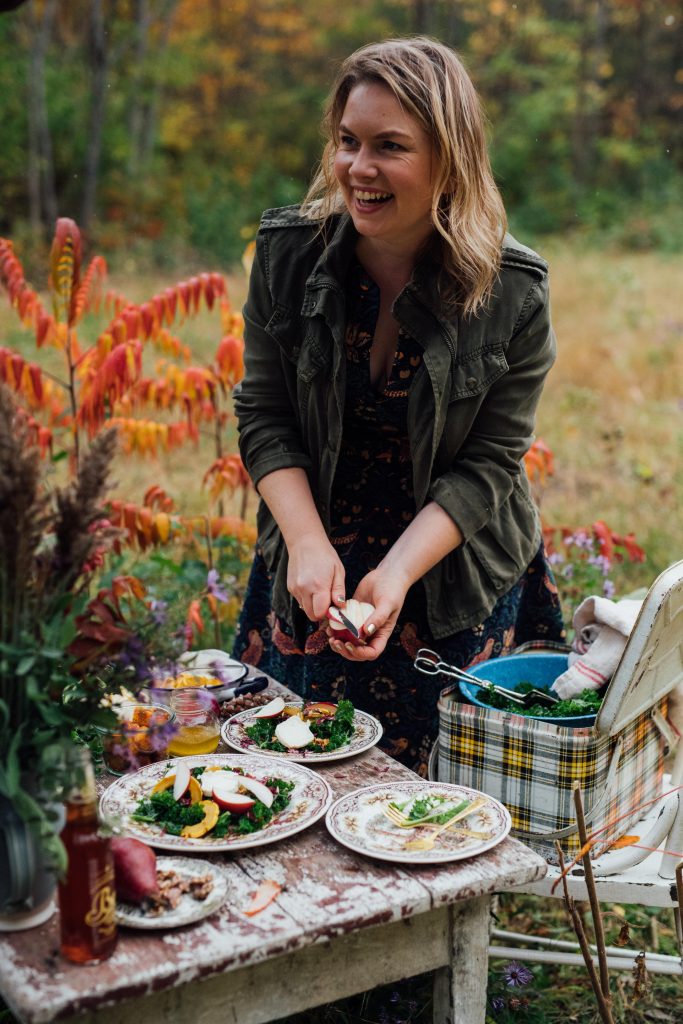 I try to remember to keep a wedge of bold cheese, such as a blue or a chevre, in the fridge for salads such as this one. And there's always a jar of vinaigrette on the counter. With meal prep like this, a hearty fall salad can come together in a matter of minutes.
As with most of my recipes, I hope you use this salad idea as a springboard for y0ur own creations, using what you have on hand. It would be delicious with a crisp, sweet apple in place of the pear and shaved parmesan instead of the goat cheese. If nuts are a problem for you, top the salad with toasted, salted pumpkin seeds.
I also recommend rounding out the salad to a meal by including cold, roast chicken or leftover holiday turkey – so delicious with that apple cider vinaigrette.
Kitchen Tip: All raw kale salads have to be massaged to break down the tough fibers and bring out the sweetness in the kale. Massaging kale transforms it into a tender (and more digestible) salad green. A completed kale salad should not look leafy; it should look dark green, bruised, and almost soggy. Delicious!
Kale, Pear and Roasted Delicata Squash Salad
A hearty and nutritious salad, filled with the flavours of fall.
Print
Pin
Rate
Ingredients
1

small Delicata squash

2

teaspoons

olive oil

1

pinch

salt

1

small bundle

curly kale

washed and torn

1/4

cup

shredded radicchio

optional

2

red Anjou pears

sliced

1/2

cup

toasted walnut halves

1

cup

cornbread croutons

optional

50

grams

chevre

goat cheese for topping

Apple Cider Vinaigrette

recipe below
Instructions
Roast the squash: Preheat oven to 400F. Cut the squash in half lengthwise and scrape out the seeds, leaving it looking like two canoes. Lay them, cut-side down, onto a board and slice into 1/2 inch moons.

Toss the cut squash lightly with olive oil and arange in a single layer on a parchement-lined baking sheet. Season with salt and roast until fork tender and slightly golden, about 15 minutes. Cool squash to room temperature. You could also toast your walnuts at this time.

Prep the kale: Place the kale in a large salad bowl and pour over 2 tablespoons Apple Cider Vinaigrette. Using your hands, or two wooden spoons, thoroughly massage the kale until it begins to look bruised and a slightly darker green.

Assemble the salad: Toss the kale, squash and radicchio together in a bowl with another spoonful of vinaigrette. Heap the salad high on a serving plate and top with sliced pears, walnuts and cornbread croutons, if using. Finish with a slice or crubing of cheve, depending on your variety. Drizzle with a little more vinaigrette and serve at once.
Nutrition
Apple Cider Vinaigrette
A simple and versatile salad dressing with many health benefits.
Print
Pin
Rate
Ingredients
1/4

cup

raw apple cider vinegar

2

teaspoons

Dijon mustard

1

teaspoon

liquid honey

1

clove

garlic

minced

generous pinch

sea salt

generous pinch

black pepper

1

tablespoon

fresh herbs

or 2 teaspoons dried (basil, oregano, chives or thyme)

3/4

cup

extra virgin olive oil
Instructions
Combine all ingredients except the olive oil in a jar. Stir well with a fork.

Add olive oil, cover tightly, and shake well until combined. You can also use a blender and drizzle the oil in slowly while it is running.

Taste for seasoning and add more salt if desired.

Top the jar with a lid and store in the fridge for up to 2 weeks, or at room temperature for 4-5 days.
Nutrition
Images provided by my salad-munching friend, Alison Slattery of Two Food Photographers. Thanks, Ali!