Hearty winter vegetables aren't nearly as appealing as their lush summer counterparts, yet during these cold winter months, we have no choice but to embrace them day in and day out.
Fortunately, roasting brings out the best of winter vegetables, especially if they've been sitting in the crisper drawer for a while. I've always got a container of roasted vegetables in my refrigerator – onions, sweet potato, Brussels sprouts and so on – and I add them to everything from breakfast burritos to grain salads.
Today's recipe is a simple one; a basic one-pan supper of sausages paired with an assortment of winter vegetables, roasted up together and finished off with a squeeze of (also roasted) lemon. It's fast, it's easy to clean up, and you probably have all of the ingredients already.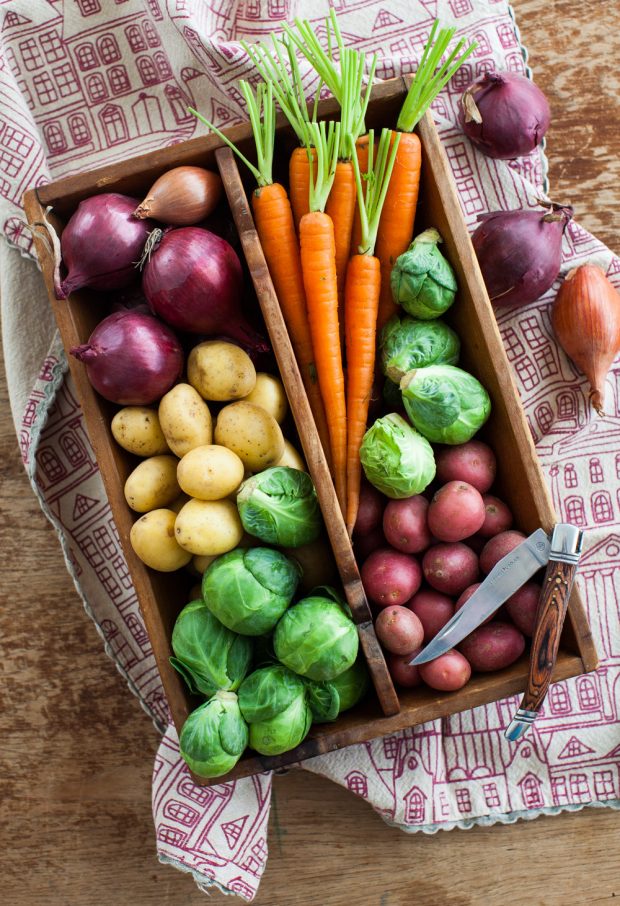 Even though I provide visuals and a recipe in this post, I encourage you to make this dish your own. Almost any sausage can be used, pre-cooked or uncooked, though the uncooked (like mild Italian sausage) might need an extra five minutes. Swap in sweet potatoes for regular potatoes, and add wedges of acorn squash instead of carrots. Cubed parsnips are delicious roasted, as are French shallots.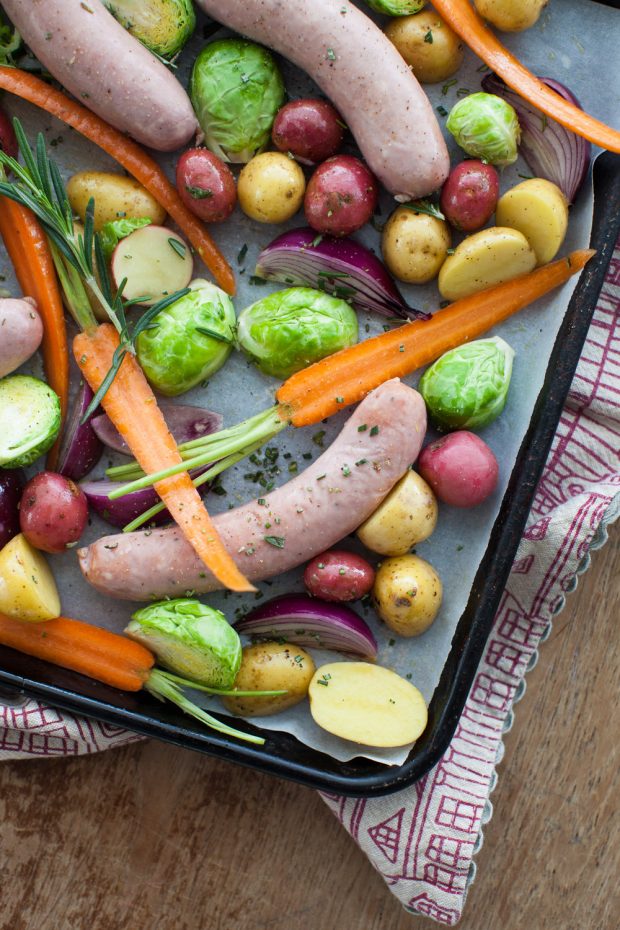 Two basic method for success are as follows: a 400 degree oven that crisps the edges (yet is low enough to cook the vegetables through) and allowing enough space on the pan for the vegetables. Overcrowded vegetables won't cook evenly and won't crisp, either. If in doubt, use two sheet pans instead of one.
In this recipe, I tuck a whole lemon onto the pan in the last 10 minutes of cooking. Roasting it for a bit softens the membranes inside the lemon, just like that old microwaving tip. The roasted lemon yields a lot more juice when it is halved and squeezed over the roasted vegetables just before serving. This brightens the flavors and adds a necessary acidity to the dish. If you don't have a lemon on hand, simply dash a few drops of vinegar (apple cider, balsamic or red wine) onto the vegetables.
Also essential? Proper seasoning. Finish the dish with a generous dusting of flaky sea salt or your homemade flavoured salt; these winter vegetables need a little livening up.
Serve this sheet pan supper with a side of grainy mustard and a basket of crusty bread. A bottle of wine is optional, although you may want to toast the success of this simple and sensation weeknight dinner.
One-Pan Roast Sausages and Winter Vegetables with Lemon
A simple weeknight meal that is fast to prepare and highlights seasonal, local vegetables.
Print
Pin
Rate
Ingredients
6

small carrots

trimmed

2

small red onions

peeled

1

lb

small potatoes

1/2

lb

Brussels sprouts

2

Tablespoons

olive oil

1

teaspoon

chopped rosemary

5

mild sausages

farmers, honey garlic, etc

1

teaspoon

salt

1/2

teaspoon

freshly ground pepper

1

lemon

washed
Instructions
Preheat over to 400F. Line your largest rimmed baking sheet with parchment paper (for easy clean-up).

Prepare the vegetables. Slice the carrots in half lengthwise and cut the onions into quarters. Cut the potatoes in half or quarters so that they are about as big a grapes. Trim the ends off of the Brussels sprouts and slice in half if they are very large.

Toss the vegetables on the sheet pan and drizzle with olive oil and rosemary. Use your hands or tongs to toss everything together until well coated in the oil.

Spread the vegetables in a single layer and tuck the sausages in and around the veg. Sprinkle everything with salt and pepper.

Place the pan in the oven and roast for 15 minutes. Remove from oven and use the tongs to flip the sausages. Give the vegetables a stir and make sure they are spread out in a single layer.

Place the whole lemon in the corner of the pan and return the pan to the oven. Roast for another 10-15 minutes until the potatoes are tender. Remove from oven.

Slice the hot lemon in half and squeeze the juice all over the vegetables and sausages. Sprinkle everything with flaky salt and serve at once with a side of grainy mustard.
Nutrition