Did you catch Part 1 of our summer road trip? I shared our favorite eats, views and trails.
We kept up a rigorous pace for our family road trip to Nova Scotia, but it never felt overwhelming for a couple of reasons:
the province is quite small, so even our bigger driving days meant only a couple hours in the van.
there are no mega metropolises outside of Halifax to navigate through, only clearly marked small towns and villages and so we traveled the 2600 kilometers without getting lost. Success!
we took plenty of breaks…I was forever requesting a roadside stop to take photos, and we made time along the way for local markets, antique shops and, of course, good coffee.
More on that last subject after the jump, along with my remaining six highlights from our trip.
Lunenburg wharf. Sigh.
What was our  crazy itinerary? Here it is in a nutshell:
Montreal > Halifax (1.5 hr flight).
Halifax > Amherst (for a short detour to PEI).
Pictou > Antigonish > Cheticamp.
Pleasant Bay > Ingonish >Baddeck > Louisbourg.
Sydney > Truro > Peggy's Cove.
Halifax > Mahone Bay > Lunenburg.
Broad Cove > Kejimkujik National Park > Annapolis Royal > Digby.
Bear River > Wolfville > Halifax.
And many, many stops along the way!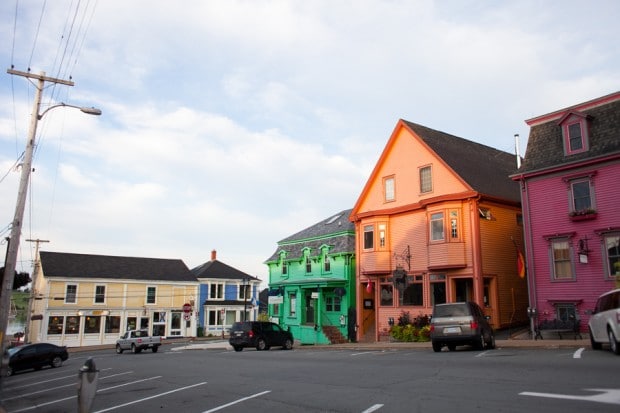 Colors of Lunenburg.
7. Halifax
To be perfectly honest, I put away my big camera and just enjoyed Halifax. I also needed two hands free for all the fantastic food we chased down around the city, oh, and for holding small hands in mine as we walked the bustling streets.
In his travel journal, Noah penned our full day in Halifax as his 'Best Day'. Perhaps it had something to do with riding (and driving!) Theodore the Tugboat, maybe a bacon cheeseburger at Brooklyn Warehouse, or maybe the afternoon swim in the hotel pool.
Other highlights?  Fish tacos on Murphy's the Cable Wharf. The brilliant concept of Lost Cod (we had two T's made). Viewing Halifax from the Citadel and feeling our bodies shake at the roar of the cannon firing. Sipping the acclaimed Nova 7, slurping oysters, and sampling more seafood at the town's newest hot restaurant Edna (it was full of chefs – that's always a clue) with Kathy of Eat Halifax. Poking around antique shops in the Hydrostone District. Getting caught in the rain at the Public Gardens and not caring a whit.
Halifax, big props to you. We will be back.
8. Peggy's Cove
If I learned anything while in Nova Scotia it is that the weather can change in a matter of minutes: "Don't like the weather? Wait five minutes" is how the saying goes.
When we drove into Peggy's Cove, the lighthouse was completely socked in with fog and a misty rain was falling softly. By the time we had tumbled out of the van and collected our belongings, the fog had lifted and there was nothing but blue skies as far as one could see over the ocean. Marvelous.
This charming little town stole our hearts. Amazingly, it remains quaint and un-touristy despite the buses that roll up to the lighthouse full of gawkers. Thanks to the recommendations of locals on Twitter, we found our coffee fix at Espresso on Deck (Update: now since closed and has become a boutique) just down the hill from the visitor's center.
9. Farmer's Markets
They take their support of local business to a whole new level in Nova Scotia. There was standing room only at the Halifax Seaport Market on Saturday morning.
We were fortunate to have our stay in Lunenburg coincide with their weekly farmers market. I've seen quite a few local markets in my time, but the more I think about it, this one topped them all.
This gorgeous produce was at the Hutten Family Farm stand, which apparently sells out every Thursday. I can see why. Okra in Canada? That's different!
10. Gooood Coffee
I need not have feared sourcing great coffee on our road trip, as we were happy to find the local coffee scene is alive and well in Nova Scotia with roasters all over the island.
Here are some of our favorite cups of joe:
Breakfast at Two if By Sea.
11. Annapolis Valley
I may or may not have made tentative house swapping plans for next summer with Breanne of This Vintage Moment, who lives in Wolfville, basically the heart of the gastronomical center of all of Nova Scotia.
We dashed into Gasperau Vinyards (and fell for their highly drinkable rose), sampled cheese and gelato (but not together) at Fox Hill Cheese House, and sipped lattes at the local roastery, Just Us! But all that was merely a tantalizing sampling off all the region has to offer.
We will be back, if only to tour the Benjamin Bridge winery, home of our favorite sip of the trip: the Nova 7 sparking wine.
12. Goooood Sleeps
Lastly…a few have asked about our accommodations, so I'll make mention of them. They ranged from the pull-out sofa in my sister's spare room to your average Best Western to the sprawling Inverary Resort in Baddeck.
How many of you know that a good night's rest is ohsoessential for the making of one happy family on a road trip? We were thankful for every place we laid our head, but a few places made us feel extra special.
Relaxing at Digby Pines.
Disclaimer: This post was partially sponsored by the Nova Scotia Tourism Board. Yep, they helped us get around the province and made terrific suggestions for our itinerary. I am grateful for their partnership in helping our family explore this amazing province and bring our experiences to you.
Farmer's markets, good coffee or the Halifax harbour? What would draw you to visit Nova Scotia?