Join me virtually for a culinary adventure around the world-famous Cabot Trail on beautiful Cape Breton Island.
Thanks to an Atlantic Canada travel bubble, those of us in the Maritimes are able to move around from province to province without needing to self-quarantine.
This has been the year for exploring locally, be it a family camping excursion, a PEI adventure or city staycation. Last weekend we crossed an item off the top of our Bucket List: driving the stunning Cape Breton Island Cabot Trail in peak autumn.
I know many of you are feeling stuck in your own neighbourhoods. Family travel feels like a lifetime ago – and future travel? Uncertain. For now, I'd encourage you to keep dreaming big and embrace armchair travel.
Landscape Photos by Adam Hill
This is another post is for all of you dreamers. For those of you who message me and say 'Atlantic Canada is on my Bucket List!' The major borders may be closed for now, but there is always next year.
Next month we'll celebrate two full years in our new province of Nova Scotia (in 2018 we toasted a new home for the holidays).
We're constantly in awe of the beauty in this province, but a fall escape to Cape Breton Island took our admiration to the next level.
Not only is the Cabot Trail one of THE most beautiful scenic drives in the world, but the people are friendly, the weather is invigorating and the food is sensational!
Read on to join me virtually as we exploring the cozy cafés, memorable family hikes, and best views in Cape Breton.
The Best Cape Breton Eats
Naturally, we're starting with dining establishments and culinary adventures! There are so many hidden gems on the Island – and we did our best to scout them out for you.
Note, this is not a completely exhaustive list. A few restaurants, such as Woodrow, The Dancing Goat and The Bite House, are on my radar, but it didn't work out for a visit this trip.
The Cable Room at Telegraph House ~Baddeck, NS
As a lover of history, I so appreciated the legacy that is the Telegraph House in Baddeck; however, it was the simple and elegant food that left the biggest impression. Don't miss this truly special farm-to-table family restaurant in a Baddeck historic home.
The Freight Shed ~ Baddeck, NS
You couldn't ask for a better location than right on the water. And on a rainy day in Baddeck, The Freight Shed was a cosy place to escape the weather. This was my kids favourite meal of the trip: burgers, smoked meat and lobster rolls. What's not to love?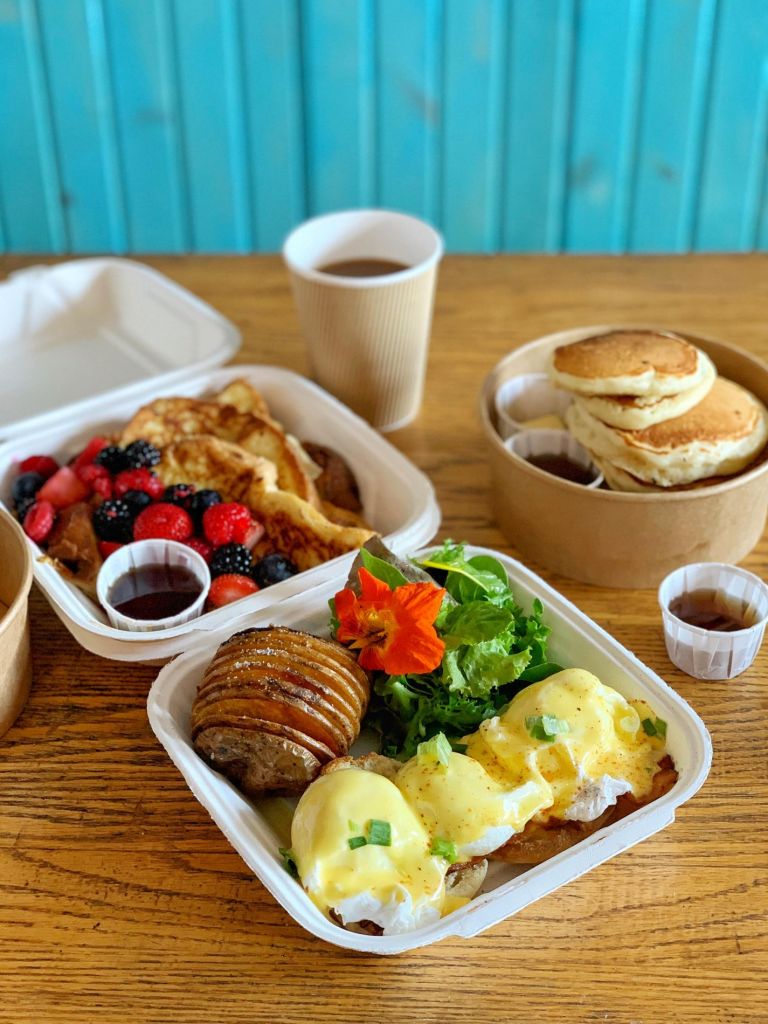 Selkie's Neighbourhood Diner ~ Sydney, NS
The best way to fuel up after (or before) a hike up to Uisge Ban Falls is with a stack of pancakes from this Sydney hot-spot. It's run by the nicest people and completely worth the hype. Definitely get the eggs benny – and shop the grocery shelves for road trip snacks.
Doktor Luke's Coffeehouse ~ Sydney, NS: A very proper coffee in the island's capital city.
Governors Pub ~ Sydney, NS: We loved the excellent service and cozy vibe of this historic pub. And yes, yes indeed, that is a lobster poutine pictured above.
The Farmer's Daughter Country Market ~ Whycocomagh, NS: Our favourite roadside spot to stock up on hiking snacks like fresh apples and huge molasses cookies.
Periwinkle Cafe ~ Ingonish, NS
Hand down, my absolute favourite spot on the Cabot Trail for a morning coffee and bite. After scarfing down our smoothies & cinnamon buns, I browsed the Salty Rose's gift shop for early Christmas presents while the kids ran off steam in the garden.
Danena's Bakery & Bistro ~ Dingwall, NS
There's something in the wild ocean air of Dingwall that make my kiddos so very hungry. Three platters of quesadillas at Danena's is enough to satiate even the most rumbly of tummies.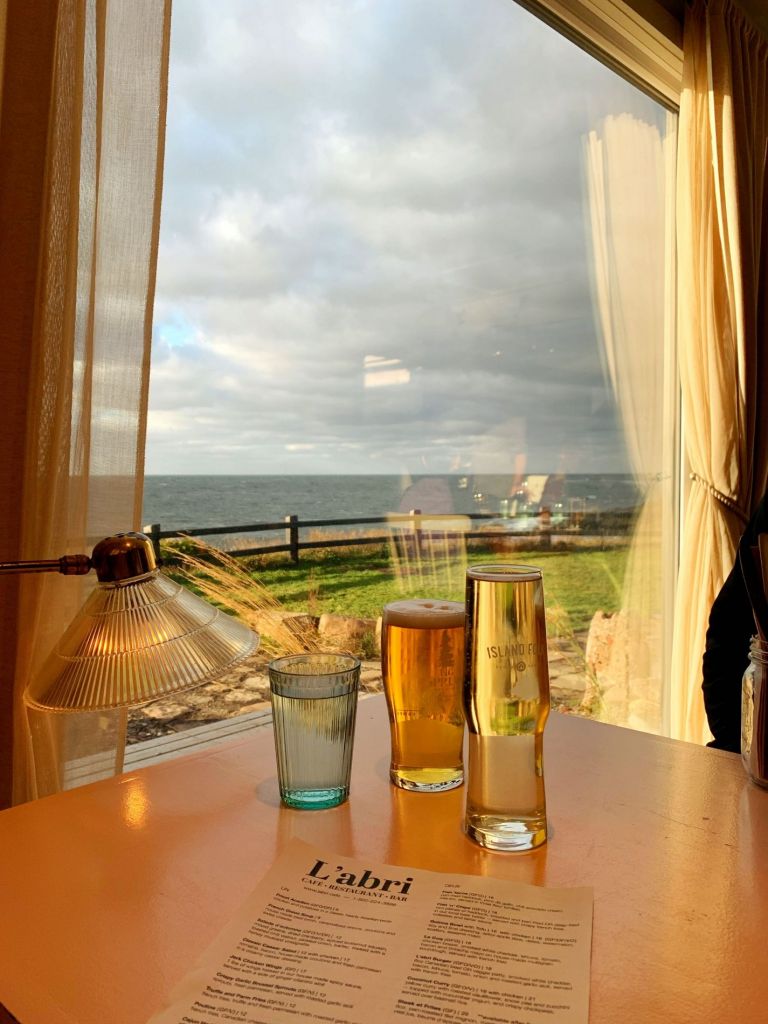 L'Abri Café ~ Cheticamp, NS
Who knew Cheticamp had it going on? I'm tempted to call L'Abri my favourite restaurant in all of Cape Breton (and possibly Nova Scotia) but I'll have to go back a few more times to be sure…
This adorable spot features incredible views, a cozy vibe, outstanding service – and delicious food, of course. Get the Cajun Haddock Cakes with Old Bay seasoning and a glass of crisp Island Folk cider. Consider briefly, buying an oceanside cottage in Cheticamp. Be sure to save room for the Basque-style cheesecake.
Aucoin Bakery ~ Cheticamp, NS
We stocked up for one last hike and the long drive home at the historic Boulangerie Aucoin. Sugar doughnuts, apple turnovers and hearty roast beef sandwiches. Delish!
You can find plenty more culinary activities on the Cape Breton hub.
Our Favourite Hikes and Sights
Picturesque coastline, charming villages and stunning views hardly begins to cover all the sights that Cape Breton has to offer. However, we found some of the most beautiful spots were slightly off the beaten path.
Those river valleys and secluded forest trails completely captured our hearts and imaginations. They were balm for the soul, especially after a particularly difficult month, where we had to say goodbye to a dear family member forever.
Photo by Adam Hill
Waterfalls
Cape Breton waterfalls aren't as famous as those epic Cabot Trial views…but they should be. I think a walk or hike to a secluded falls should be as mandatory as eating a lobster roll when visiting the Island.
We visited one waterfall for each day of our long weekend (listed below). There's no better way to slow down and connect with nature.
Uisge Ban Falls ~ Our favourite hike, meandering through stunning forest.
Mary Ann Falls ~ A great spot to break up the drive and stretch your legs. All ages can walk to these falls.
Egypt Falls ~ Our family's favourite waterfalls. Truly spectacular. Experienced hikers only.
Hikes
If Danny had his way, he'd be pulling the car over and hitting a new trail every 30 minutes while on the island. Here are a handful we've loved over the years – and many more to discover.
Other family-friendly Attractions:
Alexander Graham Bell Museum
Louisbourg Historic Site
We love Meat Cove, it made our list for the best family camping in Nova Scotia. We didn't make it into Meat Cove on this trip, but if you're in the area, check out the Chowder House for lunch with some of the best views in Cape Breton.
As always, we can't wait to return to the Island. What's on our bucket list? Tubing the world famous Margaree River. Hiking Franey Mountain. Kayaking around Isle Madame, and that's just the beginning…Adventure awaits!
This post was created in partnership with Destination Cape Breton. All opinions are my own. Landscape images generously provided by Adam Hill Nature Photography.
I'd love to get your recommendations for Cape Breton Island. Where should we go and eat next?