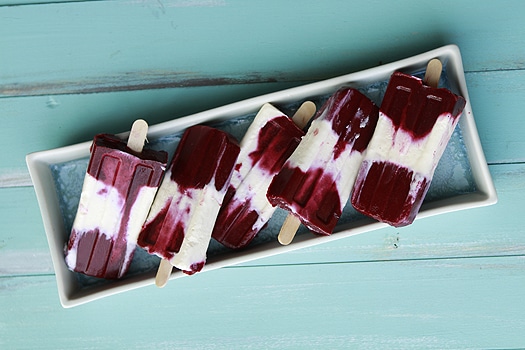 Written by Katie of GoodLife Eats.
It has been hot here in Colorado. Hotter than we anticipated before we moved here, but everyone assures me that this isn't normal. To compensate we have been spending a lot of time at our neighborhood pool, not cooking a lot, and drinking as much water as possible.
Weeks ago, as temperatures soared over 100 degrees F, I knew that we needed to add "make homemade popsicles" to our summer to-do list. I kept putting the task off and forgetting about it as we got busy with our new summer routine and settling in a new place.
Well, I finally got my act together after ordering a fun new popsicle mold.  On top of my list of recipes to try was something creamy coupled with something fresh and fruity. These Blackberry Lime Cheesecake Popsicles fit the bill! I was glad to get something done from our summer to-do list. We'll certainly be experimenting with more flavors and enjoying them with our beautiful Colorado Sunsets.
3 Quick Tips for Making Popsicles with Kids
Explain before beginning that the freezing process takes time and you have to allow for the mixture to freeze before enjoying them to help avoid any disappointed kids.
I like to plan another activity to distract the kids with after putting the popsicles in the freezer. Activities that get us out of the house, like swimming, are best. No one asks about the freezer when we aren't at home!
Allow plenty of time to prepare the popsicles before you intend to eat them so you don't end up with still soft popsicles when you want to eat them. Several hours (4-6) or the night before is best.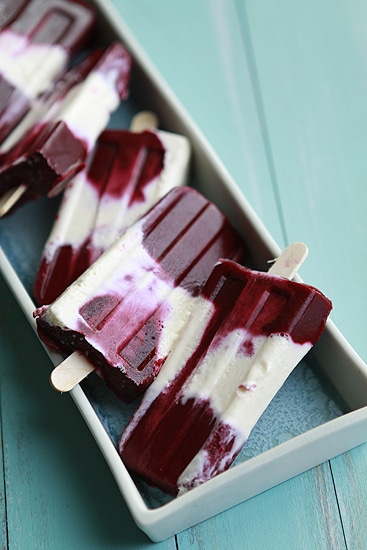 All photos by Katie of GoodLife Eats.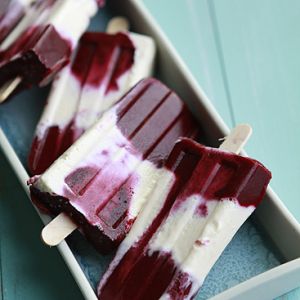 Ingredients
For the Blackberry Layer:
12

oz

fresh blackberries

1 1/2

tablespoon

water

Sugar

to taste if berries aren't sweet enough
For the Cheesecake Layer:
6

oz

cream cheese

4

tablespoons

milk

2

tablespoons

fresh lime juice

1/2

teaspoon

lime zest

optional - if desired

1 1/2

teaspoon

vanilla extract

1/2

cup

powdered sugar
Instructions
Add the blackberries and water to a medium saucepan. Cook over medium heat, stirring periodically, for about 10 - 15 minutes, or until they are easily broken with a wooden spoon. Taste and add sugar to sweeten if needed. Stir sugar in and cook until dissolved.

Pour the berry mixture into a powerful blender, such as a Blendtec, and puree until very smooth. I ran the "whole juice" pre-programmed functioin on my blender. After blended, cover and refrigerate the blackberry puree until cool, at least 30 minutes.

While the blackberry mixture refrigerates, beat the cream cheese, milk, lime juice, zest (if using), vanilla, and sugar using a hand mixer or puree with a small food chopper until smooth. Set aside in the refrigerator until blackberry mixture has cooled.

To assemble popsicles, layer the blackberry puree and cream cheese mixture in popsicle molds. Place popsicle sticks in the center and freeze until solid.

If necessary, run hot water over the outside of the molds to assist in removing the pops before serving.
Notes
A high powered blender will crush the seeds, but if you prefer a completely smooth fruit layer with no bits of seeds then strain the blackberry puree through a fine mesh strainer.
Layering Options:
We experimented with a couple layering techniques. I preferred #1 with smaller amounts of each layered more frequently, while Eric preferred #3.
1. Cream Cheese, Blackberry, Cream Cheese, Blackberry
2. Blackberry, Cream Cheese, Blackberry
3. Combine the two mixtures and swirl together.
Nutrition
Calories:
128
kcal
|
Carbohydrates:
13
g
|
Protein:
2
g
|
Fat:
8
g
|
Saturated Fat:
4
g
|
Cholesterol:
24
mg
|
Sodium:
72
mg
|
Potassium:
108
mg
|
Fiber:
2
g
|
Sugar:
11
g
|
Vitamin A:
390
IU
|
Vitamin C:
10.1
mg
|
Calcium:
42
mg
|
Iron:
0.3
mg
More Summer Popsicles:
Cherry Limeade Popsicles | Simple Bites
Ginger Peach Iced Tea Popsicles | Food for My Family
Mango-Cilantro Popsicles | Simple Bites
Mint Chocolate Cheesecake Popsicles | GoodLife Eats
Pomegranate, Raspberry, and Nectarine Popsicles | GoodLife Eats
Root Beer Float Popsicles | Dine and Dish
What have you tackled from your summer to-do list?