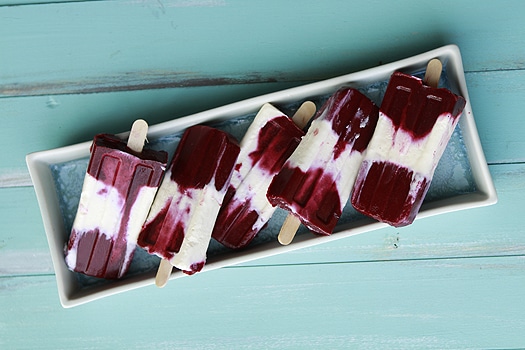 Written by Katie of GoodLife Eats.
It has been hot here in Colorado. Hotter than we anticipated before we moved here, but everyone assures me that this isn't normal. To compensate we have been spending a lot of time at our neighborhood pool, not cooking a lot, and drinking as much water as possible.
Weeks ago, as temperatures soared over 100 degrees F, I knew that we needed to add "make homemade popsicles" to our summer to-do list. I kept putting the task off and forgetting about it as we got busy with our new summer routine and settling in a new place.
Well, I finally got my act together after ordering a fun new popsicle mold.  On top of my list of recipes to try was something creamy coupled with something fresh and fruity. These Blackberry Lime Cheesecake Popsicles fit the bill! I was glad to get something done from our summer to-do list. We'll certainly be experimenting with more flavors and enjoying them with our beautiful Colorado Sunsets.