If you popped 'round to visit me, it wouldn't be long before we wandered into the back yard and over to the garden. It has the ability to draw you in, to sit on its edge and breathe in the deep scent of its basil.
Welcome to a brief visual tour of my garden. It's nourished, but neglected, wild, yet still yielding. Every year is a learning experience, with mistakes and triumphs both recorded by hand in a little journal. I don't consider myself a gardener, but my love for tender new lettuce leaves, sweet baby carrots, and fresh herbs in abundance drives me to plant every spring.
Here's where those seeds took me this year.
Danny's handmade raised beds have weathered nicely, and are a good fit for our rustic back yard. They are watered from our rain barrels, and thanks to their two feet of loose, well-drained soil, the plants are growing like crazy. Especially the tomatoes. They have no manners, and encroach on everything around them.
I've snipped this basil back several times and it continues to thrive, for which I am delighted. One can never have too much fresh basilic, as far as I am concerned, and so I whip it into pesto, tear in onto summer pizza, and arrange in on cucumber basil bites for a snack.
Believe it or not, our cats – Cassis (black) and Coco (white) – keep the squirrels out of the garden. Just yesterday I even saw Coco stalking a round old groundhog who thought he'd stop in for a salad. Whether we can accredit it to the cats or not, we've had very little trouble from rodents this year.
I'm partial to oak leaf lettuces, with their graceful, long and tender leaves. I plant it in batches, 3 weeks apart, so that the staggered plantings yield fresh lettuce all summer long.
Tomatoes got a late start, so most of them still look like this – green. Still, with the heat and warm rain we've been having, I expect to see some color pop any day now. These plants have been the bane of my existence, though. They are loving their surroundings and seem a foot taller every time I inspect them, not to mention spread their long arms simply everywhere.
I'm hoping for a good harvest, or else their real estate might hold a root crop next year. Speaking of beets and carrots, they also were late to be planted, and aren't producing yet.
Zucchini is flourishing, flowering, but not producing yet. I'm getting a tad impatient for these, especially with the best ever zucchini bread recipe in my arsenal. Come on!
Mateo was disappointed that my rainbow chard did not, in fact, grow in every color of the rainbow. It looks pretty, I think, but he was a little disgusted that there was no blue, or purple.
We enjoyed this chard sauteed slightly, and added to summer pizza with black olive tapenade, feta cheese, and new onions. All of it grilled, of course.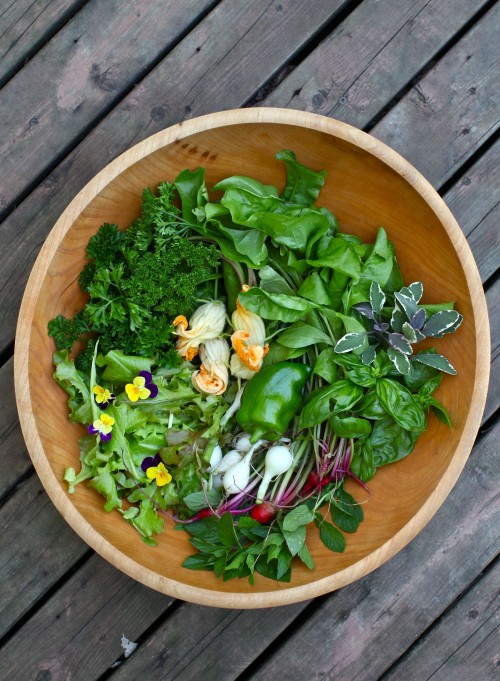 Garlic, onions, potatoes, beets and carrots are still growing under the damp soil, but I am happy with a small harvest like the one above every couple of days. I feel rich, just having fresh mint for my mojitos, ample herbs for cooking, and salad greens galore.
Last, but not least, I have an eclectic potted garden on the back patio that consists of mostly herbs and a few flowers. There are also three colorful pots, each containing a bell pepper plant. When my mother was here, she dug them up from my raised beds (not enough sun) and transplanted them into pots on the sunniest part of the deck. Naturally, they've all got flowers on the way now.
So that's it. I'd love to hear what you think and any tips you might have to offer (why are my zucchinis flowering, but not yielding any fruit?) Don't forget that you can plan for your fall garden and if you need any inspiration, there's always my Garden Grow Pinterest board.
How does your garden grow? What are you eating from the earth?