One of the hardest things for a mother to do is to get out of the front door. There is so much to juggle – Are the kids dressed? Teeth brushed? Shoes and socks on? Do you have all the pertinent papers, backpacks, sack lunches, and money? Do you have the car keys, sunglasses, and cell phone? And, by the way, did you remember to change out of your pajamas?
Remembering all that plus getting a nutritious breakfast in everyone can be overwhelming. But don't be discouraged. There are strategies for feeding your family that don't involve a drive-through window. One of them is to plan ahead and make some food bars.
They can be eaten one-handed while running a comb through a child's hair, signing a permission slip, or while waiting at a stop light. Unlike the one-handed breakfast from the drive-through, these granola bars have lots of anitioxidants, whole grain goodness,  no processed sweeteners and a lot less fat.
Do yourself and your family a favor. Stock up the refrigerator with these meal-on-the-go bars and you'll have at least one part of the morning under control.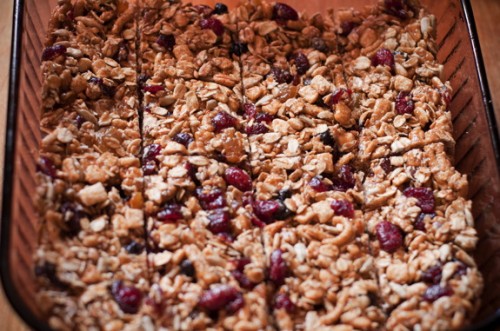 Photo by Lynn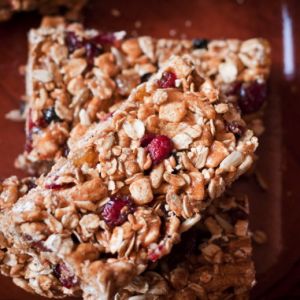 Ingredients
1

cup

old-fashioned rolled oats

1/4

cup

slivered almonds

1/4

cup

sunflower seeds

1

Tablespoon

flaxseeds

preferably golden

1

Tablespoon

sesame seeds

1

cup

unsweetened whole-grain puffed cereal

see Note

1

cup

assorted dried fruits

blueberries, cranberries, cherries, golden raisins

1/4

cup

creamy almond butter

1/4

cup

turbinado sugar

1/4

cup

honey

1/2

teaspoon

vanilla extract

1/8

teaspoon

salt
Instructions
Preheat oven to 350°F. Coat an 8-inch-square pan with cooking spray.

Spread oats, almonds, sunflower seeds, flaxseeds and sesame seeds on a large, rimmed baking sheet. Bake until the oats are lightly toasted and the nuts are fragrant, shaking the pan halfway through, about 10 minutes. Transfer to a large bowl. Add cereal and dried fruit; toss to combine.

Combine almond butter, sugar, honey, vanilla and salt in a small saucepan. Over medium-low heat, stir frequently until the mixture bubbles lightly, 2 to 5 minutes.

Immediately pour the almond butter mixture over the dry ingredients and mix with a spoon or spatula until no dry spots remain. Transfer to the prepared pan. Using a silicone spatula, press the mixture down firmly to make an even layer (wait until the mixture cools slightly if necessary). Refrigerate until firm, about 30 minutes; cut into 8 bars.
Notes
I used Kashi Go Lean cereal.
(recipe adapted from Eating Well)
Nutrition
Calories:
222
kcal
|
Carbohydrates:
31
g
|
Protein:
5
g
|
Fat:
10
g
|
Saturated Fat:
1
g
|
Sodium:
40
mg
|
Potassium:
200
mg
|
Fiber:
4
g
|
Sugar:
18
g
|
Calcium:
66
mg
|
Iron:
1.5
mg
What are your best tips to help mornings run more smoothly?