It's June, or the season where we flit from one display of fresh new produce to the next like a bumblebee in a field of clover. It can hardly be helped. Each proud arrangement of soldier-like asparagus or blushing round radishes is a beautiful thing and must be admired – at least until we spy the baskets filled with the first local strawberries, that is.
With the absolute deluge of rain we've been having, it's been hard to get into summer. We haven't had that first real heat wave that stops you in your tracks with its humidity and prompts an immediate trip to the refrigerator for a cool drink. It is only when I make it out to my local market and see the seasonal produce speeding ahead toward mid-summer that I realize, oh, right. We're halfway through June.
Then I buzz from stall to stall, loading up on sweet cherry tomatoes, firm melons, heaps of greens and more. With our lack of sun, my garden is suffering something fierce, so for now, I'm stockpiling at the marché.
(Pictured: strawberry honey jam)
While I worry about missing out on the best offerings of the season, my greater fear is that I'll get stuck in a rut, preparing the same old recipes and dishes that I do every year. Familiar food is comforting and easy, but it also prevents you from discovering new favorites and from expanding your repertoire.
If you've never had the satisfaction of scooping your own berry granita or sinking a spoon into a bowl of velvety cream of asparagus soup, then this should be the year. Have you tried a rhubarb cream pie? Or infused a batch of strawberry vinegar? Just two more suggestions for using up your produce in a unique, new-to-you way.
Below you'll find many more ideas, specifically for strawberries, rhubarb and asparagus, all of which are in their prime right now where I live. Get ready to hit the kitchen!
Strawberries
Rhubarb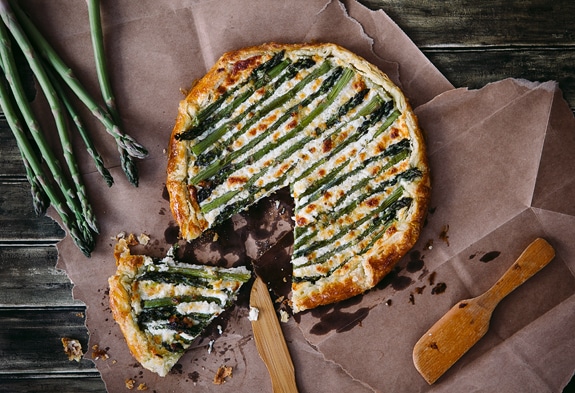 Asparagus
Do you have a favorite recipe featuring a spring fruit or vegetable?