A recent pledge to Meatless Mondays as well as an abundance of gorgeous local asparagus has transformed our weekday meals. We've enjoyed various risotto and pastas with asparagus, asparagus pizza with fresh pesto, and most recently, Welsh Rarebit.
Welsh What?? I know, the name tells us nothing about the dish, but it's really just cheese fondue, simplified; a creamy cheese sauce, spiked with a light beer, rounded out with mustard, and poured over toast.
Welsh rarebit (or 'rabbit' according to Gourmet Today cookbook) is something I remember eating as a child, as it was a favorite of my father. He hails from England, where the dish originated, and no doubt also enjoyed the comforting cheesy-bread as a child.
Now I'm serving welsh rarebit to my children, only the toast is whole-wheat baguette, grilled and brushed with olive oil, and I've tucked some greens in there as well to balance out the dish. It's fast, fun and fresh. Best of all, it's meatless.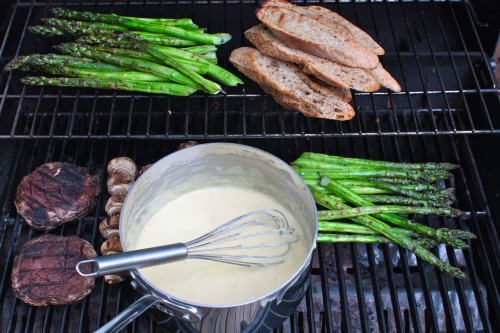 What child doesn't love cheese and bread? We've enjoyed fondue in the past, but this is an even simpler way to get your kids to eat their greens. I grilled the accompaniments first, then left them warming on the grill while I whisked together the cheese sauce. That part took all of five minutes and dinner was ready!
Our vegetarian fare was eaten so quickly, there was nary a peep around the table – and we may or may not have used our fingers for those asparagus spears…
Recipe: Welsh Rarebit on Toast with Grilled Asparagus & Mushrooms
No local asparagus? Substitute your favorite steamed vegetable such as cauliflower, broccoli, green beans or brussels sprouts. Feel free to omit the bread (although it is traditional, I know) and use small boiled potatoes instead.
Serves 4
16 (1/2-inch-thick) whole-wheat baguette slices, brushed with olive oil
1 bundle asparagus, wooden stem parts snapped off
2-4 portobello mushrooms, or mushrooms of your choice
2 Tablespoons unsalted butter, softened
1 large egg yolk
2 Tablespoons all-purpose flour
1/2 cup pilsner beer, or other light beer
1/4 cup whole milk
1 teaspoon dry mustard
1/8 teaspoon freshly ground black pepper
6 ounces extra-sharp cheddar, coarsely grated (about 1-1/2 cups)
Pre-heat grill. Meanwhile toss asparagus lightly in olive oil.
Grill asparagus, mushrooms and bread, taking care not to char anything. Turn off grill and keep ingredients warm while you make the rarebit.
Lightly beat yolk in a medium heatproof bowl.
Melt butter in a 1- to 2-quart heavy saucepan over moderately low heat. Add flour and cook, whisking, for 1 minute.
Add beer and milk in a steady stream, whisking constantly, then whisk in mustard and pepper. Bring to a simmer, whisking, and cook, whisking frequently, until thickened, 1 to 2 minutes.
Gradually add cheese and cook, whisking, until smooth, about 2 minutes. Remove from heat and whisk into beaten yolk until combined.
Arrange items from the grill on four plates. Pour hot cheese sauce over the top of everything and serve immediately.
What are some of your meatless options? Any thoughts on the Meatless Monday movement?