Easter is upon us in three weeks, and it is a time when many of us open our homes to friends and family. I adore entertaining on this long weekend in April because it usually brings the first really warm weather and promises of spring.
Last year I had Danny scrub down the picnic table while I squeezed fresh orange juice and made a batch of doughnuts with Noah. We served brunch on the back patio in the morning sunshine – our first al fresco meal of the season. I hope to do the same this year, although there is still -literally- two feet of snow out there, frozen solid. Cross your fingers for me.
If you're welcoming guests on Easter weekend – or any day, for that matter – then these instant entertaining tips are for you. I'm a big believer in details, and know that even small gestures can make a big difference when receiving guests.
Following the tips, I'm sharing three menu suggestions for Easter. Whether you are planning a brunch, casual lunch or sit down dinner, you'll find inspiration from some of my favorite dishes for entertaining.
Ten Simple Ways to Instantly Be a Better Host
Now, granted these are minor details,  but that is the beauty of it – they are all completely doable. Your guests will leave knowing that they have been well cared for by an attentive host.
1. Greet guests. Yes, at the door. No, don't send your six-year-old while you scramble around the kitchen. Your guests need to feel welcomed.
2. Start with a drink. Or at least offer one. Be it iced tea, Perrier, or a glass of wine, this is a great way to help guests feel at ease.
3. Add a seasonal decoration on the table. Keep it simple: spring flowers, seasonal fruit or vegetables, painted eggs, etc. Don't over do it.
4. Warm plates. Keep oven at 150°F with your dinner plates inside until ready to serve. Hot plates will keep the food warm longer during the meal.
5. Change the butter dish. Please, guests don't want to see your toast crumbs and streaks of jam. Keep the dish fresh and clean –and the butter soft.
6. Add ice. If drinks are meant to be chilled, see to it that they are.
7. Light candles. If appropriate. A sit-down evening meal, for example.
8. Assign seating. Verbally is fine, just before the meal begins. Or have the kids color place tags, but just don't leave your guests to awkwardly place themselves. Telling them where to sit helps them to feel like they were planned for and appreciated.
9. Warm bread or buns. Ten minutes in a warm oven does wonders for the dinner rolls and makes them taste fresh. A nice crust doesn't hurt either.
10. Keep room temperature comfortable. Dinner can be miserable if the floors are cold or the place is sweltering hot from the kitchen's heat. Be aware of the room's temperature (not just your own) and ask guests if they are comfortable.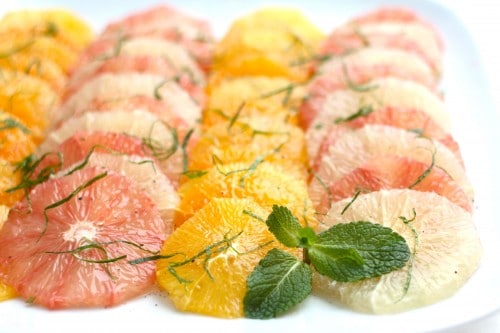 Menu 1: Easter Brunch
Fruit takes center stage in this comforting breakfast menu, while bold flavors like mint, maple and cinnamon awaken the taste buds. The kids will grab a scone and their smoothie and disappear out into the garden, but grown-ups will linger over the last piece of homemade Easter bread and cups of coffee.
Photo by Tim Chin.
Menu 2: Easter Lunch
Can't decide between brunch and lunch? This menu straddles the two, keeping things light with a fresh salad, roasted fillet of salmon, and a savory tart. My mother's recipe for rhubarb cake rounds out the seasonal aspect of the menu.
This menu would also work well for a buffet. The salmon can be served cold and is lovey with a tartar sauce.
Caramelized Onion and Goat Cheese Tart (recipe below, pictured above)
Spinach Salad with Strawberries & Pecans, Maple-Cocoa Nib Vinaigrette
Photo by Elizabeth Nyland
Menu 3: Easter Dinner
Here a classic roast chicken is paired with a less-traditional side – baked leeks. An asparagus tart adds another seasonal green, while mashed potatoes and strawberry-rhubarb pie round out the comfort food factor.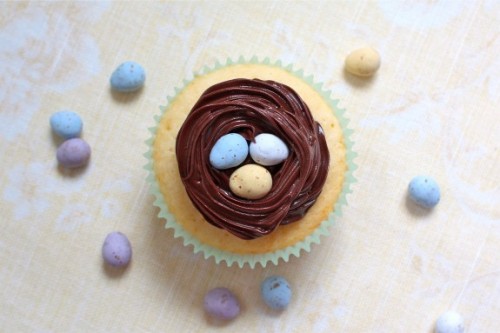 Pot-Luck? Heading out for Easter?
If you are not entertaining on the long weekend, consider baking up a batch of these simple Easter cupcakes. They're a guaranteed crowd-pleaser for people of all ages and easy enough for to make and decorate with children.
Recipe: Caramelized Onion, Mushroom & Goat Cheese Tart
ingredients:
one 9-inch tart shell, chilled (half of this recipe for Rich Pie Crust)
1 recipe caramelized onions
1 cup crumbly goat cheese, (or sometimes I use garlic & herb Boursin, which is not goat, but cow)
1 1/2 cups sautéed mushrooms of your choice
Photo by Tim Chin.
method:
Preheat the oven to 375°F. Line the tart shell with aluminum foil and fill half full with dried beans. Spread them around to cover the bottom. Bake tart shell for about 10 minutes or until the edges start to brown.
Remove from oven and lift up the edges of foil to remove beans. Tart will still be slightly doughy on the bottom.
Spread onions all over the bottom of the tart shell to cover. Add sautéed mushrooms and spread evenly over onions.
Crumble cheese over the top of the tart. Return to oven and bake for another 15 minutes or until the bottom crust is slightly golden.
Remove from oven and serve warm.
Serves six.
Do ahead: The day before, make, roll and chill the tart dough and caramelize the onions.
Are you hosting an Easter event? What's on the menu?