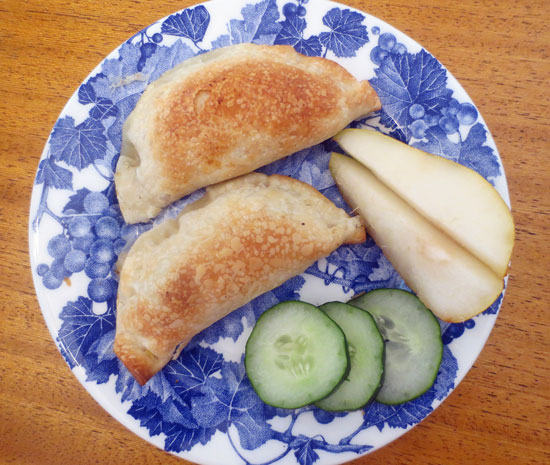 Written by Stephanie of Keeper of the Home and EntreFamily Travels.
Have you ever noticed that nearly every culture has its own variation on a "pocket" food?
Chinese gyozas, Japanese rice balls with fish inside, German bierocks (beef, onion and cabbage filling), Mexican burritos and tamales, Italian calzones,  Polish pierogies, Indian samosas, English hand pies.
Hand held "pocket" foods, filled up with whatever is seasonal, available or simply leftover, just makes sense. Excellent for sending off with hard working husbands, or when you need a quick meal for hungry children.
They're economical, easy to eat, and filling. The perfect homemade convenience food!
Empanadas… an Argentine staple
Aside from the famous asado (BBQ beef) and alfajores (slightly crumbly cookies with creamy, sweet dulce de leche oozing in between), empanadas are one of the most loved traditional foods here in Argentina, where our family is currently located during our year-long travels around the world.
Part of the joy of engaging in and experiencing a new culture for me is to experiment with the local foods. My husband conquered BBQ asado perfectly, and I made a pretty tasty batch of alfjores cookies, if I do say so myself. Last on my list was homemade empanadas.
The dough
I'll be upfront and tell you that I have not been making my own dough. The dough recipes are simple enough, and I make plenty of pastry dough back home in Canada, but cooking in various types and sizes of kitchens (with various amounts of kitchen tools) has meant that sometimes I take more shortcuts than I might normally.
Here, most people buy their own empanada dough, and there are several brands which make an artisan-style wrapper out of the simplest of ingredients: flour, salt, butter, water, eggs. If you know how to make pie pastry, you can make empanada dough.
In this post, Shaina gives a good tutorial in making empanada dough. Or, you could use puff pastry filling, as Danny did for these Mini Tortiere Hand Pies (more pocket food!). Frozen filo pastry would be another option.
As for the folding, the main thing is the half-moon shape, and the edges can be folded or crimped according to your preference. Here are some examples of how I usually fold them:
 The fillings
This is where I get excited, because it's not about the dough pocket… it's the filling that really makes a pocket food!
Here are some varieties we've encountered in our travels:
Chicken (usually with small amounts of green onion, or sometimes olive or red peppers or potatoes, and cheese)
Beef (very standard in the Northwest, where we stayed in Salta and Jujuy provinces- usually ground beef, hard boiled eggs, olives, onions, seasonings, and even raisins)
Ham and cheese
Four cheese
Cheese and onion (yum)
Chorizo (slightly spicy Italian style sausage, with peppers and cheese)
Arabe (these have a Middle Eastern flair and are usually ground beef with onions and red peppers, seasoned with lemon, cumin, allspice- they're a.maz.ing. Wow.)
Verdura (mixed vegetables)
My first attempt at empanadas were the traditional beef ones, Salta style. With this recipe as my basis, they turned out juicy and delicious. My husband wasn't crazy about the olives, but then again, he usually isn't. I did not add raisins, because I hadn't tasted one with raisins in it and wasn't so sure about that addition.
Then, I tried chicken ones (similar to this recipe). The key with chicken is to keep them very moist, and it can help to add a bit of chicken broth to the chicken and vegetable mixtures as it cooks.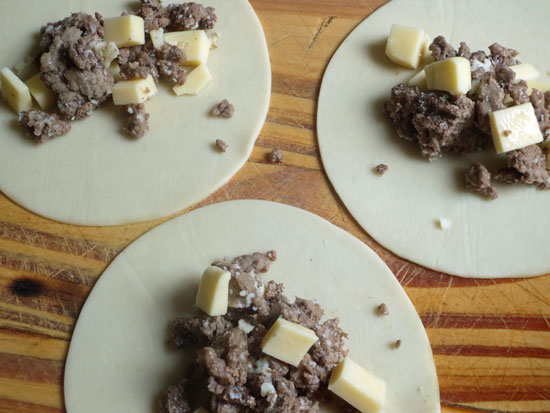 Getting creative with my fillings
For me, much as I love some of the specific flavors I've tried, making my own empanadas just screams "please clean out the fridge and find a use for what you've got". And so I did.
For lunch the other day, I had leftover cooked ground beef, seasoned with onions and salt, then mixed in cubes of soft, mild cheese, which melts nicely. I filled them so that they would be quite full, but not overflowing. This is key with empanadas. It takes a few tries to perfect the amount, but you'll find it quickly.
For Ryan and I, we needed something more sophisticated. Using leftover chicken breasts from a whole chicken I roasted the night before, I diced red peppers and green onions, then gave it all a quick saute with some extra virgin olive oil and sea salt, then added soft cheese cubes, to melt all the flavors together.
Endless filling possibilities
Empanadas fillings can range from simple to gourmet. This is why I've become so enamored with them. There is no right or wrong way to make an empanada!
My next goal is to create one with sweet potatoes and beans, or what about one of these varieties I found online?
The empanada recipe you have to try
One night, craving something to satisfy his sweet tooth, my husband took to creating a masterpiece. It involved apples, cinnamon, sugar, and plenty of butter.
We affectionately named them Apple Pie 'Panadas. This is how hand-held apple pies were meant to be.
Before I get booed for empanada heresy, they are plenty of sweet versions available as well. I tried one served cool with a sweetened squash filling, and an icing-sugar coating. I've also been told that as you go further north in South and Latin America, it's not uncommon to find varieties that include fruit fillings, such as apples, bananas, guavas or even pineapples.
Recipe: Apple Pie 'Panadas
Ingredients
3

medium apples

fancier varieties like Gala, Fuji, Pink Lady, etc. are nicest, though any will work

12

empanada wrappers

or your choice of pastry sheet with a 6 inch diameter

1/4

cup

butter

1/4

cup

honey

or 1/3 cup raw sugar

2

Tbsp

cinnamon
Instructions
Pre-heat your oven. I'm currently cooking on Argentine gas ovens that have no temperature gauge, so I'm going to go out on a limb and suggest around 400 F.

Peel and dice apples, in 1/2 inch pieces. My hubby thinks they're best when diced small. It's his recipe, so I'll defer to him on this one.

Lay out your empanada wrappers. Place about 1/4 cup chopped apples in the center. You want it to be good and full, but not overstuffed.

Sprinkle the apples with 1/2 tsp. cinnamon, and a generous drizzle of honey or sprinkle of sugar (honey is sweeter than sugar, so keep that in mind depending on which one you use). Note that you can absolutely cut the sweetener back if you enjoy a more tart apple taste. Add a couple dabs of butter onto the top of your apples.

Fold the wrapper in half, pulling and stretching the edges just a bit as you seal them, to give yourself dough for folding over or crimping. Make your edges look as simple or fancy as you like.

If you're my husband, you will want to melt a small amount of butter to brush on top of the finished empanadas, then finish with a light sprinkle of more cinnamon and sugar. This step isn't necessary, but it does add to the presentation.

Put on a greased baking sheet or pan, with just a bit of space between each empanada as they will puff up a little.

Cooking time is approximately 25 minutes, give or take. I've baked these in so many different ovens, in different amounts of time. Start checking in around 15 minutes. You're waiting to see the soft dough all begin to firm and crisp up, and the tops should be lightly browned when they're finished.
Nutrition
Calories:
211
kcal
|
Carbohydrates:
23
g
|
Protein:
1
g
|
Fat:
12
g
|
Saturated Fat:
4
g
|
Cholesterol:
10
mg
|
Sodium:
93
mg
|
Potassium:
72
mg
|
Fiber:
2
g
|
Sugar:
10
g
|
Vitamin A:
145
IU
|
Vitamin C:
2.1
mg
|
Calcium:
19
mg
|
Iron:
0.8
mg
Do you make any variations of pocket food? What are your favorite fillings?