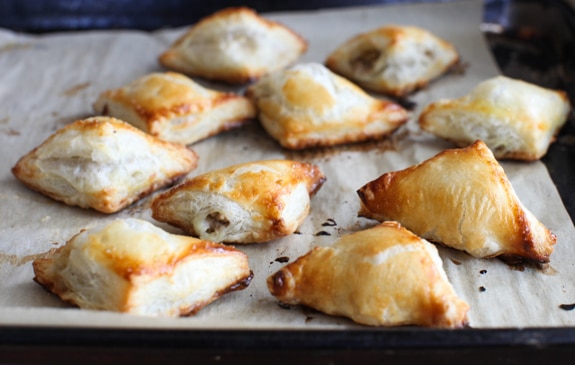 Written by Danny.
The quick and easy answer is: You want to make these to have beer.  The more complete and correct answer is below.
A few weeks ago, I had the privilege of meeting up with an old friend, Zaak, for supper and a beer tasting with 8 of his future housemates from Dragonfly Cohousing. 8 people and 13 beer over 2.5-3  hours (no one was keeping time) made for an enjoyable time of meeting new friends and tasting new beers.
As it happens, the only other time I had participated in a beer tasting was about 10 years earlier with my brother and Zaak.  3 people tasting 8 high-alcohol content beers made for a bit of a disaster.  Okay, a lot of a disaster.  We were genuinely interested in tasting the beers, but didn't want to waste any. And one of us had to leave early (me) for a reason I can't remember.
I'm planning to host a beer tasting of my own over the holidays, and want to ensure that it is not a disaster, and that everyone makes it home safely.  Part of my secret arsenal to do so is to serve lots of food, and these will include some hand pies.
Read on to see how easy it is to make mini Tourtière hand pies, and get the recipe for these savory holiday bites.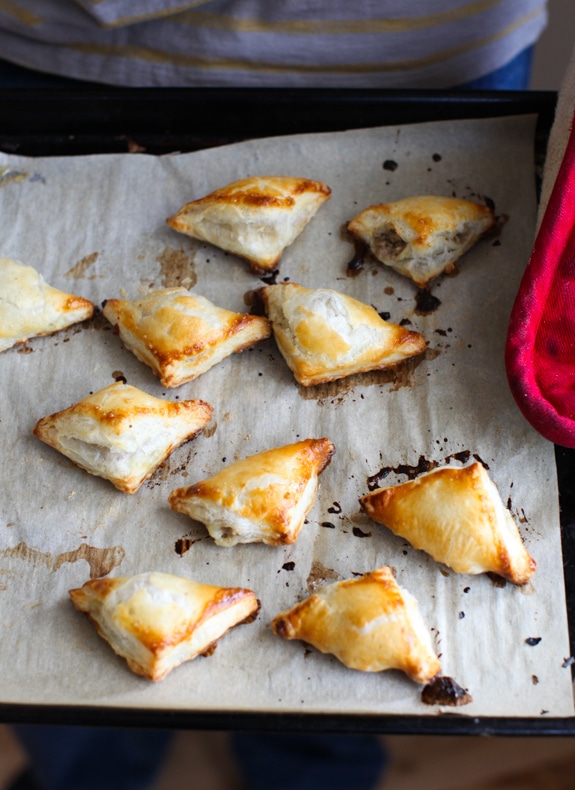 As part of Aimee's annual holiday batch cooking blitz, we prepared enough tourtiere filling for 8 full pies, and then some. We weren't about to waste the extra cup of spiced pork filling we had left over, and so these appetizers were created for my upcoming beer tasting.
Thanks to frozen puff pastry, which Aimee stashes for projects like these, the hand pies come together pretty quickly. They bake up even faster, and, once served, get eaten in a blink of an eye. (We sampled some already.)
Tourtiere Hand Pies
A two-bite tourtière, these bake up beautifully from frozen. Serve with a green tomato ketchup or fruit chutney. And beer.
Print
Pin
Rate
Instructions
On a well-floured surface, roll out your puff pastry dough to just over 21 x 18 inches. You can go a little bigger, but your final crust will be thinner.

Cut your dough into 3-inch squares.

Working with about 6 squares at a time, put 1 tablespoon of spice meat filling in the center of each square and "paint" about a half-inch line of beaten egg along two adjacent sides with a pastry brush.

Fold the square diagonally, making sure to not get any meat on the edges. If you put too much filling in the center, you will have a hard time doing this. I know.

Crimp the edges with your fingers to seal, and then press the edges with a fork to double-check the seal and to make a pretty pattern.

Chill the hand pies for at least 30 minutes before baking, or freeze in a single layer on a tray.

Once frozen solid, put the sealed hand pies into an airtight bag and place in the freezer for when you need them.

When you're ready to rock, brush some more beaten egg on one side and place them on a cookie sheet so that they don't touch each other.

Cook in a 375F oven for about 15 minutes, or until brown on the top.

Wait for them to cool before eating, or you will have lava in your mouth. I know this too.
Nutrition
Calories:
15
kcal
|
Protein:
2
g
|
Cholesterol:
10
mg
|
Sodium:
8
mg
|
Potassium:
37
mg
|
Vitamin A:
5
IU
|
Calcium:
2
mg
|
Iron:
0.1
mg

Eat Well, Spend Less…on appetizers.
Editor's Note: This month our Eat Well, Spend Less team is showing you how to eat well over the holidays on a budget! If you've ever purchased cute little pastry hand pies -sweet or savory – as finger food for your holiday party, you'll know that they cost a small fortune from the frozen foods section.
Thanks to Danny, I've got a tidy stash of meat-filled triangles in my freezer at a fraction of the cost of buying them ready-made. If you'll excuse me now, I'm going to go hide a bag so he doesn't feed them all to his buddies…
Be sure to check out the other ladies' frugal holiday tips:
What is a favorite finger food that you like to make and serve over the holidays?