A simple tutorial for an old-fashioned doughnut recipe, with helpful cooking tips and suggestions for toppings.
A snow day last week provided the perfect occasion for an impromptu doughnut-making party. My youngest, Clara, and I rolled, cut, fried and glazed a perfect dozen. They didn't last long.
My best doughnut recipe is for yeasted, lighter-than-air treats, scented with nutmeg, and not too sweet. We usually toss half in cinnamon sugar and glaze the rest with maple – a Canadian classic.
I know most of the country is in a deep freeze, and many (most?) of you have children home from school. This seems like an ideal time to share my best doughnut recipe.
Read on for tips, the tutorial, and – in my opinion- the best kept secret for making doughnuts at home.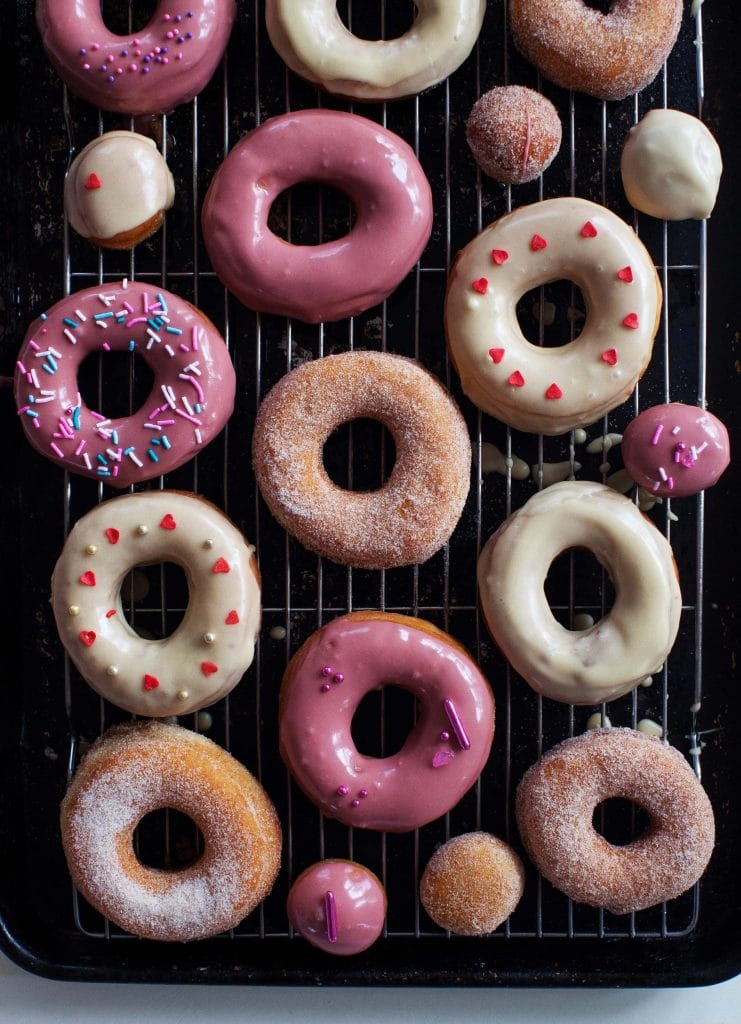 Party or Project: Just Make Doughnuts!
If you've worked your way through sourdough, focaccia, banana bread, crepes and cinnamon buns, consider my best doughnut recipe to be your next lockdown baking project.
I promise you, this is a very do-able recipe. My kids can do it from start to finish, and while they may turn out a little lopsided, they always taste incredible.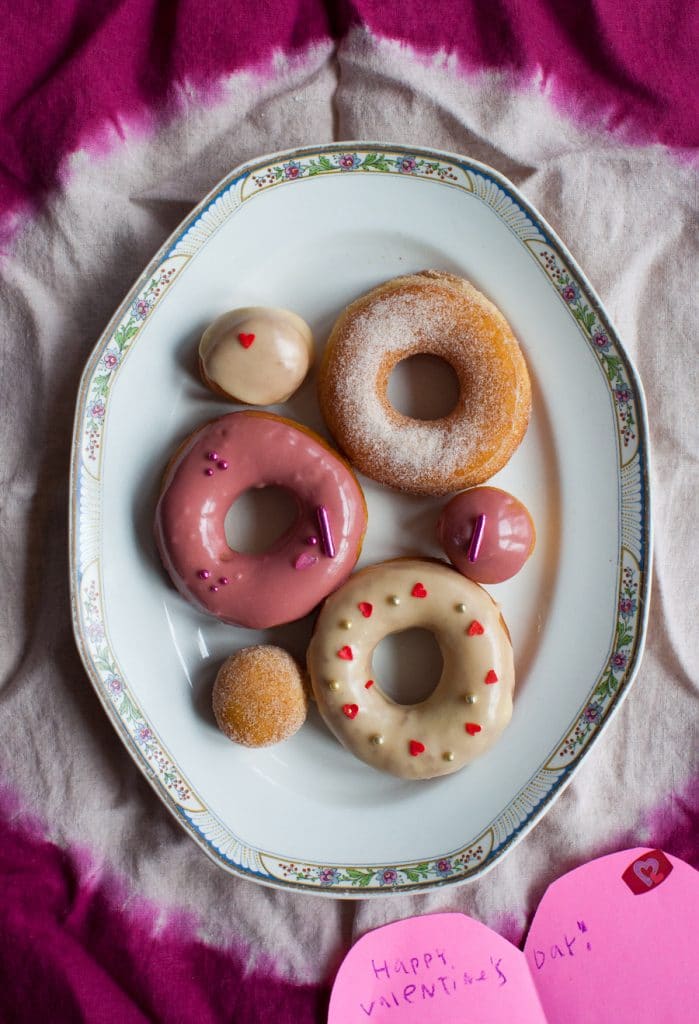 Valentine's Day is coming up, what better way to say I love you to the kids or your partner? Or neighbours!
I'm heading into birthday season for two of my kiddos, and in the Simple Bites kitchen, that means doughnuts. Last year we threw a skating birthday party for my tween – incredibly, it was our last gathering before lockdown.
I set out a decorate-your-own-doughnut bar, complete with a stack of freshly-fried doughnuts. It was an instant hit – and this year the doughnut bar has been requested again.
The Best Doughnut Recipe
Firstly, my basic doughnut recipe is yeasted and fried. AKA – it's the BEST. I've always far preferred a yeast doughnut to a cake doughnut (here's the difference). I guess if I wanted cake, I'd make cake.
Secondly, you can customize them however you like. The recipe below is my base doughnut recipe for everything from maple-glazed to cinnamon sugar. For Easter brunch, I pour a coffee glaze over the top, and for Valentine's I whisk concentrated tart cherry juice with powdered sugar for a blushing pink icing.
Lastly, freshly ground nutmeg is the secret ingredient, which lends a special touch. This doughnut recipe feels like an old-fashioned treat, in the best possible way.
I have adapted and reworked this recipe from one of my go-to cookbooks, Gourmet Today.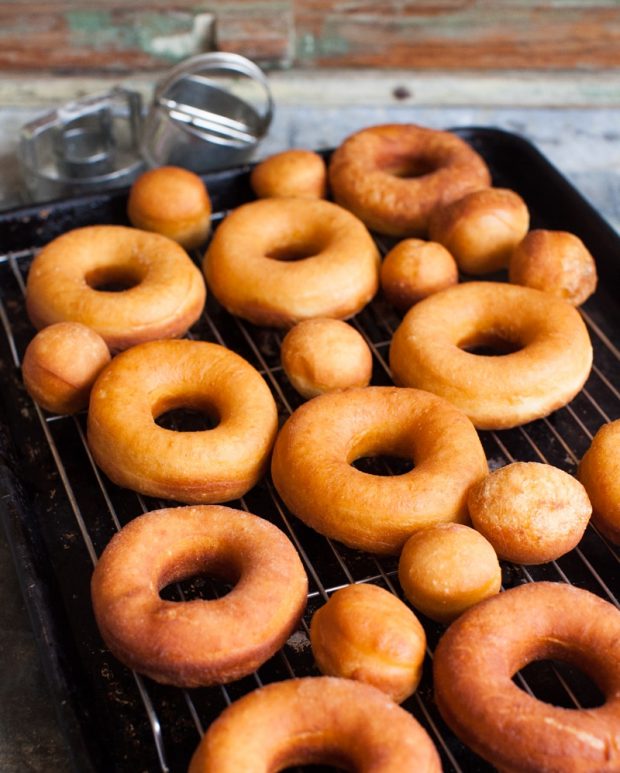 The Secret to Easy Homemade Doughnuts
I am about to tell you the secret to my best doughnut recipe. Ready? The dough can be prepared up to 24 hours in advance! Just keep it well wrapped and refrigerated. I always give it plenty of time to come up to room temperature before frying.
Fresh, hot cinnamon sugar doughnuts on a Saturday morning are even easier than you think with do-ahead dough. Especially if you have little helpers.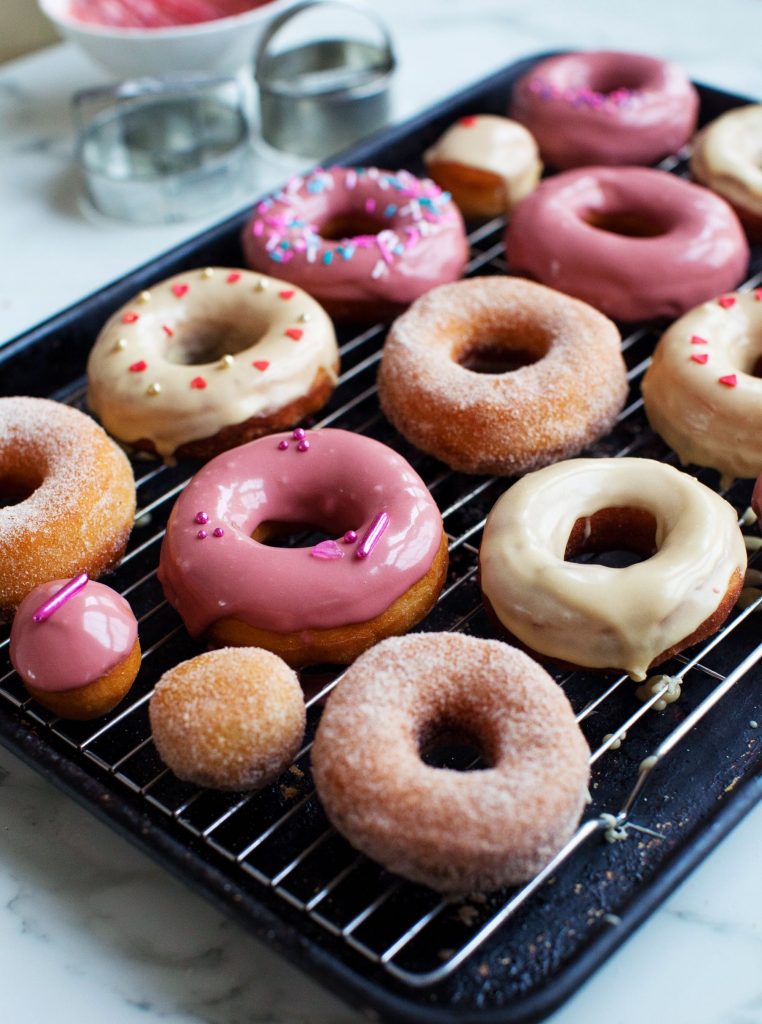 I let my kids roll and cut the dough, then I oversee the frying. It's about 10 minutes of active time for me – even quicker than a trip to Timmy's.
I like to enjoy my doughnuts warm – just as soon as that glaze has set. However, you can keep them for up to 24 hours in an airtight container.
In conclusion, it's a good thing I saved the fry oil last week. Another storm hit while I was writing this post and school was cancelled again. We may need to turn out another batch before long.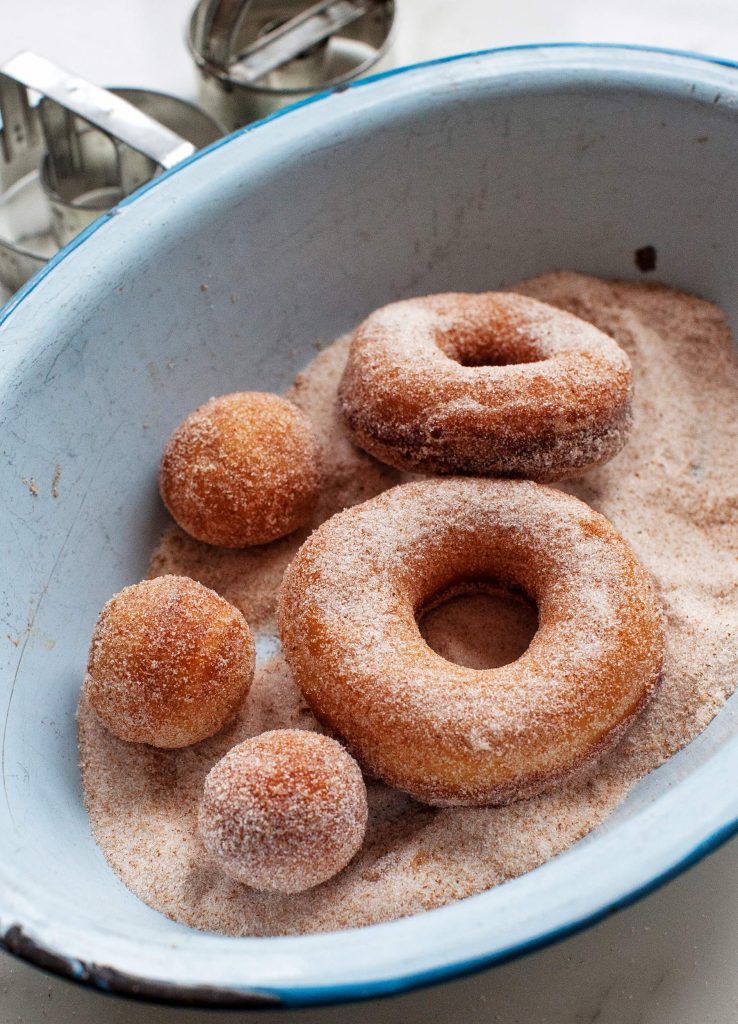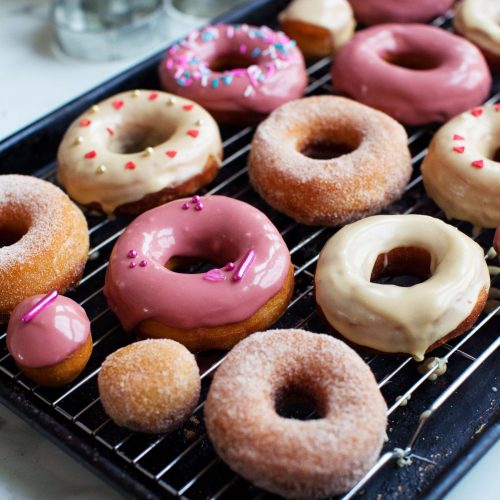 Best Doughnuts
My great, basic doughnut recipe is yeasted and fried, AKA – the BEST. It's the base recipe for maple-glazed, cinnamon sugar or chocolate dip. Freshly ground nutmeg is the secret ingredient, which lends a special touch.
Print
Pin
Rate
Ingredients
2 1/2

teaspoons

active dry yeast

3

Tablespoons

warm water

105F-115F

1

cup

2% milk

room temperature

4

Tablespoons

unsalted butter

softened

3

large

egg yolks

2

Tablespoons

sugar

3 1/3

cups

all-purpose flour

1 1/2

teaspoons

fine sea salt

1/4

teaspoon

freshly ground nutmeg

6

cups

vegetable oil

for frying
Instructions
Have all ingredients at room temperature. In a small bowl, stir together the yeast and warm water. Let stand in a warm place until it begins to 'bloom' (foam).

2 1/2 teaspoons active dry yeast,

3 Tablespoons warm water

In the bowl of a stand mixer fitted with the dough hook, combine milk, butter, egg yolks, sugar, yeast mixture. Stir to losely combine, then dump in the flour, salt and nutmeg. Mix on low speed until a soft, rugged dough forms.

1 cup 2% milk,

4 Tablespoons unsalted butter,

3 large egg yolks,

2 Tablespoons sugar,

3 1/3 cups all-purpose flour,

1 1/2 teaspoons fine sea salt,

1/4 teaspoon freshly ground nutmeg

Increase mixer to medium high and beat dough for 3 minutes. Once or twice, stop the mixer and scrape down the sides of the bowl and the dough hook. You will end up with a soft, supple dough.

Do-Ahead Directions: Place the dough in a lightly oiled, medium-size bowl. Cover tightly with plastic wrap. Refrigerate for up to 24 hours.Eat Now Directions: Cover the bowl with a clean tea towel and place in a warm corner of the kitchen. Allow dough to rise and double in bulk. Meanwhile, prepare glazes and cinnamon sugar (recipes below).

Lightly flour the kitchen counter and turn the dough out of the bowl. With a floured rolling pin, roll the dough into a circle about 13-inches round and 1/2-inch thick. Cut as many doughnuts as possible with a 3-inch cutter. Transfer doughnuts to a lightly floured baking sheet, keeping them 1 inch apart.

Cover doughnuts with a kitchen towel and let rise in a warm place until slightly puffed, about 30 minutes (or 45 if the dough was refrigerated). Meanwhile, prepare your fry station.

Heat oil in a deep 4-quart heavy pot until it reaches 350F. You will need to monitor it frequently with a thermometer and maintain this temperature throughout the fry. Fry doughnuts in batches of three, turning with a wire skimmer when they are a deep golden brown. Transfer to drain on a wire rack placed over a baking sheet, or use paper towel. Repeat until all the doughnuts and doughnut holes are fried.

For cinnamon sugar doughnuts, shake doughnuts in a bowl with 3/4 cup cinnamon sugar. For glazed doughnuts, dip doughnuts in maple glaze and return to the wire rack to set. Let glaze set for about 20 minutes. Enjoy your fresh homemade doughnuts!
Notes
If you don't have a 3-inch doughnut cutter, use a 3-inch round biscuit cutter and cut a hole in the center with a 1-inch cutter.
Nutrition
Calories:
307
kcal
|
Carbohydrates:
31
g
|
Protein:
6
g
|
Fat:
18
g
|
Saturated Fat:
13
g
|
Trans Fat:
1
g
|
Cholesterol:
58
mg
|
Sodium:
304
mg
|
Potassium:
95
mg
|
Fiber:
2
g
|
Sugar:
3
g
|
Vitamin A:
198
IU
|
Vitamin C:
1
mg
|
Calcium:
36
mg
|
Iron:
2
mg
Maple Glaze
A simple maple syrup glaze for homemade doughnuts
Print
Pin
Rate
Ingredients
2

Tablespoons

pure maple syrup

2

teaspoons

whole cream

1/4

teaspoon

pure vanilla extract

optional

1/2

cup

powdered sugar
Instructions
In a small bowl, whisk together maple syrup, cream and vanilla, if using. Whisk in the powdered sugar until smooth. Glaze will be runny.

Dip doughnuts in the glaze until coated and place on a wire rack to set for about 20 minutes.
Notes
For a cherry glaze, substitute concentrated tart cherry juice in place of the maple syrup.
Nutrition
Calories:
32
kcal
|
Carbohydrates:
7
g
|
Protein:
1
g
|
Fat:
1
g
|
Saturated Fat:
1
g
|
Cholesterol:
1
mg
|
Sodium:
1
mg
|
Potassium:
8
mg
|
Sugar:
7
g
|
Vitamin A:
12
IU
|
Vitamin C:
1
mg
|
Calcium:
4
mg
|
Iron:
1
mg