Beginners can learn how to make a basic crêpe recipe with this tutorial, including recommended tools and suggested toppings.
Before the days of sheltering in place, homemade crêpes were only a special occasion food in our home. Often requested as a birthday breakfast, these elegant, lacy pancakes were revered by my kiddos as the ultimate treat.
Our first lockdown last spring changed all of that, when we found ourselves with more time on our hands than ever before. My 8-year-old, Clara, showed a keen interest in learning a great, basic crêpe recipe.
She also brought a deft hand for swirling the batter and an attentiveness to the stove. Call it a homeschooling culinary lesson or call it cravings, crêpes made the menu once a week and have remained in our repertoire ever since.
Frying crêpes for a family of five is a true labour of love. There are no real shortcuts. I can, however, recommend acquiring an apprentice to join you in the kitchen. After all, two pans are better than one.
A Great, Basic Crêpe Recipe
Learning how to make crepes is a great life skill. If you're like Clara and I, you may find it addicting.
The recipe and method below might seem lengthy, but I wrote it for the true crêpe novice. If you've fried crêpes – or even pancakes – before, you'll breeze through this recipe.
My three children can make this basic crepe recipe singlehandedly, from cracking eggs to serving breakfast. With a little practice, you can too.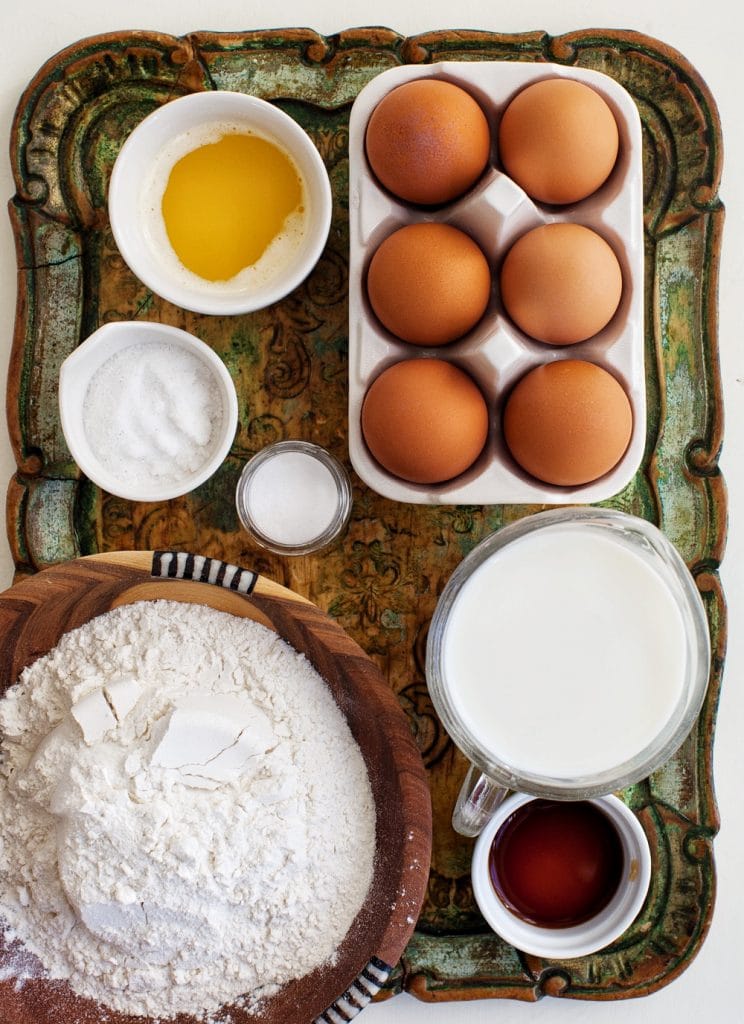 Ingredients for a Basic Crêpe Recipe:
You can make crêpes with a few eggs, milk and flour. (Maybe this is why they are such a great dish for lockdown. Last spring we couldn't find yeast anywhere.)
I've rounded out my recipe to include vanilla, melted butter and pinch of sugar and salt. These are definitely sweet crêpes, destined to be dusted in powdered sugar.
Should you wish to make a savoury crêpe, just omit the sugar and vanilla in the recipe below.
Crêpe Pan
In all my culinary years, I've never owned a crêpe pan or griddle. I don't like single-use pots and pans taking up space in my kitchen. I've always used what I have, and teach my kids to do the same.
Cast Iron Skillet: This is my preferred pan for frying crêpes. I love it for its steady, even heat. Make sure your cast iron is well seasoned or the batter may stick. (What You Need to Know About Cast-Iron Skillet Cooking)
Non-Stick Skillet: This is the pan I use for teaching the kids, as the cast iron is too awkward and heavy for them to lift and swirl. I do love the non-stick PFOA-free (absence of Teflon) from Scanpan and find it's well worth the price tag.
Other useful tools:
Silicone Pasty Brush – for spreading melted butter on the pan
Bamboo Spatula – you want a firm pancake spatula that won't scratch a non-stick pan. I use bamboo; silicone works as well.
Cooling Rack – Crêpes need to cool properly before you store them. I use a large rectangle cookie rack.
Tips for a Basic Crêpe Recipe
Chilling the Batter – A resting period in the fridge yields a more tender crepe. At least 30 minutes is best.
Preheating is Pan. Start warming your pan at least 10 minutes before you begin to fry your crêpes. The melted butter should sizzle slightly when you brush the pan.
Thinning the Batter – Ingredients may vary (such as egg size) so you may need to add additional milk to thin your batter. It should easily run all over the pan, and crêpes should be paper thin.
Crêpe Fillings and Toppings
A squeeze of lemon and a sprinkling of powdered sugar is my favourite way to enjoy crêpes. It's so very simple.
Spinach Crepes with Maple-Stewed Blueberries have been a family favourite for years now. My kids still call them 'Hulk Crêpes'.
No matter your preference, there are endless crepe fillings and toppings to explore at the brunch table. Here are a few more ideas: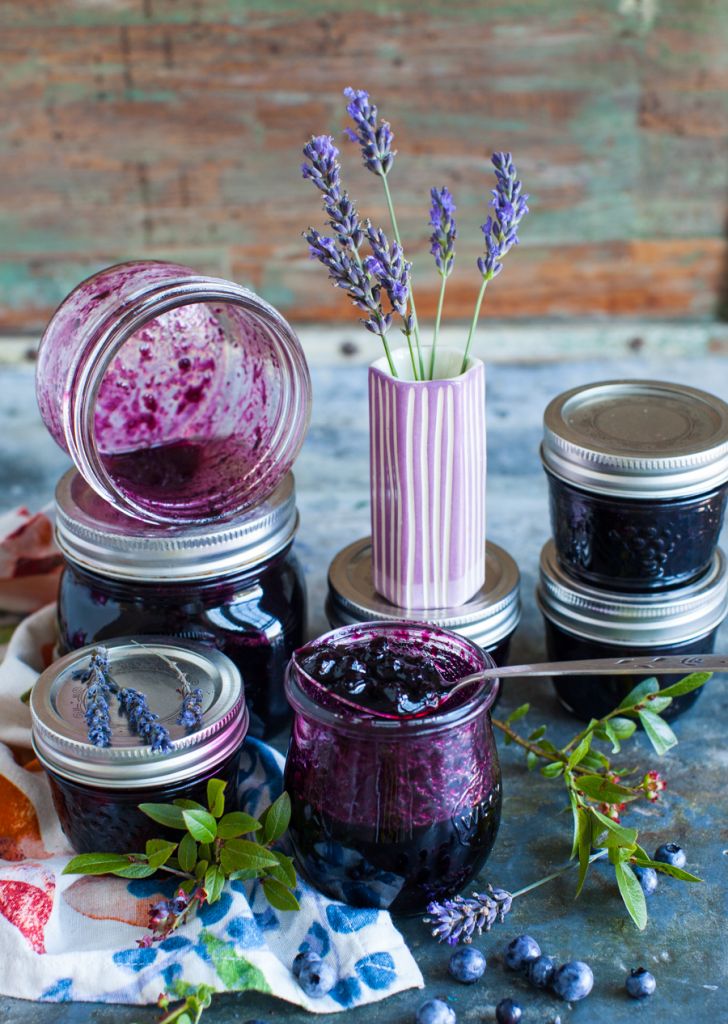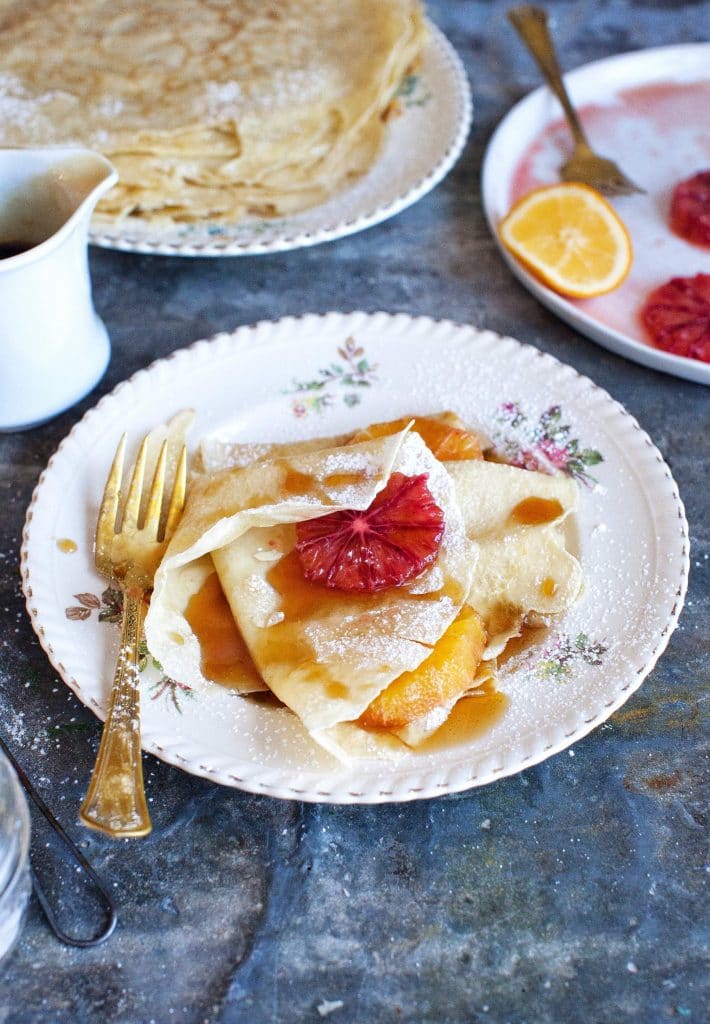 There are many delicious directions you can take a great basic crepe, including this Lemon Mascarpone Crêpe Cake or the decadent cheese-filled, fruit-topped blintzes.
Learning the basics is just the beginning!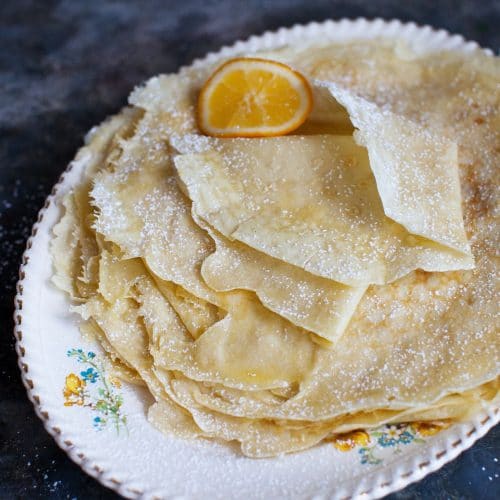 Great Basic Crêpes
A simple recipe for classic crêpes. Makes a big batch.
Print
Pin
Rate
Ingredients
6

medium

eggs

1 1/4

cups

whole milk

1 1/4

cups

water

1

teaspoon

vanilla

artificial is fine

2

Tablespoons

sugar

1/2

teaspoon

salt

2

cups

all-purpose flour

1/4

cup

melted butter

unsalted, plus more for cooking
Instructions
Crack the eggs into a bowl and check for shells. (I always teach the kids this important step). Pour the into a blender.

To the blender, add the milk, water, vanilla, sugar and salt. Blend until frothy. Dump in the flour and blend again until a smooth batter forms. You may need to stop and scrap down the sides once or twice.

Pour in the melted butter and give the crêpe batter one last thorough blend. Transfer the batter to a large bowl or container with a lid. I use a juice jug with a lid. Chill the crepe batter for at least 30 minutes or up to overnight.

Melt at least 1/2 cup of unsalted butter for frying the crepes. You can also use canola oil, but I love the flavour that the butter imparts. Preheat one or two skillets at least 10 minutes before you begin to fry. Any pan size between 8 and 12 inches is fine.

Brush your 8/9-inch cast iron skillet or non-stick pan lightly with melted butter. Add 1/4 cup of batter (or one medium soup ladle-full) to the pan and immediately tip and rotate the pan so the batter swirls to coat the bottom. Don't worry if it is not a perfect circle.

Cook over medium heat until the underside of the crêpe is light golden, about 1-2 minutes, depending on the pan. Use a spatula to carefully loosen the crêpe around all the edges, then flip. Cook for about another 30 seconds, then remove from heat.

If you are serving your crepes right away, keep them warm in a clean tea towel in a low oven. If you are frying them in advance, cool them completely on a wire rack. Once cold, fold into quarters and stack loosely in an airtight container. Refrigerate until needed.

Crêpes can hold for 2 days in the fridge. Or they may be frozen for up to 3 months. To reheat, warm for a few seconds in a pan or the microwave.
Notes
Crêpes will not stick to a skillet that is properly pre-heated and buttered. Always preheat your skillets or pans and brush them with melter butter or oil before each and ever crêpe.
Nutrition
Calories:
99
kcal
|
Carbohydrates:
12
g
|
Protein:
3
g
|
Fat:
4
g
|
Saturated Fat:
2
g
|
Trans Fat:
1
g
|
Cholesterol:
57
mg
|
Sodium:
105
mg
|
Potassium:
53
mg
|
Fiber:
1
g
|
Sugar:
2
g
|
Vitamin A:
167
IU
|
Calcium:
28
mg
|
Iron:
1
mg