I've just returned from a motivating and inspiring food blogging conference where I had the fortunate opportunity to speak on a panel and briefly share my culinary journey. It was such fun to dig up old photos and reminisce about my youth that I though I should share the images with you here.
Over the years I have alluded to my background in food, recounting stories about my bucolic back-to-the-land upbringing or hectic restaurant days; today you'll have more of a visual narrative. These images are a really quick look at how my journey has shaped who I am today and why topics such as kids in the kitchen or urban homesteading are such a big part of this blog.
The First Homestead
On a lake, in the beautiful and wild Yukon Territory, I grew up milking goats, homeschooling, and baking with my sister. That's me on the left, with my unruly hair and high-tops.
It was a simple and unspoiled childhood; one that shaped me forever and instilled in me a lifelong love of nature and foraging, scratch cooking and gardening. That uncomplicated lifestyle was one that I strove to return to many years down the road when I had small children of my own.
A Floating Kitchen
An offer to help out a chef-owner on a busy Saturday night turned out to be an inadvertent entrance into professional cooking at the age of seventeen. One summer a few years later found me as a camp cook at a remote fly-in fishing resort in British Columbia.
It is on this stunning coastal location where I learned to filet my first salmon, catch & cook Dungeness crab, and roast the perfect turkey — all in a floating kitchen.
Eating from Phuket to Paris
With my substantial earnings from the fishing camp, I embarked on a low-budget, high-adventure backpacking trip through South East Asia and Mediterranean Europe with my brother, Josh. Over the course of three months, I ate my way from market to market, embracing the local cuisine and falling in love with the varied family food cultures.
Obviously I'm wired for food, no matter the continent.
An (official) Culinary Education
I moved to Montreal at age 20, in hot pursuit of a young engineering student named Danny. Unable to land a job I liked, I decided to enroll in a snappy ten-month culinary school program. (Can you find me in the photo above?)
In the kitchens we practiced to make puff pastry and profiteroles. In the classroom we learned about cooking temperatures and kitchen safety. When it was over, an internship in the city's best restaurant landed me a job behind the stoves.
Oui, Chef.
Despite years of cooking experience under my belt, I was schooled all over again in the kitchen of a popular Montreal restaurant. There, among the bins of oysters and trays of foie gras, I got an education in haute cuisine – and the egos in the industry that go along with the elite fare. (Can you guess the name of the celebrity chef in the black hat?)
Working ten-hour shifts of crazy, I cook my way up the ladder from oyster girl to chef-de-partie in three years, one finely dressed plate at a time.  They are some of the most food-centric and memorable years of my life.
During those years, Danny and I married, and I figured out that, although food was my passion, the restaurant scene was not. Still, the love of cooking for others and the satisfaction that it bestowed was something that would stay with me forever and many years later translate onto the virtual pages of this blog.
How to be a Domestic Goddess
Photo by Tim Chin
At age 26, I hung up my chef's whites and walked away from ten years of professional cooking into the sunny kitchen of our first small house. I planted a garden, eased back into canning and bread-baking, and acquainted myself with motherhood, which suited me very well.
Admittedly though, it was a struggle to challenge myself creatively while tending to a growing family, and although I catered the occasional event, and delivered a wedding cake here and there, I sought a deeper fulfillment. I desperately wish to merge my passions of writing, cooking and mothering – but how?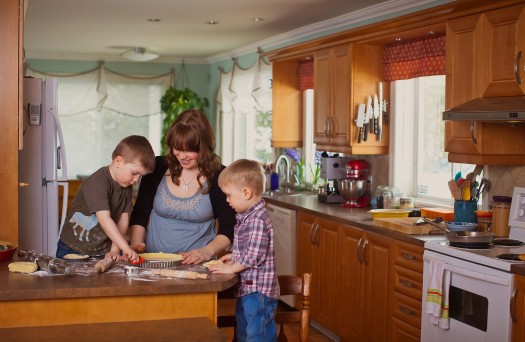 Photo by Tim Chin
I began blogging my recipes, kitchen tips, and snippets of stories on Under the High Chair. Cooking with my boys – and sharing those stories and recipes with others online became an essential creative outlet. I found friendship and camaraderie in the food blogging community, as minuscule as it was back in 2006.
Unbeknownst to me, Tsh was a reader of UtHC, and over time, provided an opportunity to launch and edit Simple Bites and it became the missing link I needed between mothering and professional cooking. It helped to merge my passions into one channel, one that provided an income, rewarding feedback, and rich community. YOU!
Photo by Tim Chin
Incredibly, more people than my sisters and friends read Simple Bites – I'm still floored that you all subscribe and visit the archives for recipes. Local media has been kind (heck, they brought a TV camera to my Christmas cookie swap), and we've had some lovely awards bestowed over the years.
When I blog, I strive to bring with me experiences of all the kitchens where I have labored and learned, laughed and, ultimately, grown up. I'm only just beginning to cover them.
A Homestead of My Own
Photo by Tim Chin
Today, as you know, Danny, the kids and I maintain a semi-urban homestead of our own. When I gather the eggs from the chicken coop or collect spinach from my garden, I am continuing to preserve the family food culture that I was raised in, and have pursued my whole life.
For the first time since I was a child in the Yukon, I truly feel at home.
Have a question about my culinary journey? Ask away and I'll do my best to answer.