Well, I had all week to prepare for Clara's birthday – only I don't mean party prep. I'm referring to the allotted time required for me to accept that she is another whole year older. Already three.
Today she climbed on a stool with my old Canon Rebel around her neck and declared she wanted to take pictures of her salad. Later she perched on my lap and helped me make the selections for my organic seed order. She "works" on her toy computer and is an utter wiz in the kitchen already. Chip off the old block? It's looking that way.
She's incredibly decisive; knows precisely what she likes and does not like, and declared today's recipe "The best cake I ever ate." Oh Clara, you're ever the charmer.
Clara had an apple cake for her first birthday, a raspberry cake for her second, and we kept with the tradition of fruit for her third birthday: a splendid Coconut Sugar Banana Layer Cake with Caramelized Coconut Sugar Frosting. This marvellous creation is straight out of a beautiful all-new baking book written by cake and confection queen Shauna Sever.
Real Sweet: More Than 80 Crave-Worthy Treats Made with Natural Sugars
is Shauna's love letter to all-natural and organic sweeteners. It's full of creative recipes we can't wait to try like Ice Muscovado Caramel-Nut Blondies, Strawberry and Lemon Cream Puffs and Blueberry Maple Oatmeal Muffins.
The cookbook features many of our favourite sweeteners such as honey, turbinado and maple syrup (duh!) and introduced a few of new-to-me ingredients like the coconut sugar in this cake. It was no easy task to narrow down a cake choice for Clara's birthday from Real Sweet, but in the end I was curious about the coconut sugar.
Real Sweet
author Shauna says that because it's not derived from sugarcane, the "brown" flavour of coconut sugar doesn't come from molasses, and so it tastes quite different from other brown sugars. It's a decidedly exotic, toasty flavour that pairs wonderfully with other tropical flavours, especially bananas, as this cake demonstrates.
Clara's cake was delicious on the second day, and perhaps even more so on the third. Similar to banana bread, I think its flavour deepens as it sits, and thanks to all that fruit, it stays moist, too. The banana/caramel duo is absolutely killer, especially when paired with a cup of coffee (always!).
Shauna's original recipe is a snack (sheet) cake – my real preference when it comes to cakes. It's going to be a recipe that stays in our family repertoire for a long, long time. Coconut sugar? A new pantry staple.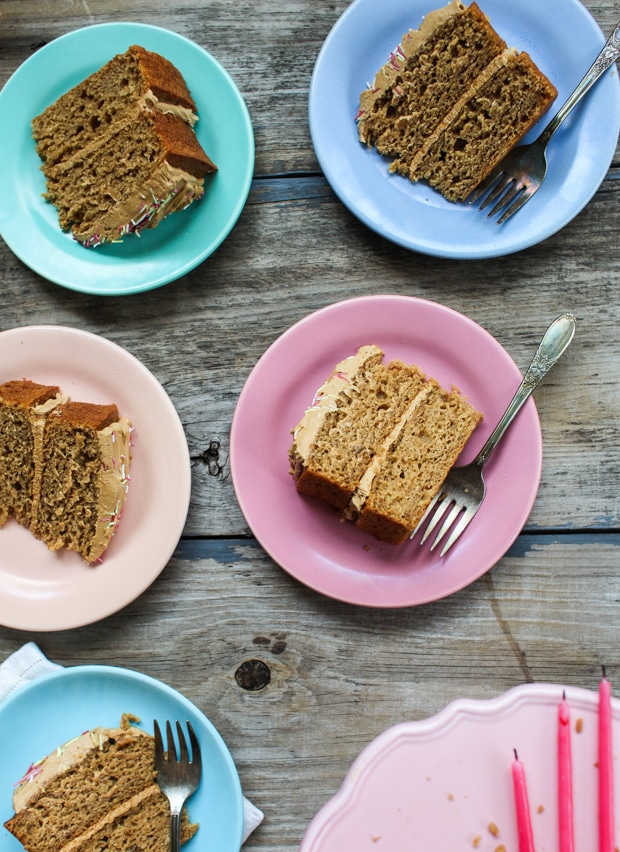 I'm delighted to be able to share the recipe with you, complements of Shauna and her team at HarperCollins. Read on for both cake and frosting recipes. And if you love to bake treats with your children as I do, but prefer to use alternatives to white sugar, Real Sweet
 is well worth checking out. Psst! Shauna is giving away a few copies plus a basket of her favourite natural sweeteners on her blog (USA residents only).
Happy Baking!
Coconut Sugar Banana Sheet Cake
From REAL SWEET by Shauna Sever. Reprinted with permission from HarperCollins Publishers.
Print
Pin
Rate
Servings:
12
slices from a 8-inch layer cake
Ingredients
2

cups

unbleached all-purpose flour

spooned and leveled

2

teaspoons

baking powder

1/2

teaspoon

baking soda

1/2

teaspoon

fine sea salt

1 1/3

cups

mashed bananas

(from about 3 very ripe medium ones)

2/3

cup

2% Greek yogurt

1/4

cup

coconut oil

canola oil

1

cup

coconut sugar

plus 2 tablespoons

4

Tablespoons

unsalted butter

at room temperature

2

large eggs

at room temperature

1

teaspoon

pure vanilla extract

1

batch

Caramelized Coconut Sugar Frosting

recipe below
Instructions
Position a rack in the center of the oven and preheat the oven to 350˚F. Spray two 8-inch round pans with nonstick spray or butter them generously.

Into a medium bowl, sift together the flour, baking powder, baking soda, and salt.

In a separate medium bowl, whisk together the bananas, yogurt, and oil until smooth.

In the bowl of an electric mixer fitted with the paddle attachment, beat together the sugar and butter on medium-low speed until the mixture looks like dampened sand, about 1 minute.

Add the eggs one at a time, giving the first about 30 seconds to incorporate before adding the second. Increase the speed to medium-high, beating until light in texture and much paler in color, 4 to 5 minutes (don't skimp on the beating time, here—the significant change in color will be your cue that the sugar has begun to dissolve). Beat in the vanilla extract.

Reduce the mixer speed to low. Stir in the dry ingredients and banana-yogurt mixture in five alternating additions, beginning and ending with the dry ingredients, letting each addition fully absorb into the batter before adding the next. Finish folding the batter gently by hand to ensure it is well blended.

Divide the batter into two prepared pans and smooth the tops. Bake until a toothpick comes out clean, 20 to 25 minutes. Cool the cakes for 10 minutes in the pan, then invert onto a wire rack. To cool completely.

Place one cake on a stand or platter. Cover only the top with half of the frosting and smooth it flat. Place the second cake onto the first and spread the remaining frosting over the top of the cake. Serve at once or wrap loosely in plastic and chill for up to two days. Serve at room temperature for rmaximum flavour.
Notes
One of the tricks of using coconut sugar successfully in baking is to find a recipe that has plenty of tenderizing, moisture-lending ingredients in it—such as mashed bananas or other fruit purees, oils, and buttermilk or yogurt—as coconut sugar tends to dry out baked goods.
Nutrition
Calories:
377
kcal
|
Carbohydrates:
47
g
|
Protein:
4
g
|
Fat:
19
g
|
Saturated Fat:
13
g
|
Cholesterol:
67
mg
|
Sodium:
260
mg
|
Potassium:
197
mg
|
Fiber:
1
g
|
Sugar:
22
g
|
Vitamin A:
515
IU
|
Vitamin C:
2.3
mg
|
Calcium:
62
mg
|
Iron:
1.2
mg
Coconut Sugar Caramel Frosting
From REAL SWEET by Shauna Sever. Reprinted with permission from HarperCollins Publishers
Print
Pin
Rate
Servings:
1
8-inch layer cake
Ingredients
9

Tablespoons

unsalted butter

cut into tablespoons and softened

3

Tablespoons

brown rice syrup

(see note)

1/4

teaspoon

fine sea salt

3/4

cup

coconut sugar

1/4

cup

heavy cream

1 1/2

teaspoons

pure vanilla extract
Instructions
In a medium heavy-bottomed saucepan set over medium heat, melt together 4 tablespoons of the butter, the brown rice syrup, and salt. Add the coconut sugar and stir with a heatproof spatula. Bring to a gentle boil and clip a candy thermometer onto the pan. Cook to 248˚F, about 5 minutes. Remove the pan from the heat and carefully stir in the cream and vanilla extract. Cool for 10 to 15 minutes.

Whisk the remaining 5 tablespoons of butter into the caramel, a tablespoon at a time, letting each knob of butter absorb into the caramel before adding the next. Don't rush this step—you're not only setting yourself up for a nice emulsified frosting, you're also slowly cooling the caramel, both of which will make for a smooth, creamy final product.

Scrape the caramel into a mixing bowl or bowl of a stand mixer. Chill until the caramel is cool to the touch all the way through, about 20 minutes. Using an electric mixer fitted with the whisk attachment or a handheld mixer on medium speed, whip the caramel into a lush, creamy frosting until light and fluffy, about 2 minutes. (If it still looks like caramel sauce after 1 minute of beating, chill further before whipping again.) Use immediately, or store in a tightly covered container in the refrigerator for up to 1 week, bringing it back to room temperature before giving it a quick rewhipping.
Notes
Although the liquid sweetener here obviously adds sweetness, its main functions are to keep the caramel flexible and add a beautiful gloss to the whipped frosting. Shauna like to use something very neutral in flavor, such as brown rice syrup, to allow the coconut sugar flavor to really shine, but you could also use light agave, mild honey, or even coconut nectar, if you have it, which will give a much deeper color to the frosting and make it a bit sweeter as well.
Nutrition
Calories:
1682
kcal
|
Carbohydrates:
153
g
|
Protein:
3
g
|
Fat:
124
g
|
Saturated Fat:
78
g
|
Cholesterol:
352
mg
|
Sodium:
898
mg
|
Potassium:
44
mg
|
Sugar:
116
g
|
Vitamin A:
4025
IU
|
Calcium:
111
mg