During my culinary school days, I shared a loft with a girl who was half Irish.
We sipped our first Guinness together, staked out for the front row at a U2 concert, and dyed our hair green on St. Patrick's Day. We'd show up to the Montreal parade so decked out in shamrocks and flags, it's no surprise we landed ourselves on the front page of the local paper one year.
As enthusiastic as I was about being Irish for one day, I never delved into cooking a feast inspired by the Emerald Isle. I know Irish cuisine is spectacular (I'm admittedly addicted to the food blog, Farmette), and so this post is an attempt to showcase a handful of recipes suitable for your St. Patrick's Day celebration.
Butter. Cheese. Hearty bread. These Baked Cheese Toasties are the true definition of Celtic cuisine, as far as I'm concerned. My former contributor, Jan, served these up last year and I can't imagine how I've gotten by in life for so long without them.
Baked Cheese Toasties are dead simple to make and the children can absolutely help prepare them. Serve the toasties with this quick Potato-Leek Soup with Bacon – also rather Irish.
If you're looking for something a little more substantial, definitely put this Guinness Beef Stew to simmer. It's hearty and rich with flavour thanks to a traditional Irish stout. I haven't made a beef stew all winter (they've all been  vegan for some reason) and I'm craving this very thing.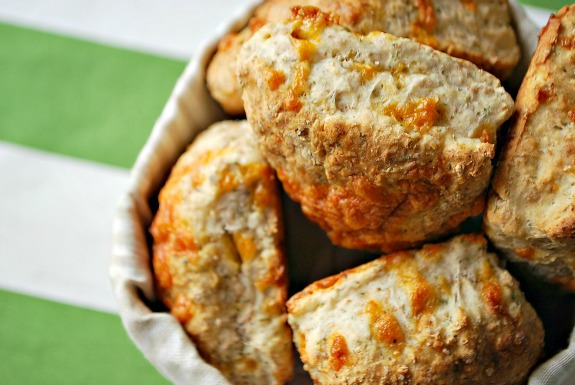 Cheesy Irish Soda Scones seem like the only logical pairing for a beef stew.  Their ingredient list is short and the baking time is quick, so if you didn't get a chance to bake Irish soda bread, these scones are your best bet.
Alternatively, pair them with one of these mains…
Here we have an Apple Cider Braised Brisket and a Lentil Shepherd's Pie with a Sweet Potato Mash on top.
These Beet Braised Lentils would be exceptional as well. Is it a stretch to call them Irish? Perhaps.
Lastly, when I think of Irish cuisine, I always think of oatmeal. On that thought, here is a Oatmeal Applesauce Bread that would be most excellent with the braises and stews we've been talking about, or even made into the Cheese Toasties.
For breakfast, I would have to suggest Fluffy Banana Oat Pancakes. They are full of whole grains, sweetened with banana and lightened with yogourt.
And for dessert, you may want to finish with an Oatmeal Pumpkin Bundt Cake. You could even add a little Irish whisky or Irish cream in the glaze. Bonus points for homemade Irish cream.
Do you have a favourite St. Patrick's Day dish?