Mashed potatoes are premium comfort food, that is a given, but they don't always get the right treatment to ensure they are fluffy and well seasoned. This post can help.
Back when I put myself through culinary school, money was tight. I frequently relied on samples from class to get me through a day; which was easily feasible. We had opportunity to eat most everything we prepared and you know how I dislike waste! I must have been particularly hungry the morning we were learning how to make the best mashed potatoes (yes, that was actually a topic covered in a class) because I can remember every little detail of the process.
It seemed a torturous wait before we could serve ourselves from the enormous pan of steaming spuds, but the wait was well worth it. Creamy potatoes, skillfully seasoned, without a lump to be seen. It was the dead of winter. I had been up since 5 am in order to make it to class on time. Yet the memory of spooning up mashed potatoes while perched on an overturned milk crate remains one of my happiest ones from culinary school.
Today I'll share my teacher's secret to fluffy mashed potatoes.
Secrets to the best mashed potatoes
Mashed potatoes are simple to prepare – my boys are usually in charge of making this dish, actually – but like most things, there are small adjustments we can make to elevate them from ho-hum to yum yum! Serve them with Classic Beef Stew for the ultimate comfort food meal.
The Prep and Cooking
Begin with a Yukon Gold or other yellow-fleshed, non-waxy potato, such as Russet. Peel them, remove the eyes, and cut into quarters.
Cover them with at least an inch of cool water. Don't crowd them in the pot.
Add plenty of salt to start – for 4 pounds of potatoes I added 2 teaspoons of salt to the water.
Measure out 1/2 cup butter and 1/4 whole cream. Keep the pepper mill handy.
Bring to a boil and cook for about 15 minutes, or until easily pierced with a fork.
The Secrets
Secret #1: After boiling, spread potatoes on a sheet pan and throw them in a hot oven for a few minutes.
This was my culinary school instructor's secret method. He insisted it drew out the excess water from the potatoes – water which makes them sticky and gloopy. It works. I don't do this every time, but if I have a hot oven, and chances are I usually do, I'll bake the potatoes for 5 minutes at 400F.
Secret #2: Use a ricer for lump-free potatoes. It results in the fluffiest of potatoes with absolutely no chunks. The downside is cleaning the contraption, so I don't bring it out every time. Only for special holiday pot-lucks and such.
My boys love to wield a traditional masher so I let them, but pretty soon I'll be introducing them to the ricer. I'm sure it's going to be a hit.
Secret #3:  Warm the cream and the butter before adding them to the potatoes.  The potatoes will absorb the fat faster when they are warm and the mixture will come together cohesively.
Secret #4: Don't overwork the potatoes. Pour the melted butter and cream over the mashed potatoes, then fold them in gently with a spatula or a potato masher. Taste for seasoning, add salt and pepper, and you are finished.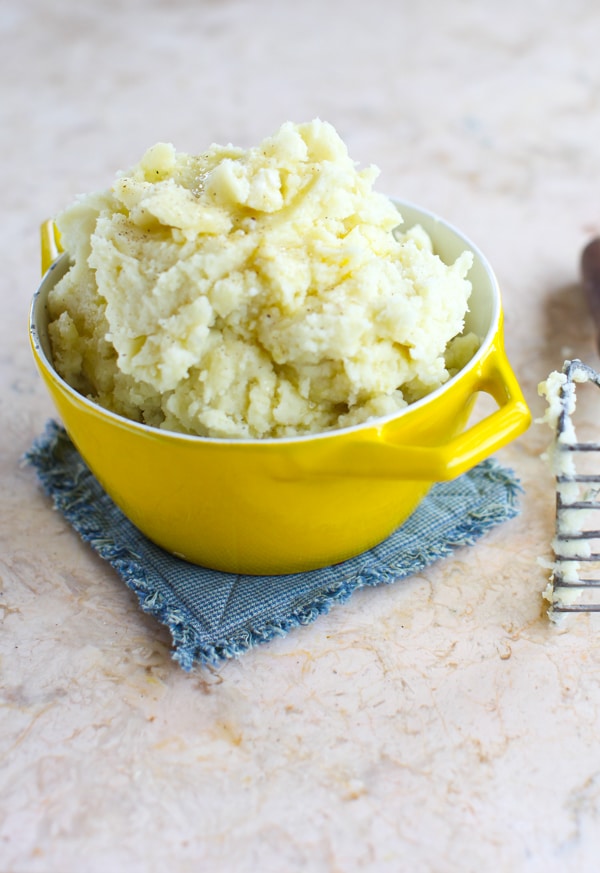 Serve hot, hot, hot!
The Do-Ahead
Because these spuds have plenty of butter and cream (fat) they can be made 1-2 days in advance and will reheat well on serving day. To reheat, first bring to room temperature, then bake, covered or uncovered at 350F for about an hour. Potatoes should be bubbly around the edges and piping hot in the centre.
Last year on Christmas Day, I followed Faith's tutorial on The Kitchn for keeping mashed potatoes warm in a slow cooker. It worked to a "T", keeping my mascarpone mash hot a whole four hours while I pulled together the rest of the holiday dinner for fourteen.
#EatSeasonal Holiday Edition!
My food blogging friends to the South and I have teamed up to bring you a vibrant menu of seasonal eating ideas for the holidays.
Appetizers:
Turkey and Gravy:
Sides:
Desserts:
Now the only question is, who will pull up a chair to our virtual pot-luck feast?