It was almost exactly one year ago when I shared my recipe for Vanilla Cream Scones with you all, as well as details on an elaborate tea party.
A few friends and I had gathered to celebrate the Royal wedding of Harry and Meghan, and we toasted their happiness with many cups of tea – and a few gin & tonics. Today, as I sat down to write this post, the same Royal couple announced the birth of their son. Welcome Baby Sussex!
Now more than ever, it seems fitting to share a sweet and savoury scone recipe round-up with you.  These are my favourites – plain and simple, cheesy and fruity. You're bound to find a recipe you'll love forever.
Scones aren't just for Royal celebrations….Mother's Day is coming up and kids, mum wants a pretty plate of warm scones and a terrific coffee for breakfast on Sunday. Trust me.
You can serve it up in bed or not, just be sure to give her plenty of alone time to enjoy breakfast in peace. If you include a jar of jam and a bowl of sliced fruit, then you're really off to a great start to the day.
Here's scone recipe inspiration for your next baking project. Why not get a batch or two in the freezer in preparation for Mother's Day? You may want to also include instructions on how to re-heat the scones ( I always use the oven at 300F for about 10 minutes).
These are undoubtably my favourite for pairing with tea and slathering with jam. When I was working on the recipe, I tested British-style scones from well-known UK bakers – everyone from Nigella Lawson to Diana Henry. The best one I found was from Violet Bakery's Claire Ptak, an American living in London.
This was the scone I had been looking for all along. Fluffy and flakey, moist enough, light as a feather and not too sweet. The recipe makes a nice big batch so you can freeze some for another morning.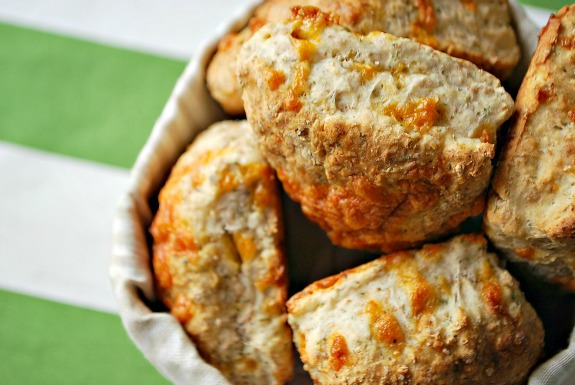 For those of you who really love a savoury scone in the morning, we have the Irish and Jan Scott to thank for this recipe. Try splitting these cheesy biscuits and topping them with soft scrambled eggs and a pinch of fresh chives.
No need for jam with these beauties – a generous helping of berries are baked up right inside. Full of fruit and light as air, these beautiful scones are a must for summer berry baking.
They are classic coffee shop scones – lightly sweetened and studded with dried cranberries. The orange zest and juice add brightness, while the wheat flour gives these a hint of nuttiness.
Of course I have a soft spot for these tender, nutty scones as they are from my second cookbook, The Simple Bites Kitchen. A while back I shared the recipe with The National Post and here it is. If you've never tried dates in scones, I'm here to tell you that they are the BEST.
These savoury biscuits are absolutely delicious for breakfast paired with sweet butter and a wedge of cheddar. For a truly decadent brunch, make them into breakfast sandwiches by adding a fried egg and a strip of bacon. Delish!
Happy baking and Happy Mother's Day to the mums reading. <3