I promised a full report from my recent harvest dinner and birthday celebration, so here's a photo recap of sorts for you to peruse on this holiday Monday. Did you get to sleep in? I hope so.
We were 22 adults, 15 kids, 4 baby girls, and one cute spaniel, gathered on a recent Sunday afternoon in the back yard of our urban homestead. It wasn't really about my birthday, I only used the event as an excuse to invite 40 people over and enjoy one last bash before summer passed us by.
It's no secret that I've been grasping at summer, not wanting to let it slip away, so we hauled our dining room table out onto the freshly mown grass, added the picnic table, plus a table I use for photography, and prepared to entertain under the trees.

Here is a one-minute recap with Danny's first attempt at timelapse photography. He wants me to mention that one of the kids knocked over the camera halfway through, which leaves out about 10 minutes of the party (you probably didn't notice) and has different framing (you might notice).

Read on for the full recap with pictures and tips.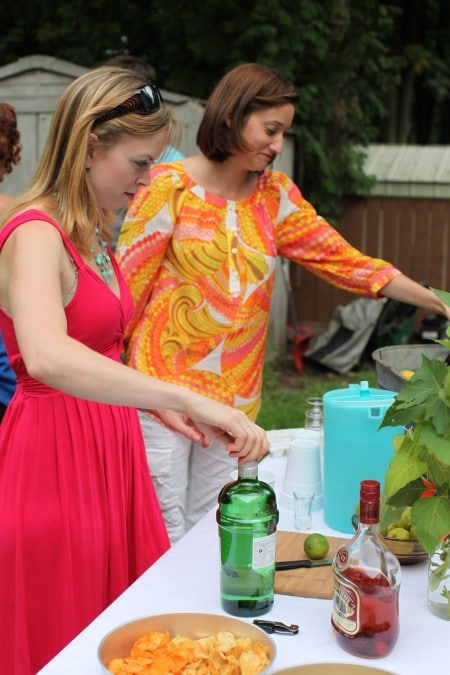 Drinks were self-serve, consisting of a stocked beer cooler, a couple of mixed drinks, water,  and a galvanized square tub that I just so happened to spot at a yard sale the day before the party. I picked it up for $5 and was thrilled to find it held water – and kept our white wine perfectly chilled.
During cocktail hour our friends strolled around, visiting the chickens and taking a garden tour.
I really wanted the adults to be able to sit, relax and eat with a knife and fork, so early on I decided to split the lawn down the middle, the kids 'snacking station' on one side, near the swing set, and a long table on the other side for our 'grown-up' dinner.
The combination of snacks, a babysitter, a tent, visiting the animals, and a scavenger hunt in the forest kept the kids mostly occupied, and we were able to eat two courses more or less uninterrupted. Success!
We somehow managed  to round up twenty-two  -indoor and outdoor- chairs. No piano bench necessary. The boys and I went for a walk the morning of the party and picked wild flowers for the table centerpieces. I put them in pint-sized canning jars and set them on the tables alongside red wine and bottled water.
Canning jars also served as water glasses, there's plenty of them around during canning season! The wine glasses, matching plates, and flatware were rentals, from a little place just 5 minutes away. They are returned dirty, so less clean-up for us. Worth. Every. Penny.
I bought a case of the season's earlier apples -Spartans- and used them to hold place cards, written on a paper leaf, and simply pinned to the apple. Totally my Pinterest moment.
We started with colorful tomato salads, laden with herbs and topped with fresh mozzarella, and a cold salmon platter with hard-boiled fresh farm eggs, pickles, and a tarragon aioli.
Here's how you serve hot rolls: make them a week or so ahead of time, store them in an oven-proof serving tray, and wrap them well in foil, then plastic. Remember to remove them from the freezer the day of the party and to remove the plastic wrap. Pop them, foil and all, into a 400F oven 15 minutes before you serve dinner. Remove from oven, discard foil, and serve.
Liz got some cuddles with Clara while I served up the main course. Of which there are no photos precisely because I was carving four roast chickens, spooning up baby potatoes with herb butter, and plating steamed green and yellow beans with a raspberry vinaigrette and toasted almonds.
\
Then we tucked in. Special thanks to Tim for confiscating my camera and snapping the interesting image above.
I think it's growing dusk by now, I don't know what time it is, but I just want to hang out here forever, surrounded by friends and family on a perfect summer night.
"Hmm, mama is absorbed with Clara, now I can finally sniff out the table."
The young dads, all with their daughters, Violet, Clara, Emmeline, and Rosalie. Precious!
Dessert and coffee are served, buffet style, and the chairs empty. I love the draped napkins.
Crumbles, crisps, brownies, pies and oh my! Nope, I didn't prepare a crumb of it. My dear friends made and brought everything to share, and you know what? Not a crumb went to waste.
I may have had seconds for breakfast the next day, but seeing as I was the birthday girl, that's okay, right?
My favorite part of the night was when Mateo came running up around 9 pm, grabbed my knees and said, "But Mom! We forgot the most important thing!"
Oh no! Checklists and menu plans flashed through my mind as I searched for what I could have possibly forgotten to serve or remember, but then he continued: "We forgot to sing Happy Birthday to you!"
Precious boy.
After dinner, the girls got all caught up on the latest baby news…
…while the guys burned off their dessert by taking turns on the slackline.
Thank you, Angela, for this capture of Clara and I at the end of the night. And specially thanks for not showing my plate, which was heaped with dessert.
The mosquitoes stayed mostly at bay until we finished dessert, and then it seemed like they descended with back-up to have a party of their own. We relocated to the house, where, one by one, the parents gathered their young ones, thanked us for hosting, and made their way home.
Our harvest party just might have to become an annual tradition. I can't think of a better way to bid summer adieu.