My birthday each August marks the beginning of the end of summer for us, but on the positive side, it offers the perfect opportunity to throw one last party before the children go back to school and we are once again slave to those early bedtimes and morning routines.
Last weekend I did just that, inviting over forty friends and family for a harvest dinner on our urban homestead. I envisioned us eating outdoors, near the raised beds, seated around one long table. (My 'Tablescapes' Pinterest board definitely played into that aspiration.)
Just this once, I wanted to give the parents a break. I wanted them to have a proper glass, be able to use a knife and fork, and be seated, instead of trying to balance a flimsy paper plate of food, a drink and a bebe in arms. More on how that worked out later; this post is about the little ones.
I had 15 kids attending; I needed a plan to keep them out of their parents hair – if only for half an hour or so – and feed them efficiently: and so the snacking station was born.
In short, setting up a snacking station only means putting out finger food that appeals to children, and letting them graze all evening long. The advantage is that the parents don't have to monitor (much), and the children eat when they are hungry.
For the host, everything can be prepped in advance, and the set-up is relatively quick, especially if there are little helping hands to trot everything outdoors. I used our play kitchens from Ikea (Duktig) and Magic Cabin, but a kid's table would work just fine as well.
Here's how it worked:
In addition to the snacks in the photos, I also put out assorted cut vegetables & hummus, pizza squares, pretzels, oatmeal cookies, and water.
Other ideas for keeping the kids (and parents) happy.
Book a babysitter. With fifteen kids attending, I knew I needed some back-up to keep the peace, dole out band-aids, and, heck, just to answer all Mateo's questions! I had a friend bring her regular baby sitter, a mature tween girl, to organize a few games with the kids and keep an eye on them. Best. Money. Ever. Spent.
As we 22 adults sat around enjoying dinner in the garden, I noticed how quiet it was and glanced across the lawn at the tent. Our amazing Bethany had over a dozen kids seated in the tent playing a game. Quietly.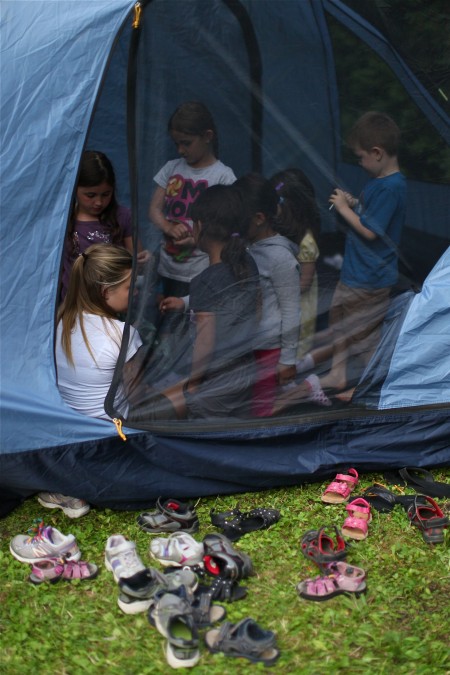 Pitch a tent. If space allows, set up your tent (or borrow one) for the kids to use as their special clubhouse.
Include your kids in the set-up/preparation. My boys are fierce with their sets of markers and whipped up the 'Kids Corner' and 'lemonade' signs while I prepped the wraps and washed fruit. Then we walked everything out to the backyard together. I showed them where everything was so they, in turn, could help their friends find a drink, a napkin, a snack.
Organize a Scavenger hunt. We had a list written up of items to collect around the yard and forest. Missing from the bowl in the picture above is a live frog, the 'bonus point' scored by the boy's team.
Parent's Feedback
This set-up got two thumb's up from the moms and dads for the most part, but we pieced together some observations and came to the following conclusions:
Toddlers will stand and eat pretzel sticks the entire time, if allowed.
Painfully shy children may not have the courage to scout for their own lunch and will be asking their parents for food 'round about 9pm.
Garbage will be strewn about, no matter if a trash can is provided or not.
Any urban chickens will be fed raisins from a box. They will be totally cool with that.
From what I've observed, eating plays second fiddle to games and play when our kids get together with their friends, especially the savory foods – so why not let them have fun? They can always eat a square meal tomorrow, but summer is fleeting, let's party while we can.
How do you keeps the kids (and parents) happy when entertaining?