Editors note: I asked Danny to share about our July garden disaster in his frank, factual way. I haven't written about it previously because, well honestly, I was too upset. If you've been through a major storm, one that has wreaked havoc on your homestead, then you'll understand why.
I'm one of those people who love storms. I guess I'm both awed and impressed by the sheer power that they unleash, whether it be a rain storm, thunderstorm, blizzard or hail.  I've never really thought of them as dangerous, because we watch from the comfort of our home, and get candles and stuff like that ready, "just in case" we lose power.
But last month, we had a very intense wind/rain storm that reminded me that there is indeed an element of danger and they are no laughing matter. From Aimee's various Instagram pics and Facebook updates, regular readers will know that our neighbor's large tree crashed through the fence and landed pretty much square on our garden.  Here is the story.
It was the last day of work before my summer vacation.  I had planned on leaving an hour or so early so that I could get a haircut in before our trip to Nova Scotia, but that part of the day was cut short when I got a panicked call from Aimee:
"Danny, I think we're having a tornado. I SAW the wind coming, and barely got the kids inside before they blew away. They totally would have blown away. This is crazy. This is the craziest wind I have ever seen.  Where is the safest place for us to be in the house?  I'm SERIOUS, this is scary, don't leave work, and oh no, oh no, OH NO, OH NO, (add about 5-10 more in here) OOOHHHHhhhh…… THE TREE IS DOWN.  I LOVE YOU. BYE."
Gulp!
Back at the office, I had a few coworkers look at me with bewilderment, as I was becoming increasingly agitated during my phone call, looking out the window (nothing unusual to see), and trying to calm my wife down.  I calmly told them I would be heading out sooner than later, and that we might lose power.  Almost on cue, the lights went out and we could now see horizontal wind whipping through the streets.  A FedEX truck was stopped on the street with flashers on.  Trees were bending to unnatural shapes.  A stop sign was permanently bent to 45 degrees – and I watched it happen.
And then I remembered that I had cracked my car window a little bit because it was stinking hot outside.  Crap. On the windward side too.
Looking at weather trends later that weekend (because that's what I do!), it had cooled from around 90F to 71F within one hour, which is a massive temperature drop.
I waited until the wind abated somewhat, hopped in the car, and started driving, figuring that traffic jams were sure to come (they were), and that I wanted to be with my family.  I didn't really see much damage until I got closer to home, where I had to drive under or around several damaged or fallen trees (one was held about 10 feet off the ground by a stretched power line!) as well as garbage and other yard debris littering people's yards.
The family was fine, but the tree took out 3 sections of fence and landed pretty much exclusively on our garden. With only 72 hours to go before vacation, I went to my neighbour's house and told him that he owed us some tomatoes. He laughed, then came to inspect the damage, and the next morning at 7:30, we had 2 chainsaws running. A man's gotta do what a man's gotta do…
Aimée was convinced that the entire garden was toast, but I tried my best to reassure her that nature is resilient and that we'd have to wait until we returned from vacation to make any final diagnosis.
Pretty much all our tall plants were gone (beans, peas, tomatoes), but we had a surprise with a vibrant cucumber plant in the worst-hit bed.  Surprisingly, that's about all that died.  The rest of the garden has flourished, and we should get a great crop of carrots, potatoes, and mint of course (it's pretty hard to get rid of mint once you have it – even if a tree falls on it).
The chickens were on the other side of the lawn that day, and are still doing just fine.
Our neighbor has a mini-tractor, and on the Monday was rolling these huge logs out to the forest to rot, and I said that I would love to have them and that I'd "figure out" what to do with them.  It's a decision I hope I don't regret.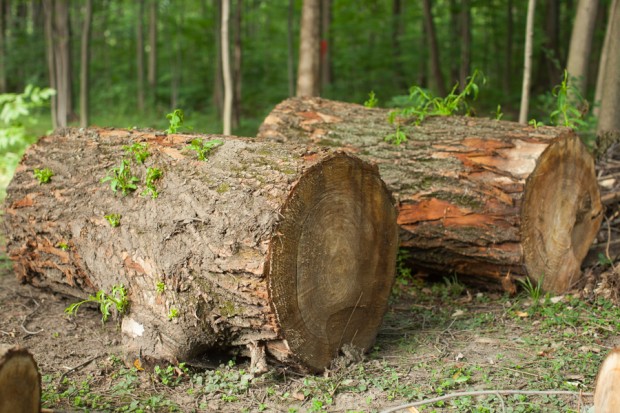 They're about 3-foot diameter and about 5-6 feet long each, and they've already started sprouting.  Crazy tree!  We also have a few smaller curved ones that wrap around the firepit for seats.
Have you ever had a similar crazy storm scare?  Also, what would you do with these logs? (DIY links or Pinterest recommendations welcome!)