A simple gardening craft for kids that makes a special eco-friendly gift.
Here's an Earth Day craft that is perfect for adults and kids alike and makes a sweet gift.
Perhaps the recipient is a neighbour in quarantine or your health practitioner friend down the street. We're all feeling alone right now and its nice to let others know they are in our thoughts.
No matter which doorstep you choose to leave this handmade seed kit, it will be sure to evokes the sense of spring, a much-needed feeling when most of our yards are still brown and barren.
Happy Earth Day!
Earth Day Craft
When brainstorming party favours for her 7th birthday last year, my Clara insister she wanted to hand out eco-friendly gifts. Oh yeah, she's kind of into saving the planet and zero waste.
We decided that inspiring her friends to grow a garden would be a green alternative to a goody bag of dollar store stuff. We planed our our Earth Day craft and had so much fun putting our party favours together.
This handmade seed kit will equip your recipients to get a jump start on spring blooms or a mini kitchen garden. As with any craft, get creative and make it your own.
You can use a wide range of materials – whatever you have in your craft box, really — to decorate the seed kit. Keep it simple or dress it up fancy, just be sure to include a bag of soil and a package -or three – of seeds.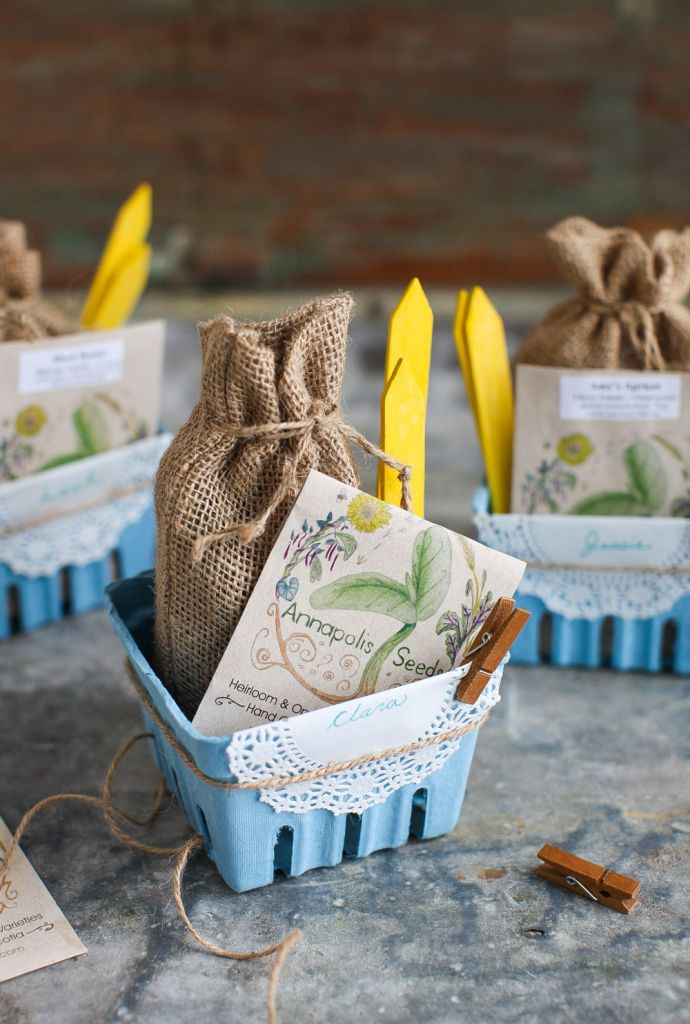 Here's what you'll need for your Earth Day craft of a Spring Seed Kit:
4-inch Square Berry Baskets – white, natural or coloured. I reuse mine from farmer's market shopping but you can find them at Michael's or on Amazon.
Wooden Row Markers or Plant Labels – Find these at any garden supply store or paint popsicle sticks in fun bright colours.
Seed Packages – flowers, herbs or vegetables.
Burlap or Cloth Bag – Find at a craft store. A pint mason jar also works, as does a simple paper bag.
Seed-Starting Soil – Available at gardening supply centers.
Paper Doilies (3 inch)
Optional for decoration:
Mini clothespins
Garden or kitchen twine
Glitter, felt pompoms, etc
To Assemble:
Fill the small bags with the soil and tie off the top.
Decorate the berry boxes as desired.
Fill with the soil bags and a package of seeds.
Tuck in a few row markers.
Add a folded doily on the edge.
Personalize each kit with a name by writing on the doily.
Leave on the front stoop of your lucky recipient.
Mother's Day is coming up. Encourage your little ones to customize the berry box for mum and add package of perennials. Once planted they will bloom year after year; a sweet reminder of that parent-child bond.
You may also love:
How to Regrow Vegetable Scraps
How to Move Towards a Zero Waste Kitchen
How will you celebrate Earth Day 2020?