These days, you only have to tap into Twitter for about eight seconds before at least three people offer up a (delicious! decadent! do-ahead!) suggestion for your Easter brunch.
I'm just as guilty as any of them, recently recommending you add this citrus salad with honey-cinnamon syrup to your menu. Sure it's simple, but it's one more thing to plan and execute, when perhaps you're already exhausted at the thought of entertaining for Easter.
So today, I have another idea – a plan for those of you who seriously have. no. time. but will be receiving hungry nephews, uncles, neighbours and friends regardless. It's simply this: build a bagel bar. You can delegate people to contribute toppings or shop for them yourself, and everything is assembled the morning of your brunch. Let's look at the breakdown and a few suggestions for a creative buffet.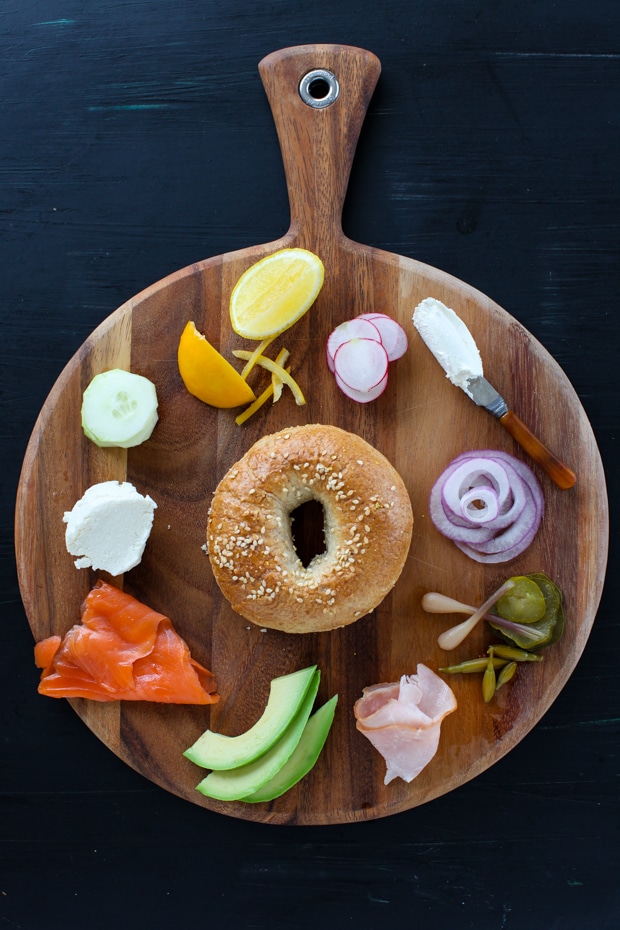 Bagels, Spreads & Proteins
Now I like to make my own bagels, because that time spent kneading, shaping and baking relaxes me, but I believe we've already established that you don't have time for baking. Fine. However, in case something opens up between now and the weekend, my recipe for Honey Whole Wheat Bagels is well worth the effort.
Bagels freeze very well, so you can pick them up from your favourite shop well ahead of time. Get an assortment to suit all tastes. I think it's nice to split and toast them for the brunch buffet; your oven's broiler works well for toasting 5 or so at a time.
Cream cheese (full fat, if you please) is hard to beat, but ricotta makes a nice change. It's actually really quick to make yourself, if you're feeling ambitious (here's my recipe for homemade ricotta). Either spread is lovely jazzed up with a little horseradish and black pepper.
Serve smoked salmon or lox, as well as a cured meat such as thinly shaved serrano or black forest ham for those who don't enjoy seafood. Look for wild caught smoked salmon. Buy it frozen and thaw in the refrigerator overnight.
Toppings
I say forget about the usual boring trio of toppings: red onion, capers and dill. Instead, switch toppings up with a variety of textures and bold flavours. The chewy bagel and mild fish are a blank slate just waiting to be paired with something exciting. Here are a few suggestions.
Vegetables: Thinly sliced tomatoes, cucumbers and radishes are all fantastic. Avocado is decadent and delicious. Sprouts are always good, too. Try young pea shoots or shaved fennel for something a little different.
Pickles: Now is the best time to raid the pantry for pickled asparagus, ramps and fiddleheads. I recently served up pickled daylily buds on a bagel bar and they were a huge hit. If you really love red onion on bagels, try a quick pickled version for a change.
Condiments: Fresh ground pepper, flaky sea salt or a flavoured salt are essential for garnishing. Now would be a good time to bring out your homemade Sage Rosemary Salt or Meyer Lemon Salt. Wedges of fresh lemon or strips of confit lemon bring a flavour balance to the dressed bagel.
No matter how many or few items you set out, this is a guaranteed crowd-pleasing meal that is easily executed. I can't wait to do it all over again soon.
Happy Brunching!
What do you like on your bagel sandwich?