Written by Lynn Craig of Cookie Baker Lynn.
This is undeniably the season for making cookies. Cookie swaps, cookie plates for the neighbors, gifts of cookies for teachers, and nostalgia all demand that we spend some time in the kitchen. Even people who rarely bake the rest of the year will dust off their old, faithful cookie book and bake up a batch or two of the family favorites.
Because I bake cookies all the time, I like to create something different, really beautiful and special for gifting. Unfortunately I have the decorating skills of a four-year-old on a sugar high. Lots of enthusiasm, not so much art.
I don't have the patience or steady hands to intricately frost a cookie, let alone a dozen cookies! Fortunately there is a way to make gorgeous cookies for the artistically handicapped, like myself, that doesn't take days and days of work.

Cookies molds enable the artistically challenged
You can take advantage of the artistic skills of someone else by using cookie molds. Molds are available in clay
, ceramic
, wood, and acrylic
, and can be found in just about any pattern you can dream of. Once you bake your cookies, they are works of art as is, but you can also hand-paint them with food coloring, or guild them with edible gold luster dust, if you need them to  be extra fancy.
Whether you're baking molded butter cookies, springerle, shortbread, or speculaas, using a mold will help you to make memorable, beautiful cookies, with almost no extra effort. And when you're done baking with your mold, you can use it to make paper ornaments, beeswax ornaments, or just hang it in your kitchen to admire year round.
Tips to Working with a Cookie Mold
Here are just a few things to keep in mind when you're using a cookie mold:
Most important is mold preparation. By greasing and lightly dusting with flour or cornstarch, your mold will release the cookies easily. It's important to dust the mold before shaping each cookie.
Keep the dough cold. Take out only what you need for one cookie at a time. Warm dough is stickier and doesn't hold its shape as well.
And lastly, if the cookie design seems to be losing its crisp definition, take a look at the mold. If the small carved details are filling up with flour or dough, the design won't show up as well. Clean it out with a toothpick, then redust with flour before using it again.
Cleaning the mold is a simple matter. Run it under warm water and scrub gently with an old toothbrush. Allow to air dry.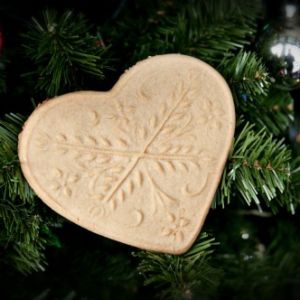 Brown Sugar Molded Cookies
Print
Pin
Rate
Servings:
6
very large (6 to 8-inch) molded cookies
Ingredients
1

cup

light sugar

(packed) or dark brown sugar

3

Tablespoons

light corn syrup

or dark corn syrup

1/8

teaspoon

salt

1

large

egg

1

teaspoon

vanilla extract

1/2

cup

unsalted butter

1 stick, slightly softened

2-2/3

cups

unbleached all-purpose flour

approximately

Additional flour or cornstarch for dusting the mold
Instructions
In a large mixing bowl, combine the sugar, corn syrup, salt, egg, and vanilla. Mix them together till blended and then let the mixture stand for 5 minutes to allow time for any lumps of brown sugar to dissolve.

Add butter and mix gently until incorporated and smooth. If the mixture appears curdled at this point, don't be alarmed. It will come together when the dry ingredients are added.

Stir in 2-2/3 cups flour. If the mixture seems too soft to handle, work in an additional 1 to 2 Tablespoons flour.

Wrap the dough in plastic wrap and refrigerate it for at least 2-1/2 hours, or up to 48 hours.

Preheat the oven to 350°F with a rack in the upper third of the oven. Spray several baking sheets with cooking spray.

To prepare the mold, very lightly brush vegetable oil over all the inside surfaces using a pastry or basting brush, being sure to reach into all the crevices and indentations. Lightly sieve flour or cornstarch over the mold, tipping it to ensure even coverage. Turn the mold upside down and tap lightly against a surface to remove all excess flour or cornstarch.

Note: The mold only needs to be oiled once, but the flouring needs to be repeated each time a cookie is formed.

Break off a piece of dough large enough to fill the mold, leaving the rest of the dough in the refrigerator. On a clean counter, roll the dough briefly to approximately the size of the mold. Press the dough into the prepared mold.

You want to be sure the dough is pressed into the details of the mold, and no air pockets remain. Use a rolling pin to roll over the back of the mold, smoothing and evening the dough. Remove any dough that extends out over the edges.

Rap the mold on an edge to unmold the cookie, catching the dough as it peels out with your hand. If the dough sticks, carefully loosen it with the point of a small knife. Lay the cookie on the prepared baking sheet. Repeat the process, dusting the mold before each use, until your baking sheet is full, with the cookies spaced about 2-1/2 inches apart.

Bake the cookies for 10 to 14 minutes, or until cookies begin to brown around the edges. Baking time will depend on the size and thickness of the mold used. While the first batch is baking, repeat the process with the remaining dough.

Remove the finished cookies from the oven and let them stand on the baking sheets for several minutes. Slide a narrow spatula underneath the cookie to loosen it from the baking sheet and use a wide spatula to transfer them to wire racks to cool completely. Repeat with the remaining cookies.
Notes
Store cookies in an airtight container for up to a week or freeze for longer storage.
Nutrition
Calories:
372
kcal
|
Carbohydrates:
55
g
|
Protein:
3
g
|
Fat:
16
g
|
Saturated Fat:
10
g
|
Cholesterol:
76
mg
|
Sodium:
81
mg
|
Potassium:
77
mg
|
Fiber:
1
g
|
Sugar:
44
g
|
Vitamin A:
524
IU
|
Calcium:
42
mg
|
Iron:
1
mg
Do you give or receive cookies over the holidays? What is a favorite type?