A small-batch version of our family favourite, these Chocolate Swirl Meringue Cookies are festive and fun.
Meringue cookies, in any shape and any flavour, are always the first treat to disappear from the holiday cookie plate. Snatched up by my kids, there are usually only a few crispy shards remaining by the time I'm ready for something sweet.
This year I am wising up and creating nearly the whole cookie tin or plate with meringue cookies. I'll leave room for a few shortbread, of course. Since my family are about the only guests I'm baking for, I may as well keep the customers happy.
Read on for a recipe you'll want to add to your permanent repertoire and bake up for years to come.
Small-Batch Chocolate Swirl Meringue Cookies
Meringues are nothing novel, to be sure, but I think people forget how simple they are to make and how delicious they can be.
We tend to bake them mostly during the winter months. Summer brings a lot of humidity and achieving a crisp meringue can be tricky. If this is your first time playing with egg whites and sugar, there's a great tutorial over on Kitchn.
There's always a tin in the freezer over the Christmas holidays, and again at Easter, when I swirl in chopped mini chocolate eggs. So good!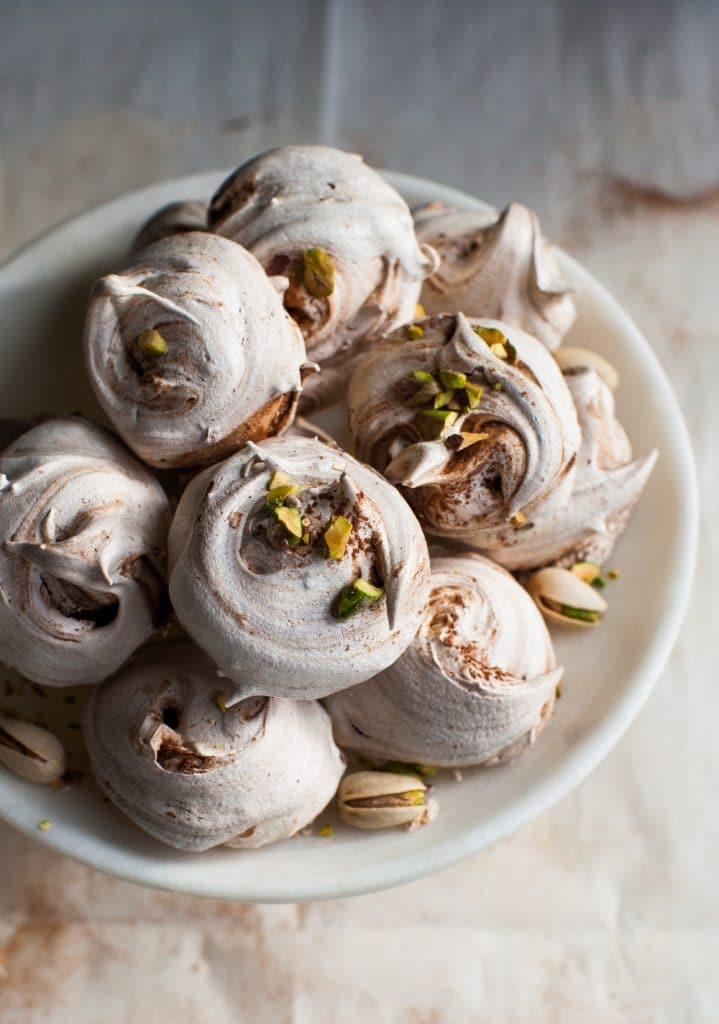 I've designed this recipe to be a small batch, requiring just two egg whites. There's a few reasons for this, the first being that our gatherings are smaller this year.
The second reason for the small batch meringues was inspired by my ever evolving journey to a zero waste kitchen. I use a random egg yolk here and there for recipes like my Rich Pie Crust or Caesar salad dressing. This leaves the whites – usually two – available for baking.
I've found having a family favourite recipe that only calls for two egg whites gives me incentive to transform the whites into cookies instead of shelving them in the back of the fridge.
Oh and if you're making a citrus curd and have four egg whites leftover, rest assured that today's chocolate swirl meringue cookies doubles perfectly.
Meringue Cookie Flavour Variations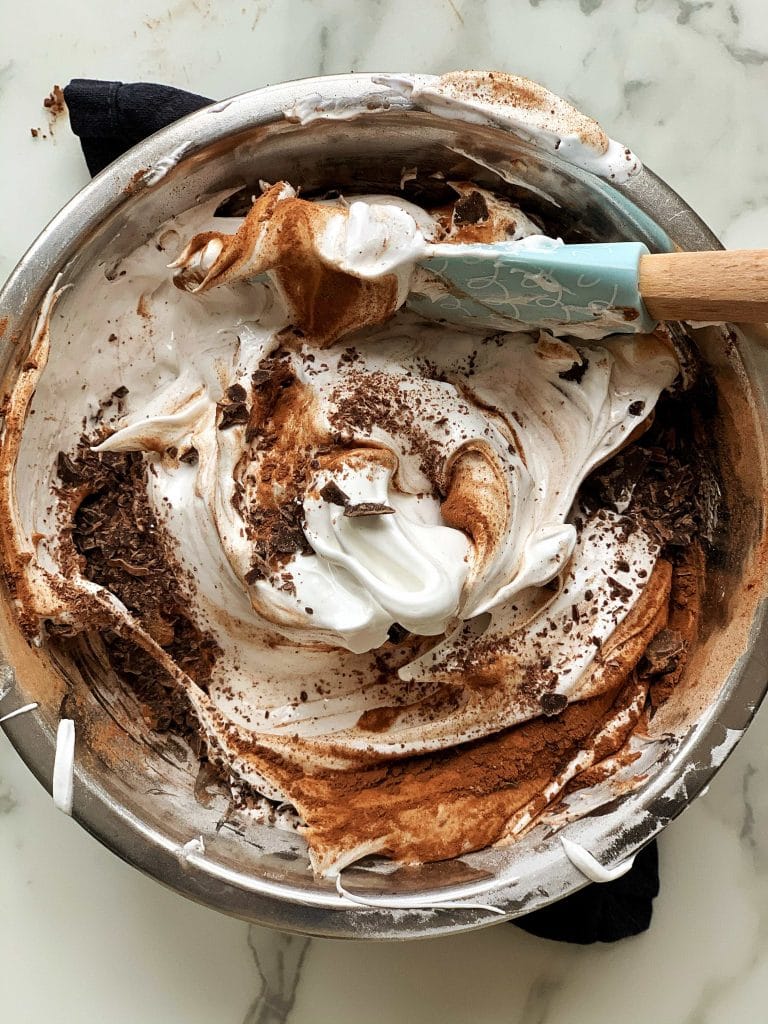 We love our meringue cookies with a simple cocoa swirl and a touch of chopped chocolate, but I give a few more variations below. You should feel free to customize them to suit your taste! Here are a few ideas:
Add a few drops of peppermint to the meringue along with the cocoa
Fold in freeze dried fruit to the whipped meringue before shaping
Colour meringues with gel food colouring
Add a little espresso powder into the cocoa
Top with sprinkles before baking
Dip cooled meringues in melted chocolate
Of course, you could always add a drop of vanilla and leave them plain. I'll be making a batch of mini winter white meringues for my Christmas Day dessert – the incredible show stopper Eton Mess-Topped Cranberry Curd Tart with Candied Kumquats.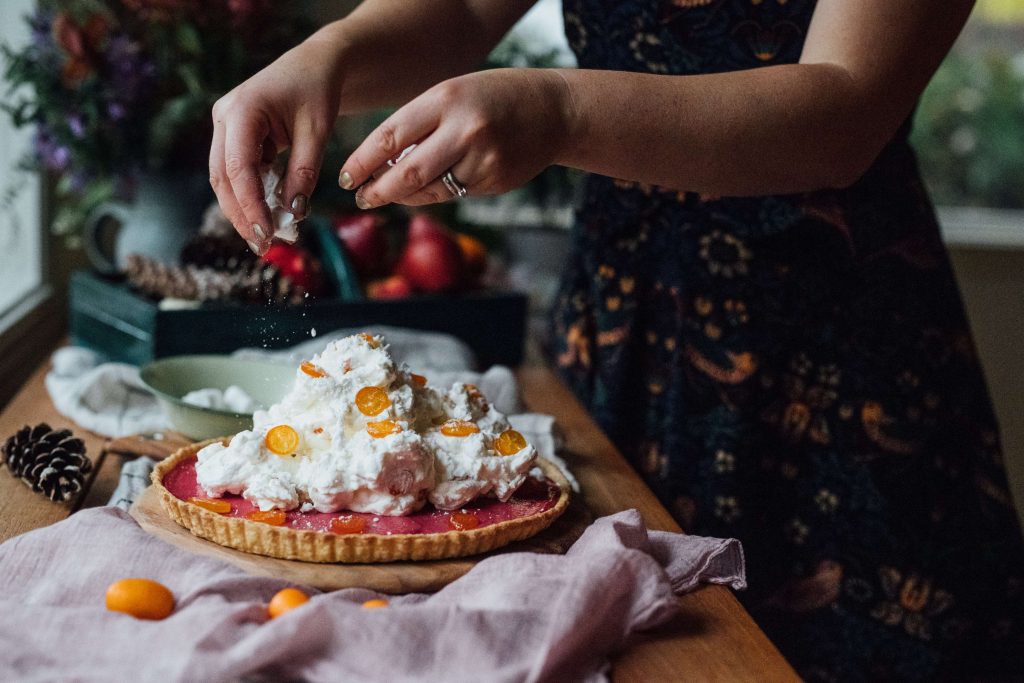 Tips for Storing and Freezing Chocolate Swirl Meringue Cookies
Meringues love the dry cold of a freezer. They tend to absorb moisture, and if left on the counter, can loose their desirable crispiness.
The good news is that these confections are just as delicious after they have been frozen as they are fresh baked. The bad news is that they are very delicate, so proper storage is key.
As soon as they have cooled, carefully pack them into airtight containers. I use large Rubbermaid containers or cookie tins.
Don't layer them more than 2 deep or they can crush the bottom layer.
Place them in back corner or a freezer where they won't get jostled or bumped.
Store in the freezer for up to 3 months. Thaw at room temperature.
Happy Baking!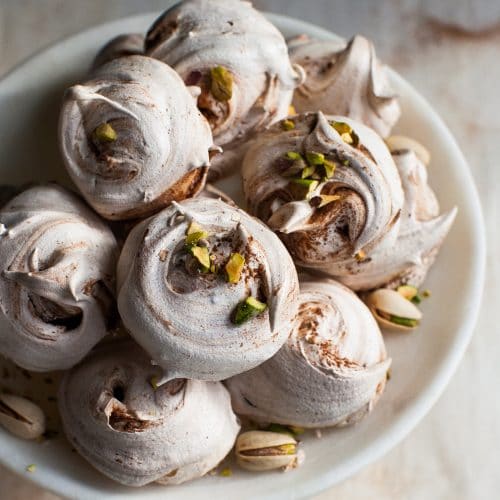 Chocolate Swirl Meringue Cookies
A small-batch recipe, ideal for using up 2 egg whites.
Print
Pin
Rate
Ingredients
1/2

cup

granulated sugar

1/2

teaspoon

cornstarch

2

large

egg whites

pinch

salt

3

Tablespoons

dark Dutch-process cocoa powder

1

oz

chopped dark chocolate

optional

2

Tablespoons

chopped pistachios

optional
Instructions
Preheat the oven to 275°F. Line a baking sheet with parchment paper.

In a small bowl, thoroughly combine the sugar and corn starch.

Place the egg whites in the squeaky clean bowl of a stand mixer. Add the pinch of salt. With the whisk attachment, beat the egg whites on medium speed until frothy. Increase mixer speed to medium high and beat until soft peaks form, about a minute.

With the mixer running, sprinkle in the sugar, 1 Tablespoon at a time. Continue until all the sugar is incorporated. Beat until the meringue reaches stiff peak, about 3 more minutes. (When you remove and invert the whisk attachment, the dollop of meringue should stay stiff with only a slight bend to the tip.)

Remove the bowl from the mixer and scrape off the attachment. Sift 2 tablespoons of cocoa powder over the meringue. Using a rubber spatula, gently swirl it in, marbling the meringue. Sprinkle in the chopped chocolate, if using.

Use a small ice cream scoop to scoop 13 balls of meringue onto the prepared tray. They should be about 2 inches in diameter.

Sprinkle the remaining 1 tablespoon of cocoa over the top. Use a fork and run it in a circle around the meringue, dragging the tines through the cocoa for another swirled effect. Sprinkle with chopped pistachios if desired.

Place on the middle rack of the oven and bake for 45 minutes. This will give you a cookie with a slightly chewy, marshmallow center. For meringues that are crisp and crumbly all the way through, bake for 1h – 1h 10 minutes.

Cool on the pan for 5 minutes, then finish on a wire rack. Store in an airtight container for up to 7 days.
Notes
Meringues may be frozen in an airtight container.
Nutrition
Calories:
713
kcal
|
Carbohydrates:
127
g
|
Protein:
15
g
|
Fat:
21
g
|
Saturated Fat:
9
g
|
Cholesterol:
1
mg
|
Sodium:
120
mg
|
Potassium:
693
mg
|
Fiber:
10
g
|
Sugar:
108
g
|
Vitamin A:
62
IU
|
Vitamin C:
1
mg
|
Calcium:
56
mg
|
Iron:
6
mg