This past weekend was gorgeous and sunny and we spent a good part of it outdoors, puttering in the yard, walking down by the water, and picnicking on the grass. It seemed like all it took was that burst of heat and the whole countryside exploded into vibrant green foliage. Our forest is carpeted with trillium, ferns, and in certain areas, ramps.
Synonymous with spring, ramps, or wild leeks, are slender white bulbs with a delicate green fronds and a mild garlicy flavor that grow on the forest floor in Northern US and Canada.  Ramps are known as ail de bois up here, and are held in high regard by chefs and foodies alike. The fact that we have our own special stash behind our home is amazing and enough to make this chef-forager positively giddy.
Last Saturday I took my morning cup of coffee, donned my purple Croc boots, and set out to harvest ramps for the potato salad I was making for a pot-luck that evening. Within just a few minutes, I had a handful of ramps, but I lingered amidst the wildflowers to finish my coffee, and let the sweet smell of spring rain in the forest rejuvenate my spirit.
I'm not sure which was more rewarding, the few minutes of solace or the haul of ramps.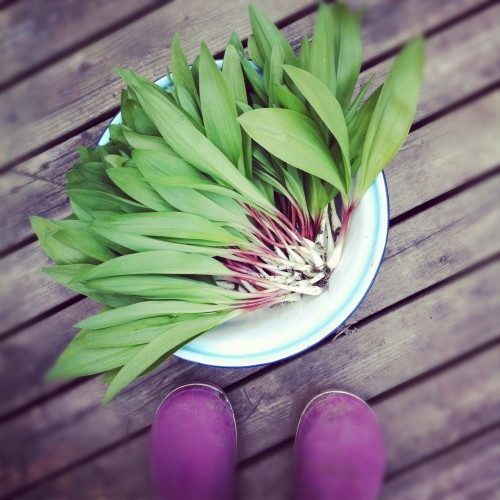 Although I have big plans to pickle a few ramps, make a log of compound butter or two, and turn them into pesto, all I had time for that morning was a quick wash, a chop, and into the potato salad they went. Surprisingly, the result was quite spectacular for so little effort.
I believe this dish is close to a German potato salad, with bacon and vinegar as the base of the vinaigrette, but I like to use sherry vinegar and add a dollop of grainy mustard to complement the bacon. The ramps replace green onions in this version, but don't let that limit you to only making this salad in spring. Green onions are a perfectly acceptable addition for the rest of the year.
If the weather this past weekend is any inclination, summer is here, my friends. So fire up the barbecue, chill a nice wine, and make this potato salad for dinner tonight.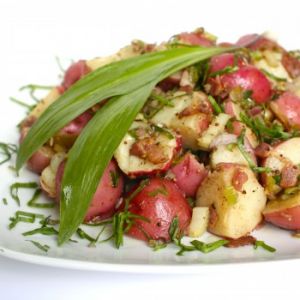 Warm Potato Salad with Bacon
A deluxe potato salad, rich and tangy, that would make an ideal accompaniment to a barbecued dinner.
Print
Pin
Rate
Ingredients
2

lbs

new red potatoes

skins on, scrubbed

5

strops

bacon

about 100 grams, diced

8-10

young ramps

or 5 green onions

3

Tablespoons

sherry vinegar

or apple cider

1

teaspoon

sugar

3

Tablespoons

olive oil

1

teaspoon

grainy mustard

2

ribs

celery

salt and pepper
Instructions
Cut potatoes into 1-inch chunks and place in a medium sauce pot. Cover with cold water, add 1 teaspoon salt and place over a burner on high heat. Cook potatoes until tender, but not falling apart. Drain and set aside to cool.

Meanwhile, heat a pan over medium heat and add bacon. Saute for about five minutes or until the bacon begins to crisp.

While the bacon is cooking, chop the white and pale green parts of the green onion or ramp. Add to the bacon, stir well, and saute for a few more minutes.

Remove bacon and onion from the pan and deglaze the pan with the vinegar. Use a spatula to scrape up all the bacon bits at the bottom of the pan.

Add the sugar, oil, and mustard to the pan and mix to combine.

In a large mixing bowl, combine boiled potatoes, bacon and onions, and warm vinaigrette.

Chop celery ribs finely and add to the bowl. Chop the dark green ends of the green onion and add them as well.

Season the salad with salt and pepper and mix gently, but thoroughly. Serve at once.
Notes
A vegetarian version of this salad can be made by omitting the bacon and increasing the olive oil to 1/4 cup.
This salad is best served warm. If you make it ahead of time, allow the salad to come to room temperature before serving.
Nutrition
Calories:
190
kcal
|
Carbohydrates:
28
g
|
Protein:
3
g
|
Fat:
8
g
|
Saturated Fat:
1
g
|
Cholesterol:
1
mg
|
Sodium:
54
mg
|
Potassium:
723
mg
|
Fiber:
3
g
|
Sugar:
4
g
|
Vitamin A:
410
IU
|
Vitamin C:
15.8
mg
|
Calcium:
32
mg
|
Iron:
1.6
mg
Come join The Salad Social at TidyMom sponsored by The International Olive Council's Add Some Life!
Are you a potato salad purist? What is your favorite add-in?