Of all the months of the year, September and October are when I buckle down and get serious about batch cooking.
Inspired by the bushels of tomatoes and peppers at the market, the sacks of corn and the crates of squash, I can't help but transform the seasonal ingredients into vats of soup and deep-dish casseroles.  The produce is at its prime, and yet at its lowest price. It makes sense to go big.
Batch cooking is essentially making multiples of a dish that can be frozen and reheated. It can also mean duplicating recipes of anything from bread to condiments, but for this specific post I'm going to focus on dinners.
I can't tell you how many times batch cooking has saved the day; it's an absolute necessity for busy families.
Case in point: next week I am traveling for work and while Danny could certainly take over in the kitchen, I like to set him up with a few family dinners. I recently sat down to menu plan for him and had a quick peek in the freezer to see what I had batched cooked in recent weeks.
Thanks to a little extra planning, I had managed to stash away a few meals. Shrimp and Pea Orzo. Butter Chicken (rice too, frozen on the side), and two jars of classic Bolognese sauce. Looks like he's all set for nourishing (and tasty) dinners while I am gone.

Photo by Dara of Cookin Canuck
How to Get Organized for Dinner: Batch Cooking
Batch cooking doesn't have to mean setting aside an entire Saturday morning to slave in the kitchen. You can cook in batches anytime, ideally during your usual supper preparations.
As long as you've shopped for double the ingredients, and maybe worked in a little meal prep earlier in the week, you can cook once and have two meals for your efforts by doubling the recipe. I know, it's not rocket science.
My first cookbook has an entire chapter dedicated to Batch Cooking with all of our tried-and-true recipes such as Tender Baked Meatballs, Maple Pumpkin Chili, Big-Batch Bolognese and more. Those recipes alone are worth the price tag of the book! My kids just call the Bolognese "your Amazing sauce".
Below are some of my favourite dinner recipes to double – and freeze half for another night. Slow cooker recipe do really well, casseroles too,  and nearly anything with a sauce.
One-Pot Orzo with Shrimp and Peas – One of our favourite family recipes from The Simple Bites Kitchen, and my friend Dara blogged it last fall. (pictured above after the jump)
Slow Cooker Butter Chicken – The easiest and best recipe from Sarah Waldman via Food Republic.
Mild Chicken and Chickpea Curry – My recipe over on Chatelaine. (pictured above)
Turkey Shepherd's Pie – Can also be made with chicken.
Do-Ahead Cider Ribs – From summer barbecues to Sunday dinner in fall, these ribs are always a popular addition to the meal.
Big Batch Chicken Noodle Soup – my step-by-step method for making everyone's favourite comfort soup. A MUST for fall and winter.
Classic Tourtiere (Quebec Pork Pie) – Definitely fall comfort food in Quebec.
Asparagus and Bacon Quiche – Quiche for dinner? Yes please.
Vegetarian Batch Cooking
Butternut Squash Whole-Wheat Mac & Cheese A fall favourite that is a big crowd-pleaser.
Red Lentil Lasagna – Meatless comfort food.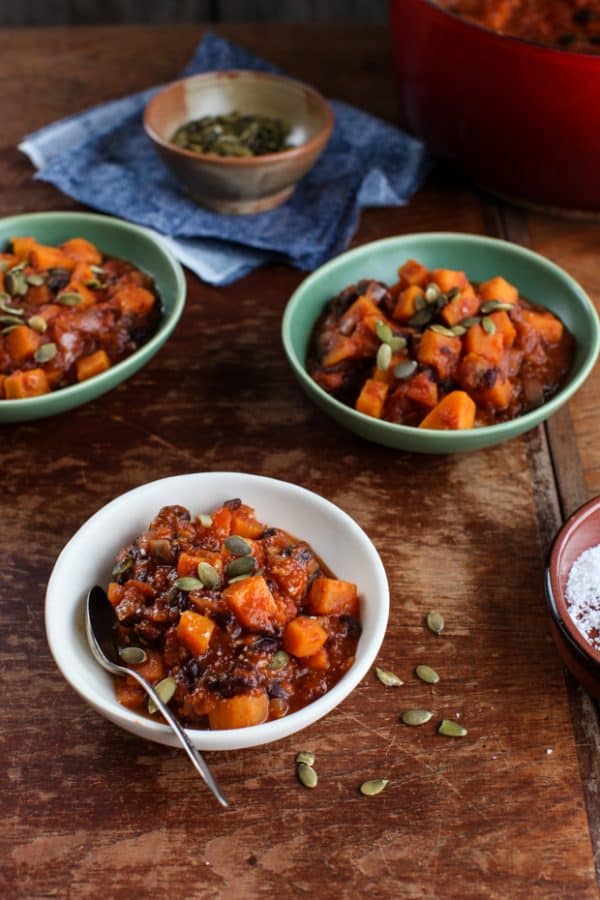 Sweet Potato Black Bean Chili – An easy recipe that comes together with basic pantry ingredients.
Garden Vegetable & Lentil Sloppy Joes – My recipe over on Jamie Oliver.
Tip: Don't double or triple a recipe unless you have the right equipment to properly execute the dish. Read through each recipe before you begin and check if your pots and pans are large enough to accommodate.
Food for Others: One of my favourite benefits of batch cooking is that it helps you spread some love to others in the form of a home cooked meal. I've long been an advocate of preparing heat-and-serve meals for others that are nourishing, travel well and freeze brilliantly. In my mind, these are gifts that will benefit your recipient the most, be they a new mother or the family who just moved in next door.
Is batch cooking a part of your meal planning?