Written by Marisa of Food in Jars.
In the past week, I've cooked and baked my way through at least five pounds of butter. There's been toffee, cookies, biscuits, yeasted breakfast breads, apple crisps, and a turkey dinner with half a dozen sides.
Though it has been deeply satisfying to eat everything in my path, now that the holiday is over, I am ready for a palate cleanser that isn't oozing with butter. And to my tastebuds, nothing tastes better when I've overdone it than a crisp, simple pickle.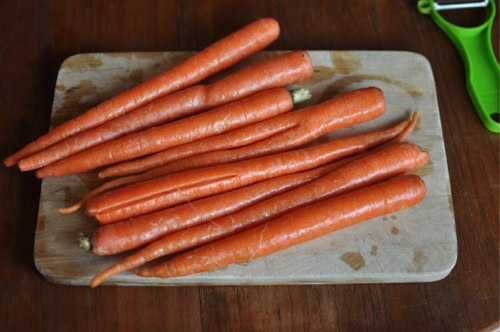 Though I typically have a few varieties of pickles on my shelf from a summertime of canning, right now I'm hungry for a quick pickle. More often than not, this is when I turn to carrots.
Carrots are one of my edible staples. They keep well, taste good and can do a lot. On nights when dinnertime inspiration is low, I turn them into a pureed soup (I love the recipe with toasted almonds that's in the original Moosewood Cookbook). When I need an easy side dish, I cut them into sticks and roast them in olive oil. Snacks around my apartment almost always involve a sliced carrot and a tub of hummus. And when I need to replenish my refrigerator pickle stash, they are the perfect vehicle.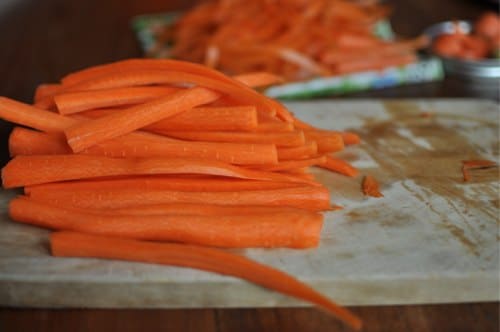 For this recipe, the carrots are peeled, cut into narrow sticks, briefly blanched and then suspended in a simple vinegar pickling solution. They come out tender but with a core that retains some backbone and crispness.
After a day or two of soaking, these pickles are ready to be eaten. I tend to munch them straight from the jar. More discerning eaters should try them added to tuna salad or with a salad nicoise.
Ingredients
2

pounds

carrots

1 1/2

cup

white vinegar

1 1/2

cup

water

1 1/2

tablespoons

kosher salt

2

teaspoons

dill seed

1

teaspoon

mustard seeds

1

teaspoon

black peppercorns

1/2

teaspoon

red chili flakes

2-3

cloves

garlic
Instructions
Bring a small pot of water to a boil in which to blanch the carrots.

Prepare jars. I like to use the taller pint and a half jars for this pickle, but two or three wide mouth pints will also work.

Peel carrots and trim to fit jars. Cut into thin sticks.

When the water comes to a boil, drop in the carrots and cook for 2 minutes.

When time is up, remove carrots from water and run under cold water to stop cooking.

Combine vinegar, water and salt in a small saucepan and bring to a boil.

Divide spices and garlic cloves evenly between jars.

Pack carrots sticks upright in jars.

Pour the boiling brine over the carrots, leaving 1/2 inch headspace.

Tap jars gently to remove air bubbles.

Wipe the rims and apply the lids and rings.

Let jars cool on the counter until they're no longer hot to the touch and refrigerate. Let them rest for at least 24 hours before eating.
Nutrition
Calories:
163
kcal
|
Carbohydrates:
31
g
|
Protein:
3
g
|
Fat:
1
g
|
Sodium:
3712
mg
|
Potassium:
1003
mg
|
Fiber:
9
g
|
Sugar:
14
g
|
Vitamin A:
50615
IU
|
Vitamin C:
18.7
mg
|
Calcium:
143
mg
|
Iron:
1.4
mg
What do you like to eat after you've overindulged?