Party planning is in full swing around here. I'm not cooking and styling a cookbook (like last December) or pregnant (three years ago), and so I'm feeling inspired to cook up a spread and entertain to the nines.
We've got a massive cocktail party in the works, as well as a few intimate dinners. Danny's planning a beer tasting, and we'll probably host a holiday brunch or two as well.
So far my love of lists is helping me stay organized with shopping items, guest lists and menus, but I've stumbled upon a little kitchen trick that is totally saving my sanity  — and we all know how important that is over the holidays.
I'm using a non-toxic, erasable wine glass writer to label my refrigerator items. That's the big tip. I'm writing on jars and tupperware containers, plastic bags and beer/wine bottles.
It's so helpful because it's taking communication to the next level in my kitchen. People no longer stand with the refrigerator door open and say 'what's this?" "what's that?" "can I eat this?".  It's laid out in plain sight.
Here are just a few reasons why I might want to label refrigerator items.
Reserving wine for fondue, cooking, etc
Labelling punch/juice/cider as 'spiked' or 'virgin'.
Listing the date a dish/ingredient was made.
Listing the date a product was opened.
Alerting grazers to 'help yourself' snacks.
Reminding grazers what needs to be eaten first.
Listing amounts of egg whites, etc
Reserving specialty ingredients for specific dishes.
This tip works for day-to-day cooking as well, but I think it is particularly useful over the holidays for the reasons listed above. When you are prepping for a big event, there's nothing worse than someone hacking into the brie for your special appetizer or chugging the pomegranate juice reserved for your winter sangria.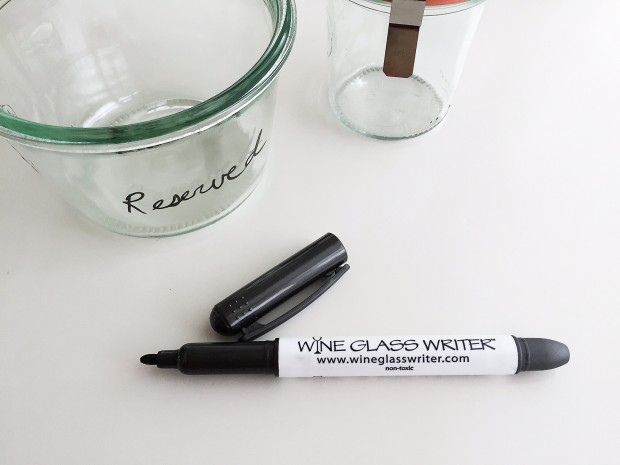 I picked up my wine glass writer at Crate & Barrel; I also love the pretty metallic pens
on Amazon. Most kitchen supply stores should carry a wine glass pen.
I don't have to tell you this tip is exceedingly practical for the holidays. Let me know in the comments if you put it to good use!
More good stuff:
What's your best entertaining tip?