I'll bet that you didn't expect to see homemade salad dressing as the top photo for a post about batch cooking, did you?
The term 'batch cooking' refers to dishes that are made in double or quadruple batches, and frozen for convenience. It usually refers to vats of chili, seas of lasagna, and spaghetti sauce by the gallon.
Here's the thing. For me, batch cooking (and baking) applies to all aspects of feeding the family, not just hearty, 'wintery' main dishes. Summer is a busy time and I'm sure you don't want to hang out forever in the kitchen any more than I do. Right? We want to get in there, be immensely productive, and then hit the beach with girlfriends. Or in my slightly less glamorous case, the plastic kiddie pool on the back lawn.
Batch cooking in summer allows you to get a leg up on dinner. These suggestions are not necessarily entire meals unto themselves, but all provide the base of wholesome -and delicious- summer fare. Last summer I introduced my warm weather batch cooking theory and covered ideas such as pizza dough, homemade pesto, and even a do-ahead dessert. Be sure to revisit that post for more inspiration!
Now we've just wrapped a series on frozen treats, but as everyone knows, man cannot live on popsicles and ice cream alone (although some of us would sure like to try), so here are few ideas for more substantial fare.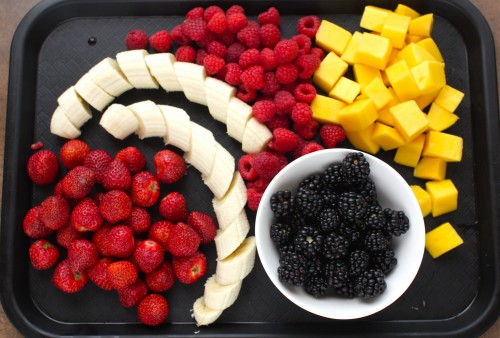 Cubed Fruit & Berries for Smoothies
Prep for smoothies and other frozen treats by washing, peeling and cutting fruit in large amounts. Freeze flat on a tray and then transfer to baggies or airtight containers. Store in the freezer for up to three months.
On hot summer afternoons, I'll toss a handful of frozen fruit, a cup or two of yogurt, and a drizzle of honey in the blender for a fast, ice cold smoothie. Other add-in flavorings such as cinnamon, vanilla, buttermilk, or peanut butter are all optional, of course.
Stewed Pinto or Black Beans
Our family loves beans, even during the hot summer months. I'll frequently cook up a big pot of pinto or black beans to have on hand for wrapping into Black Bean Burittos, forming into burgers, tossing into salad, or folding up in Frijoles Rancheros.
Beans are a perfect protein to simmer on the back burner during busy summer afternoons, enjoy for supper, and then parcel up to freeze for future meals. I freeze mine -with plenty of the cooking liquid- in airtight containers or jars for up to six months.
Spiced Taco Beef
For taco salad, campfire burittos, or family taco night, this is one protein that I keep around during the summer. It makes for quick and light dinners when we don't want to overload on red meat. It's also an affordable option as it stretches that organic beef to feed a few more mouths.
Recipe: Spiced Taco Beef
2 lbs organic ground beef
2 Tablespoons olive oil
1 small onion, diced
2 cloves garlic, chopped
1 Tablespoon dried oregano or 2 Tablespoons fresh, chopped
2 Tablespoons mild dried chili powder
2 teaspoons ground cumin
1 Tablespoon salt
In a large cast iron skillet, heat olive oil, then add onions and garlic. Saute until soft, about 8 minutes. Remove from pan.
Add ground beef to the skillet and brown all over, using a sturdy spatula to break up the chunks. Drain of most of excess fat, but leave a little to help keep the meat moist.
When meat has browned for about five minutes, add sauteed onions and garlic and the remaining ingredients. Stir well to combine.
Add about 1/4 cup of water, reduce heat to low and allow to cook gently while the flavors meld together.
Taste and adjust seasoning as desired. if you like your meat spicier, add more chili powder or a dusting of cayenne.
Remove from heat and allow to cool. Package in airtight containers and freeze for later use.
Homemade Vinaigrette
As illustrated in the header photo, I like to keep an assortment of salad dressings around that I make from scratch. It's mid-July and we're eating a large salad every day, sometimes twice a day. That's a lot of salad!
Having a stash of vinaigrette around means one less task for daily dinner prep; having an assortment means that no matter what salad I'm prepping, there's always a complementary dressing.
Pictured at top: Lemon & Garlic Basic Vinaigrette, Balsamic Vinaigrette, Buttermilk Ranch with Dill, Maple Poppyseed Vinaigrette. Not only can you save money by making your own pantry staples like salad dressing, but I find they taste much better than processed dressings.
Recipe: Lemon & Garlic Basic Vinaigrette
2 Tablespoons freshly squeezed lemon juice
2 Tablespoons white wine vinegar
1 large garlic clove, grated on a microplane
1/2 teaspoon sea salt
1/2 teaspoon freshly ground black pepper
3/4 cup extra virgin olive oil
In a jar, combine all ingredients except the olive oil. Top with lid and shake well.
Add olive oil and shake again. Vinaigrette is ready to use or be stored for up to one week.
Photo by Poor Girl Gourmet
Braised Pork for Sandwiches
This braised pork shoulder is another favorite for summer dinners and perfect for serving company. It doesn't require the oven, but slowly cooks in a Dutch oven on the back of the stove.
Once cooked and cooled, the pork can be shredded, tossed lightly with barbecue sauce and frozen in airtight containers. To reheat, thaw overnight in the refrigerator, then gently warm in a skillet with more barbecue sauce to keep it moist.
Homemade garlic-dill pickles make a perfect accompaniment, but I'll leave that up to you!
Pie Crust
We've fallen hard for summer pies, but none of them would be possible without my monthly batches of Rich Pie Crust that are made, wrapped and stashed in the freezer.
The task of pie for dinner -er,dessert- seems much less daunting when one can pull the crust from the freezer in the morning for an afternoon pie-making party. I say, head for the nearest u-pick and stock up on berries for those summer pies!
Marinated Meats for Grilling
Our meat consumption drops off dramatically over the summer months, so I can't say that I marinate chicken breasts and pork chops by the dozens. However, I know this is a great system for many and can definitely understand the convenience factor.
Visit Jessica over at Life as Mom for her snappy chicken in marinades with three different marinade recipes and instructions on freezing.
How does batch cooking help you contribute to dinner?