Written by Katie of GoodLife Eats.
With temperatures hovering just under 100 degrees F since we returned from our vacation I have decided one thing about meal time: It is simply way too hot to cook right now. But that doesn't mean I can't prepare dinner for our family. We still have to eat something.
Grilling is a great option during these hot months. It keeps the heat where it should be: outside. I was so inspired by all of the great grilling recipes shared here on Simple Bites over the past week and can't wait to try some of them.
I have never grilled with a cedar plank before. And after a recent trip to Greece, I'm dying to get my hands on some Haloumi so I can make Danny's Grilled Peach and Haloumi Salad.
But what do you do when it's too hot to even go outside? Many times I've felt to the point of near heat exhaustion as I stood over a grill flipping meat and vegetables.
That is when it's time to break out the salads and other no-cook dinner recipes. Because popsicles and ice cream aren't acceptable main dish choices on a regular basis.
I love diving into a crisp, cool salad for dinner after a hot day. This Black Bean Salad is a staple around here during summer. It's full of colorful vegetables, beans and flavor. But more importantly, it is versatile.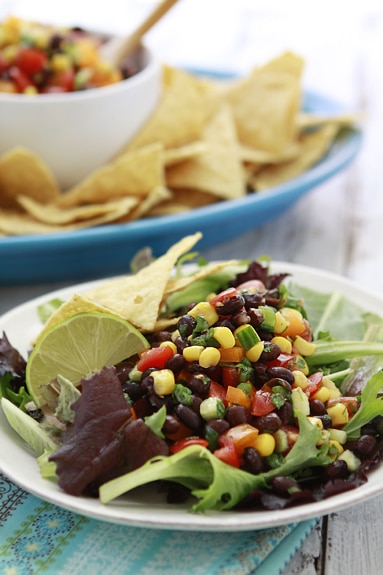 all photos by GoodLife Eats
Uses for Black Bean Salad
Eat like salsa with store bought or homemade tortilla chips
A topping for grilled meats
Inside steamed flour or corn tortillas with cheese and avocado or guacamole for no-cook tacos
On top of a bed of mixed greens for a simple, Mexican inspired salad.
Inside an omelet or on top of scrambled eggs
Tossed with chilled couscous or quinoa; sprinkle with feta or other cheese of choice
Recipe: Black Bean Salad
If you're looking for a simple, no-cook option for the upcoming Fourth of July Festivities, this black bean salad will make a great addition to your party. Think of it as a healthier version of traditional chips and salsa.
1 can black beans, drained and rinsed
1/2 cup diced orange bell pepper
3/4 cup diced fresh tomato
1/2 cup corn kernels
1/3 cup diced English cucumber
3 green onions, sliced thin
1 jalapeno, deseeded and minced
2 tablespoons finely chopped cilantro
the juice of 1 lime
1/2 teaspoon canola or grapeseed oil
2 – 3 dashes cumin
2 – 3 dashes coriander
salt and pepper to taste
Combine the beans, bell pepper, tomato, corn, cucumber, green onion, jalapeno, and cilantro in a medium bowl. Stir until ingredients are well distributed.
In another bowl, combine the lime juice, oil, cumin, coriander, salt and pepper. Pour over the bean mixture, tossing to combine. Chill until serving time.
More Cool Dinner Recipes for Hot Days
Chilled Soups | Simple Bites
Gazpacho | Oh She Glows
No-Bake Grilled Vegetable Lasagna | GoodLife Eats
Santa Fe Chicken Salad Wrap | GoodLife Eats
Turkey Subs with Artichoke and Sun Dried Tomato | GoodLife Eats
Vietnamese Summer Rolls with Almond Dipping Sauce | GoodLife Eats
What do you serve on nights it's too hot to cook?