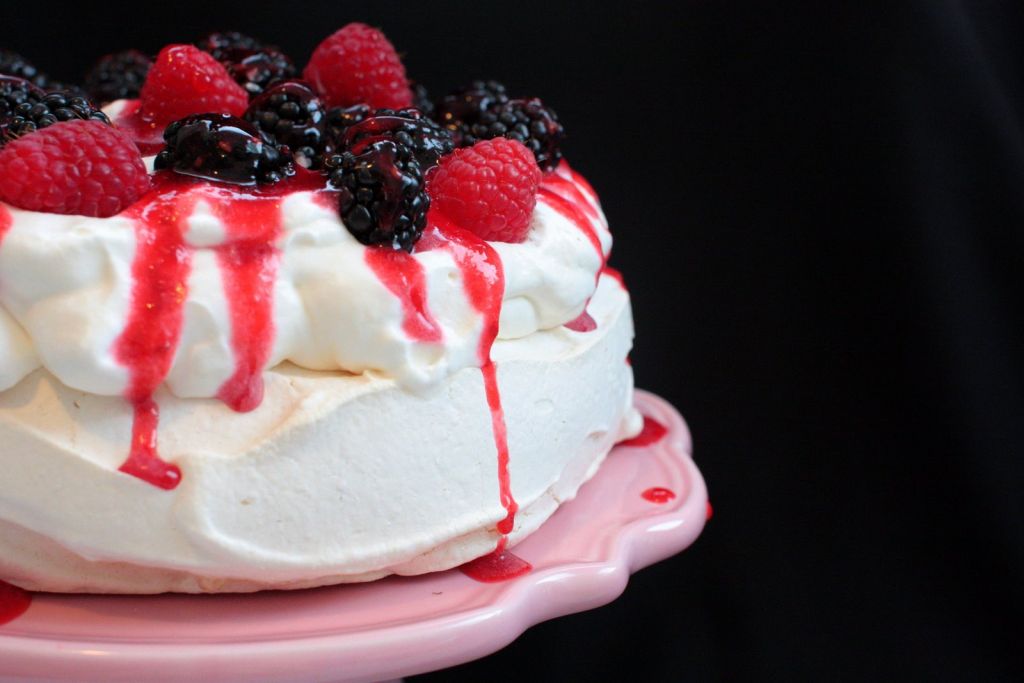 See? I wasn't kidding before when I said that I had a parade of desserts coming up. I am trying to make up for those 6 or so pounds that I lost when I was sick. Kidding! I would love if they stayed away–I've got to go shopping for a bathing suit soon and am dreading it. Can't say I'm really trying very hard, though.
All kidding aside, my apologies if this post turns into a sappy love ode to pavlova, but you have to understand just how strongly I feel about this dessert. I hesitated before writing this, because it is probably going to come as close to labeling me as a glutton as I ever want to be; however, you need to know the facts.
This may possibly be the best dessert you'll ever eat.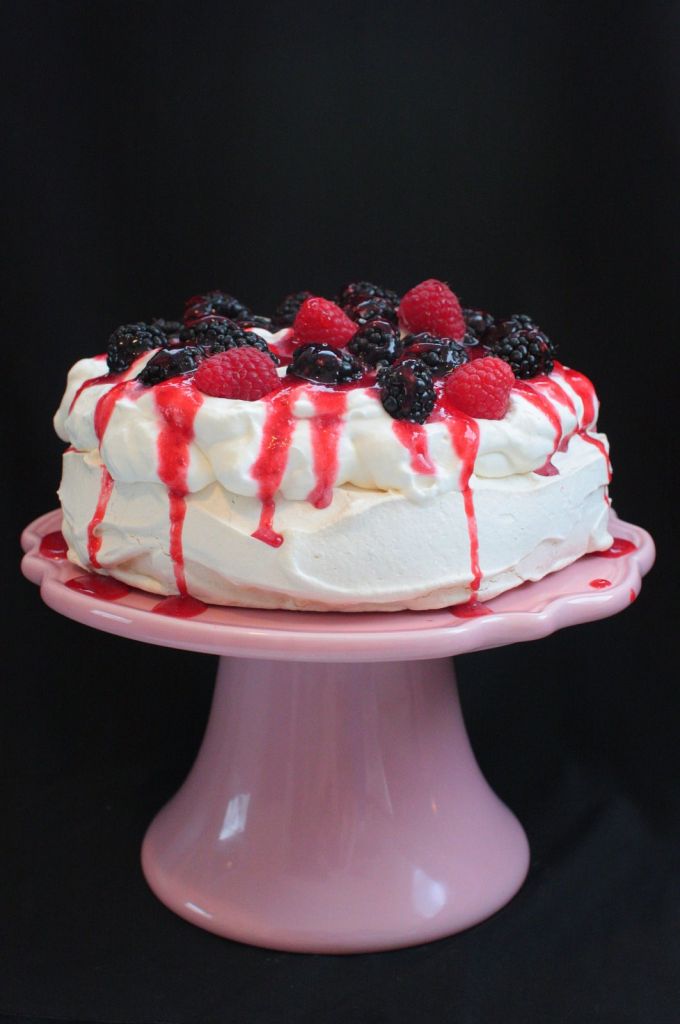 What is so great about it? You ask. Well, how does a generous base of crisp sugary meringue with a soft marshmallow interior sound? Oh, no that is not all. It is then mounded–no skimping allowed–with velvety whipped cream, topped with fresh berries and lavishly sauced with a vibrant, tangy red raspberry sauce. It's magnificent. It's decadent. It's impossible to stop eating.

This is the kind of dessert that I could fantasize about climbing in to and rolling around. I wish it came in the size of a swimming pool.
Honestly? Two of us ate this whole thing, and I licked my plate. It was amazing.
I'm realizing I have a thing for fresh berries and I'm convinced it comes from my deprived childhood. Living in the Yukon, a frozen northern Canadian province, it was too cold to grow much in the way of berries, and fruit was ridiculously expensive since it had to get trucked half way up the Alaska Highway. Berries have always been like the ultimate luxury and still are to me. If I can enjoy them bathed in cream and presented on meringue, I'm a really happy girl.
A few notes on the recipe:

I don't sweeten my whipped cream. The meringue is so sweet, it would be overkill, even for a girl with a sweet tooth like me.

Really, almost any fruit it good on the pavlova. I slice bananas on top of Noah's because he doesn't like strawberries or raspberries (I know, unbelievable. How ironic is it that I longed for fresh berries as a child and he turns up his nose at them.) Nigella dollops passionfruit and lychees on hers.
The meringue base can keep for up to two days in an airtight container. Mine stayed nice and crisp, although I'm not sure if I would trust in in hot July weather.
Nigella notes that the meringue can be made ahead and frozen for up to one month. It would never last that long in my freezer, but it's cool to know it works.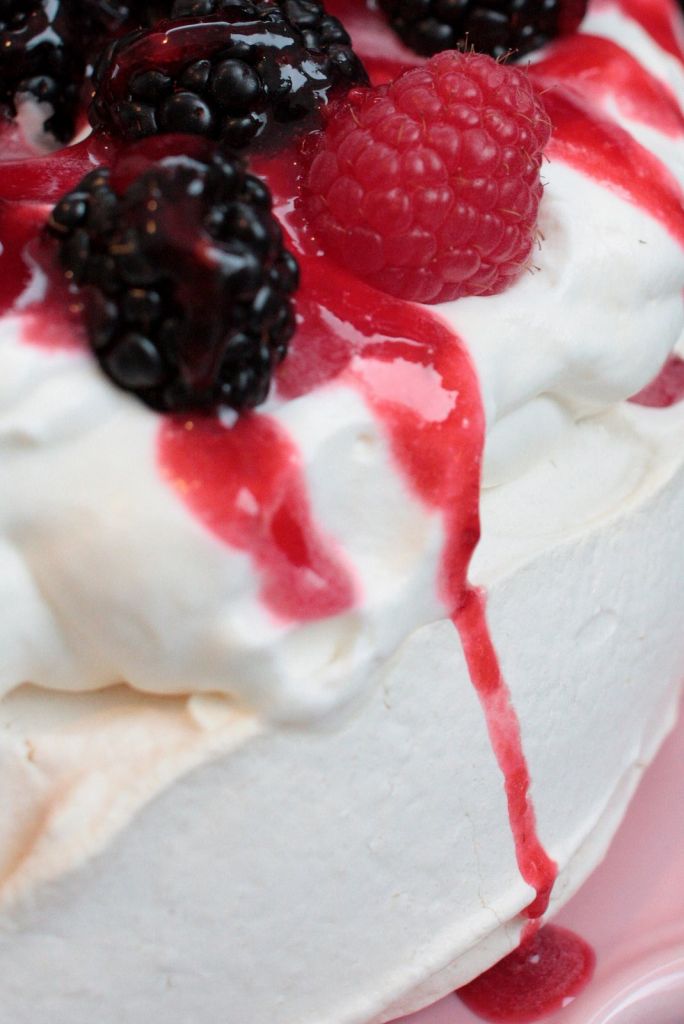 Berries & Cream Pavlova
adapted from Nigella Lawson's 'Prodigious Pavlova'

Base:
4 egg whites
250g sugar
2 teaspoons cornstarch
1 teaspoon vinegar
1/4 teaspoon vanilla
Topping:
500 ml whipping cream (you'll have leftover for Irish coffees)
about 2 cups of fresh berries or fruit of your choice
Raspberry Coulis:
150 g raspberries (frozen work great)
25 g icing sugar
Preheat oven to 375F.
Line a baking sheet with parchment and using a 9 inch cake tin and a pencil, trace a circle onto the parchment. Whisk the egg whites until satiny peaks form, then whisk in the sugar, a tablespoonful at a time, until the meringue is stiff and shiny.
Sprinkle the cornstarch, vinegar and vanilla over the egg white, and fold in lightly with a metal spoon.
Mound the meringue on to the baking parchment within the circle and, using a spatula, flatten the top and smooth the sides. Put in oven and reduce heat to 325F. Cook for about 50 minutes, then turn off the oven and leave to cool completely. ( I leave mine for several hours)
Store the meringue in an airtight container until ready to serve. When you are ready to assemble and serve the pavlova, invert the cooled meringue disc onto a large plate or a stand and peel off the baking parchment. Whip the cream until thickened but still soft, and pile onto the meringue, spreading it to the edges in a swirly fashion. Dot the top with fresh berries or prepared fruit.
Puree the raspberries and icing sugar in a blender until smooth, (this can be done ahead of time, too) then drizzle the colorful sauce over the top and sides of the pavlova. Serve immediately.