It's been an exciting eleven months of blogging in 2010; remember, Simple Bites has yet to celebrate a one year anniversary, as we only launched last February! I've really appreciated the warm response from readers and the enthusiastic feedback on everything from canning to menu planning. That you've embraced this newcomer has been a huge incentive to keep on writing, cooking and blogging. So, thank you.
Just for fun, let's look back at some of the hottest posts of the year!  Every month, there are always one or two posts that, for whatever reason, really get people's attention.The comments pour in, the retweets rack up, and the word gets out.
In no particular order, here are the Top Twelve Hottest Posts of 2010.
Apparently throwing 'Best' in the title of a post is like throwing down a challenge, but this was one declaration I knew I could back up. Believing every one should have a solid muffin recipe in their repertoire, I passed along mine, along with tips and suggested add-ins.
The response was thrilling. The comments speak for themselves. Dry muffins? Be gone!
What was merely a recap of my preparation to host my family reunion turned into one of the top viewed posts on Simple Bites. Was it the tip for maple-glazed bacon that created the buzz? Or our family's favorite Buckwheat Pancake Mix?
We've got some breakfast lovers out there, folks.
Guess what? That 'Non-Supper'? It's more popular than you think.
Reader Katie said is best:
"As a foodie, I put a lot of pressure on myself to get delicious, healthy, well-rounded meals on the table every night…and sometimes it's just not possible! These are great ideas to help take some of the pressure off. Thanks for the permission and the inspiration!"
Don't miss plenty more inspiration (and commiserating) in the comments.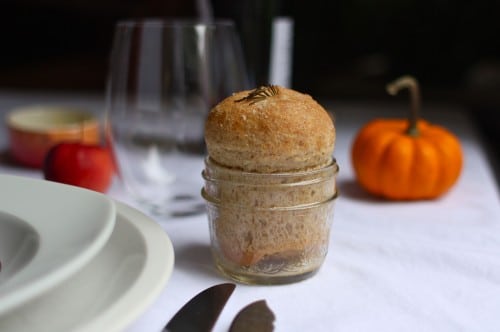 I knew these cute (and tasty) buns baked in a jam jar would be a hit, but I didn't quite expect the ardor that poured in from readers. Nor the kind mentions on The Kitchn, Babble, Kim Vallee and many more.
I've been sticking up for home canning as long as I can remember, and it all came out in this post. Whether it made converts or not, I don't know, but a lot of people read the article, including the folks at Time.com, who quoted the canning post in this article on saving money.
There's no question Simple Bites readers love to be organized! This post was inspiration for do-ahead meal prep for the hot summer months, and evidently came in handy for many cooks. High-five to keeping cool and well-fed in the summer!
Bakers abound among Simple Bites readers and this free printable was quickly snapped up as everyone geared up for fall baking! It was pretty ultimate, after all.
We ate so. much. zucchini bread in August as I worked on creating a healthy and tasty recipe to use up the surplus of this abundant summer squash. It seems like everyone else was looking for a similar recipe, and with my proclamation of 'best ever' zucchini bread, this post gathered a lot of interest.
Of course, now that it's the middle of winter, I'm wishing we had a few loaves of this to snack on.
In September we entered cooking school and this tutorial on perfect roast chicken was warmly received. The testimonials warmed my heart. Like this one from reader Kayla:
"I just made this for dinner tonight and everyone was VERY happy with the results! It was my first successful roast chicken. I had given up until I saw your tips and recipe; I thought I'd give it one last try and am very thankful I did! It was so moist and tender. I am definitely making this again!"
Hmm, roast chicken for dinner, anyone?
Everyone loves cheesecake. And if it's no-bake, easy to assemble and contains pumpkin, then it's almost impossible to turn down. It was also one of my first vlogs where I make the entire recipe on camera. Nerve-wracking!
December is literally "cookie month", so it's no surprise that my shortbread post received an enthusiastic response, including a kind mention from PBS Parents. Shortbread is an essential holiday treat, and when one recipe can morph into four different types of cookie, then it's bound to be loved!
Evidently I'm not the only one loving clementines, pomegranates and other seasonal fruit right now. Both Glamour.com and
Gourmet Live had praise for my fresh take on fruit salad for the holidays.
Did you have a favorite post from Simple Bites this year? Thank you for reading!